Kirk Douglas Dead? False Rumors Say The 95-Year-Old Actor Had Died After News He Will Donate $10M To Skid Row In Los Angeles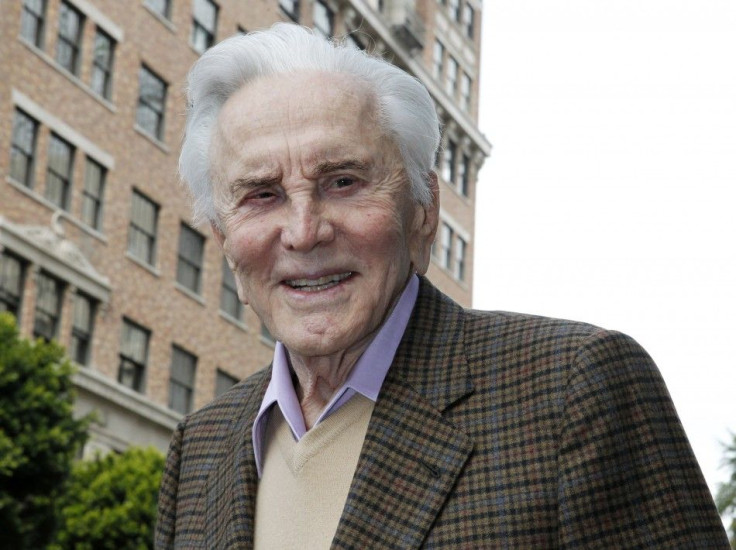 The actor Kirk Douglas is alive at 95 despite a rumor that picked up steam around the Internet Thursday. This fake news comes in the wake of Douglas's announced that he would double a $5 million donation to Los Angeles' Skid Row.
The actor was the subject of an "anticipated obituary" posted on necropedia.org. Despite the faux article focusing on Douglas's birth and death dates a headline at the top of the story reassures fans "This is not a news article. No one has died." The site also reported that the actor's family and friends were mourning his loss.
The news that Douglas is not dead follows the trend that's dominated social media throughout the summer. Adam Sandler, Morgan Freeman, Alfonso Ribeiro, Brad Pitt and countless others were rumored to have been killed in various types of accidents, often brutal.
Rihanna, Bill Nye, Bill Cosby, Taylor Swift, Reese Witherspoon, and countless other celebrities all have been falsely rumored to have died in recent weeks.
Douglas, one of the last survivors of Hollywood's "Golden Age," is perhaps best known for his roles in "The Bad and the Beautiful," "Champion," "Lonely and the Brave," and as the title character in "Spartacus," among many films. Douglas is also the father of Michael Douglas and has been married to Anne Buydens since 1957, according to the Associated Press.
Douglas has been praised for his generous philanthropic work throughout his life. Not the least of which is the recent decision to donate a full $10 million to the homeless women of Los angeles that live on the city's infamous Skid Row.
He is scheduled to appear at American Cinematheque's Egyptian Theatre on Hollywood Boulevard later this week during the theater's tribute to his career, according to the Los Angeles Times. Douglas will speak before a showing of "Lonely Are The Brave," from 1962.
The actor made headlines most recently when he appeared at the 2011 Oscars to present the award for best supporting actress, according to Yahoo! Before long the actor was flirting with host Anne Hathaway onstage.
"She's gorgeous! Wow! Where were you when I was making pictures? Jeez," Douglas said to roaring applause. "I will never forget this moment."
© Copyright IBTimes 2023. All rights reserved.