'The Kissing Booth' Author Beth Reekles Discusses Movie's Cast, Adaptation Changes
Netflix is helping bring back the contemporary teen romance with its upcoming flick, "The Kissing Booth," based on the Wattpad story of the same name by Beth Reekles. But how did "The Kissing Booth," both the story and the film, come about, and what exactly can you expect from the rom-com? International Business Times spoke with Reekles to get all the exciting details.
With the announcements of a couple Wattpad stories being turned into TV shows and the lead actors of the film adaptation of Anna Todd's "After" finally being revealed, it's been a big couple weeks for the online story-sharing community. The biggest milestone for the Canada-based company, and for Reekles, of course, arrives Friday when "The Kissing Booth" becomes the first English-language film adapted from a Wattpad story.
Out Friday, the film focuses on popular high schooler Elle (Joey King) as she balances enjoying her time with her best friend Lee Flynn (Joel Courtney) with trying to keep her crush on his older brother, Noah Flynn (Jacob Elordi), a secret. Things get a bit more complicated when she finds out that the feelings might just be mutual.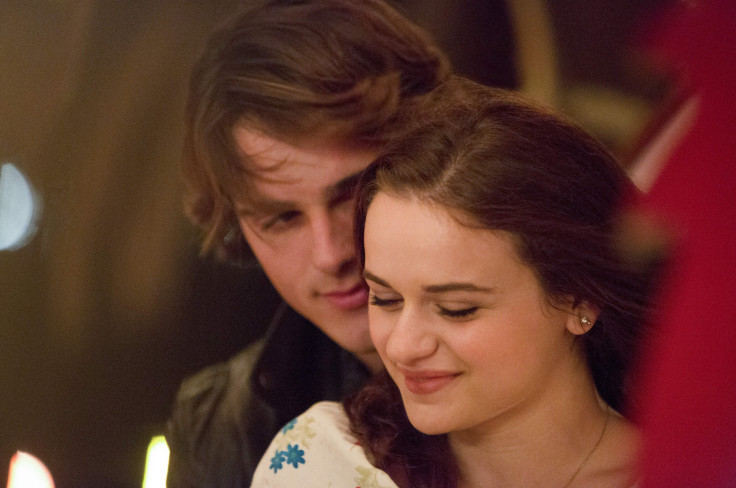 The original story all started years ago when Reekles was looking for a new book to read during her teenage years. At the time, the market was saturated with paranormal romances, a la "Twilight," and while the South Wales writer always enjoyed the genre, she wanted a break from it. Unfortunately, it was easier to want it than to find it.
"I just wanted a regular high school romance," Reekles told IBT. "I'd been looking around and I couldn't find that kind of thing to read because it was all paranormal stuff and I felt like, 'Oh, well, I'll just write it myself.' I knew what kind of characters I wanted to read about. I knew what kind of themes I wanted to be reading about, and I thought, 'Well, I'll just do it myself.'"
Turns out, that was both easy to say and quick to do. She started writing "The Kissing Booth" for Wattpad in May 2011, and it only took her until July to complete it. It took her just a few months to write the story that both she and millions of others wanted to read. From there, she continued to write other stories on the platform, as well as respond to comments during her downtime, some of which happened to correctly guess the future of the story.
"I'd be spending my evenings, replying to messages and comments from people who told me how much they loved my story and how they'd think, 'Oh, this is so great, you should turn it into a film,'" Reekles said. "And I'd just think, 'Oh yeah, that's never going to happen, but okay.'"
After scoring a book deal with Random House a short while later and having a successful meeting-turned-movie-deal with Komixx after that, Reekles' commenters were well on the way to getting exactly what they wanted — "The Kissing Booth" as a movie.
Though Friday's release of the film comes quite a few years after she signed the movie rights over to Komixx, Reekles wasn't too worried about the production company deciding to not actually move forward with developing the movie. Many books are optioned but then never become a film for one reason or another, but Komixx's passion for the project was what helped Reekles believe it would all work out.
"I really trusted these guys and I knew that they'd put in all this time and effort and money, as well, and I knew that they weren't going to just drop the project if they could help it," she said.
Eventually, Komixx brought writer Vince Marcello ("Teen Beach Movie") aboard to pen the script as well as to direct. It only took a Skype call with him for Reekles to realize that her book was in good hands.
"He's amazing. I'd had a Skype call with him about his vision for the movie and any sort of plot points that he might change or whatever and just talk about characters," she said. "He was really passionate about it, as well, and I thought, 'Yeah, I'm really happy you guys have chosen him. I completely trust what you're doing with this project.'"
When the first draft was finished, she looked it over and "sent back a couple of notes on things I didn't think worked particularly well or didn't reflect the characters" to make sure that the movie stayed as true to the original story as possible. Overall, she didn't have too many notes to make, but there was one in particular she recalled sending.
"I think it was sort of mentioned that Elle got her first bra when she was 16, 17 and I remember writing back like, 'No, she probably would've been like 12, 13,'" she said. "But it was three guys involved with this project, they wouldn't have known that just off the top of their heads."
Tiny notes like that didn't stop Reekles from falling "in love" with the script and telling her dad that "this guy's done a better job writing my book than I did" after reading it all. Apparently, King ("Ramona and Beezus"), Molly Ringwald ("Sixteen Candles") — who plays Mrs. Flynn — and Netflix all loved the script and the project as a whole, too. They all decided to hop on the film, giving Reekles a different excited reaction each time she heard the good news.
"I was so excited [when King joined]," Reekles shared. "I'd seen 'White House Down' a bunch of times, and when they told me Joey King I thought, 'The name rings a bell, I don't know why.' I was searching around on IMDB and I thought, 'Oh my God, she's in 'White House Down,' oh my God, I'm so excited, she's perfect. This is going to be great.'"
As for when Ringwald was cast? "I thought, 'Oh my God, amazing. My mom and my sister are going to go crazy when they hear that.' I'm just relieved they've got such big names in it."
Not all of the film's actors are household names, though, which is just fine with Reekles. Jacob Elordi stars as Noah Flynn, the love interest of King's Elle, and while he's only been in a couple film shorts, had an uncredited role in "Pirates of the Caribbean: Dead Men Tell No Tales" and was in a recently-released Australian drama, he's the perfect actor for the role, according to the author.
"I remember seeing the photo of Elle and Noah and I thought, 'Yeah, This is perfect. These guys just work," she said. "And when I met them [during my visit to set] and when I saw them act, I thought, 'Oh my God, this is literally everything I ever imagined, come to life.' They were filming scenes sort of a dozen times and then they'd move the camera and film the same scene a dozen times and I was just completely gripped by every second of it."
No matter how many times she watched them film the same scene, Reekles was so mesmerized by how well King and Elordi were bringing her characters to life that she couldn't step away for a second because she didn't want to take her "eyes off these people."
Not only did she find the cast to be exactly right for the movie, but she continued to be happy with how the script was playing out. The main storyline is the same and while there are a couple changes, Reekles joked that they work "better than my book." Plus, they didn't try to tone down the maturity of her story after she'd worked hard to make sure it was a good mix of being true to the realities of teens while also being acceptable for younger-skewing readers to enjoy.
"They didn't tone it down at all and that was sort of one of the things that Vince said to me, sort of from the start, that he didn't really want to age it down and I was quite happy with that," she said.
When she first wrote the book, she said, "There quite a few people who thought it was really risqué because there was a sex scene in it, but I just sort of turned around and said, 'Well, not really. They have sex but there's no actual sex scene. It's not like 'Fifty Shades' or something.'"
That was something she'd purposely done to allow the story to be able to reach as wide of an audience as possible. She wanted everyone to be able to enjoy it. "I knew I had a lot of really young readers reading the book and I didn't want them to feel alienated or uncomfortable," she said.
She even set the story in America, despite being from South Wales and part of the British school system, to further ensure that a large number of readers would be able to understand her book and feel comfortable reading it.
"I'd only set them there because I knew Wattpad had this huge American audience and I thought, 'Well, as Brits, we know from shows like 'Lizzie McGuire' and movies like 'Mean Girls' when we were growing up, we know what the American school system is like, but they don't necessarily know what the British school system is like.' So, I just thought, 'I'll just set it in America to make it easy for everyone to read.'"
Reekles put a lot of thought and effort into making "The Kissing Booth" a story for everyone to enjoy, which is why Netflix and the notion that "everyone knows Netflix and has Netflix" makes the streaming platform the perfect home for the film.
"No one's going to miss my movie now," Reekles joked. You can easily make her statement come true by having your Netflix password handy and marking Friday on your calendar so you can watch "The Kissing Booth" as soon as it's released.
© Copyright IBTimes 2023. All rights reserved.