Kristen Bell Supportive Of Dax Shepard's New Celebrity Crush After Brad Pitt
KEY POINTS
Dax Shepard talked about his newest celebrity crush Daniel Ricciardo on "The Ellen DeGeneres Show"
Shepard shared that they "hit it off" immediately when Ricciardo appeared on his "Armchair Expert" podcast
Kristen Bell said the two were "really cute" and that she "fully" supports them
Kristen Bell approves of her husband Dax Shepard's new celebrity crush.
During an appearance on "The Ellen DeGeneres Show" Monday, Bell, 41, and Shepard, 46, went head to head in a "5 Second Rule" game, where they had five seconds to answer questions about each other. When Bell was asked to name three of Shepard's "man crushes," she correctly identified Brad Pitt and Australian Formula One driver Daniel Ricciardo but couldn't come up with a third one.
"'Perfect 10' Charlie," Shepard said, referencing fitness trainer Charlie "Perfect 10" Curtis. "He's who I'm trying to become."
Shepard had been vocal about his crush on Pitt, 57, for years but said Ricciardo, 32, recently took the no. 1 spot on his list of celebrity crushes.
"I'm embarrassed to say, I did what these old men do, I got a younger model. Because Danny's only 31," Shepard said.
The actor went on to say that he "hit it off" immediately with Ricciardo when the latter appeared on his "Armchair Expert" podcast.
According to Shepard, he "pushed hard" to get Ricciardo's phone number. "We've just really been building this thing that's culminated in us seeing the world together, really," he added.
Bell, for her part, has no issues with Shepard and Ricciardo's bromance. "They're really cute. I fully support this," the actress said.
Since they became pals, Shepard has shared several photos with Ricciardo on Instagram. In one post, they can be seen wearing matching overalls, while another showed them holding hands while sightseeing in London.
"I'm so grateful my ego has finally allowed me to see the world with someone who is infinitely better at driving than me. [orange heart emoji] @danielricciardo," Shepard wrote in the caption of one post.
Shepard also shared a video of himself in Austin, Texas, where he jumped off a bridge and into the river. Ricciardo and other friends were tubing. Ricciardo was shouting at Shepard not to do it because it was so shallow. In the caption, Shepard wrote, "I don't love you Austin, I'm IN love with you."
"I thought he was so impressed because he's a Formula One driver telling me to be more careful. It was a real feather in the cap," Shepard recalled. "And then I have since realized he's just worried because I'm old as hell. I'm 46, I could be his father. He wasn't worried it was too shallow. He just thought I might break something."
Ellen DeGeneres told Shepard that Ricciardo had also been on her show and that they had formed a relationship. The host added that he had been texting with her and even showed a snap of Ricciardo wearing her underwear, which made Bell laugh and the audience cheer.
"What great news? What great news, I'm so happy for you guys," Shepard told DeGeneres while looking unimpressed. He added that he would have killed himself to impress him, before saying, "OK, that man's unmentionable."
During an appearance on the same show last year, DeGeneres surprised Shepard with a video of Pitt saying he also has a "crush" on the podcast host after learning about Shepard's admiration for him.
Shepard also talked about his "date" with Pitt, saying it was "incredible," Entertainment Tonight reported. However, he had one regret, which was not being able to see Pitt's physique as he was wearing leather from head to toe because they were riding motorcycles.
"Next date, hopefully, it will be some kind of beach community where we can splash around a little bit," Shepard joked.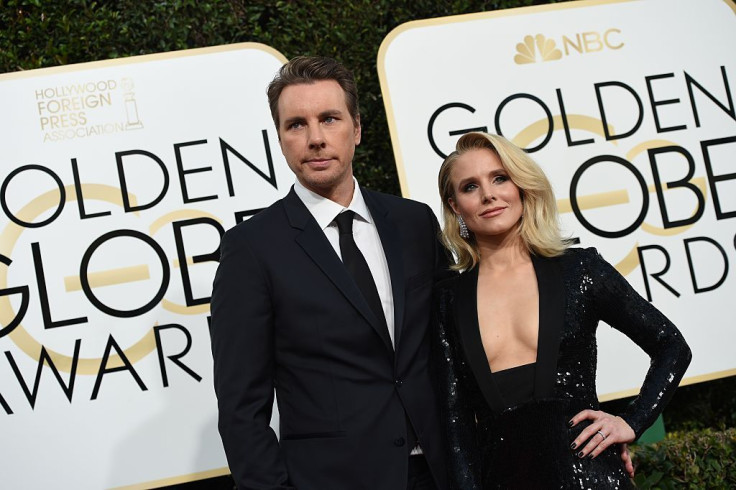 © Copyright IBTimes 2023. All rights reserved.
FOLLOW MORE IBT NEWS ON THE BELOW CHANNELS