Kusama Shares Ambitious Vision Of Shiba Inu Changing The World At Blockchain Futurist Conference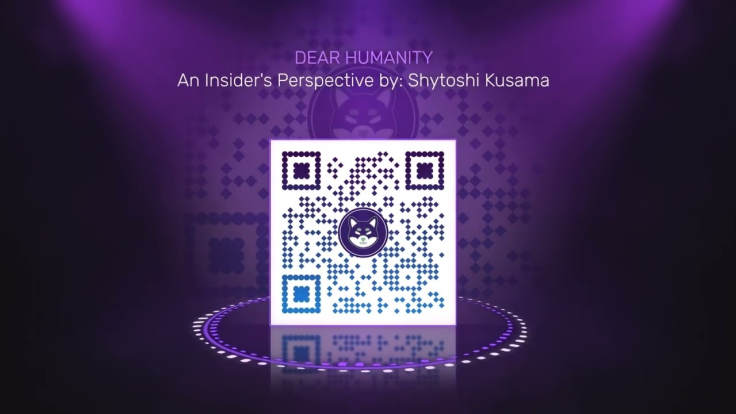 Shytoshi Kusama, the pseudonymous lead developer of the dog-themed altcoin Shiba Ecosystem, has bared his bold and ambitious vision of changing the world through Shiba Inu while highlighting the crucial role of the Shib Army in making this vision a reality.
The 5th Blockchain Futurist Conference in Toronto, Canada, made history when it allowed Kusama to be its keynote speaker Tuesday, leveraging the power of the latest technology from its partner Bad Idea AI so the Shib Army could hear him speak without compromising the pseudonymous lead developer's identity. The event was held from Aug. 15 to 16.
The head honcho of the Shiba Ecosystem delivered a rousing and impactful speech titled "Dear Humanity," where they outlined their bold vision for the cryptocurrency industry and the world. Kusama started by acknowledging the increasing need for change and highlighting the sufferings endured by humanity because of man-made issues like inflation and the spreading of rumors about war, as well as natural disasters.
Kusama expressed dissatisfaction with the concentration of power in a select few with secret knowledge, which, they said, is where humanity has relied on for centuries instead of tapping into the collective power of the masses.
"Dear Humanity you feel it don't you, the growing need for something different something new, the unfortunate reality so many face from the crushing weight of infinite inflation of feeling so hard to escape as it seems everything is caving in on us," the keynote started.
"Natural disasters, unnatural disasters, wars and the rumors of wars that always seem to advance, this is not by chance. We have placed our faith in the secrets of a few instead of the power of many," Kusama said in their speech, highlighting that "tomorrow that changes."
"We have been robbed of our liberty, cheated of our autonomy and blamed for our shortcomings. We have surely been exploited for our data, indebted to centralized monopolies and forced to forge our future with the Forgotten scraps of past Martyrs and tears of genocide survivors," he said.
Kusama also challenged the community by posing the question, "Can a simple meme, a joke born as an experiment make a lasting change on the global stage?"
He said that Shiba Ecosystem will also deliver dazzling technology just like every other blockchain, crypto and metaverse, but argued that what separates Shiba Inu from the rest is its community, the Shib Army, whom they noted will be "empowered to scale even further and along with its global community, will stand together for a better future–a decentralized one."
Kusama, unfortunately, declined to reveal his role in breathing words into this bold vision but said that for now, he is Shytoshi, one "uniquely positioned to plant our prophetic banner into the annals of history with Shib's perfect start by Ryoshi and my decentralized direction alongside an incredible group of global Superstars including many of you."
Kusama also highlighted the milestones the Shib Army achieved when they worked together. "We have shattered records, taken down websites from traffic overload and done what many deemed impossible over and over again," he said.
"Now and henceforth my friends we will do what many said was impossible yet again," Kusama said, before reminding the Shib Army, "With all of our great minds, together we will right this crooked world, so the question is not when but if you will be able to say and show on-chain that you took part of a revolution that was not televised? Only time will tell and until then be well, sincerely Shitoshi Kusama via AI obviously, hail SHIB."
Kusama also dropped a couple of announcements in their brief 5-minute keynote speech at the Blockchain Futurist Conference, which included the launch of the Shib Paper and the book they penned titled "44 Tenants to Triumph in Crypto," which will be available for pre-order.
Despite Kusama's rousing speech, SHIB, the native token of the Shiba Ecosystem, was unable to go against the crypto market print currently printing red indices.
As of 4:30 a.m. ET on Wednesday, SHIB was trading down at $0.000009924, with a 24-hour trading volume up by 54.47% at $448.64 million, representing a 3.31% decrease in the last 24 hours and a 1.0% loss over the past seven days.
Based on the latest data from CoinMarketCap, SHIB's total circulating supply stands at 589.35 trillion SHIB, with its value down by 3.46% at a $5.85 billion market cap.
© Copyright IBTimes 2023. All rights reserved.