Kwame Kilpatrick Scandal: Former Detroit Mayor Appeals Corruption Case Heads To US Supreme Court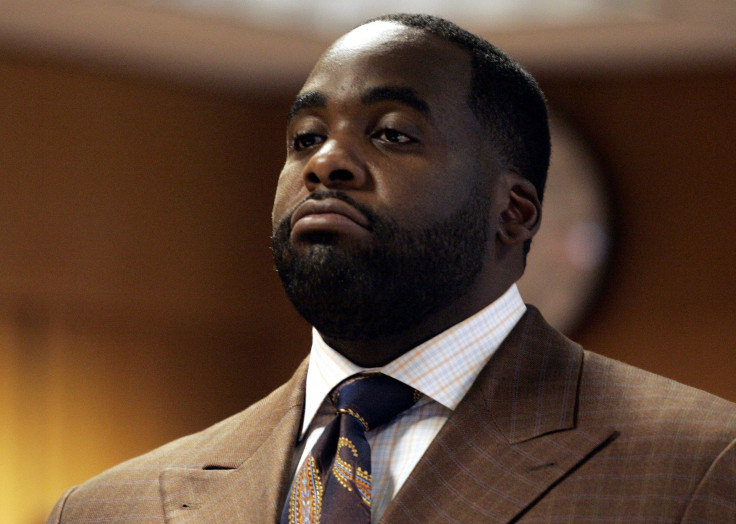 Former Detroit mayor and Michigan state Rep. Kwame Kilpatrick, convicted on corruption charges, has asked the U.S. Supreme Court to look at his case and his 28-year prison sentence, one of the longest corruption sentences in U.S. history, the Associated Press reported Thursday. Kilpatrick, who served as mayor of Detroit was convicted in 2013 of multiple crimes including tax evasion and bribery.
The 6th U.S. Circuit Court of Appeals affirmed Kilpatrick's conviction in August. He could find out as soon as Feb. 19 if the Supreme Court has made a decision on whether to hear the case, the Detroit News reported.
Kilpatrick — who served as mayor 2002-08 and currently is serving time at a federal prison in Oklahoma — was found guilty of misusing funds from a nonprofit he set up for underprivileged children, MLive.com reported. Attendees of his lavish birthday parties were expected to make donations to his nonprofit, the Kilpatrick Civil Fund.
He reportedly used the funds to pay for luxuries and weekend trips with Christine Beatty, his top aide and mistress. Prosecutors said Kilpatrick spent more than $840,000 more than his annual $170,000 salary through kickbacks and bribes.
Kilpatrick also was convicted of rigging contracts worth millions for city contractor Bobby Ferguson, currently serving a 21-year sentence in South Carolina. The Supreme Court denied Ferguson a chance to have his case heard before the court and overturn his public corruption conviction.
"There are really significant issues. It's a significant case. Mr. Kilpatrick received an extremely long sentence, so I think that there are compelling reasons for further review," Kilpatrick attorney Harold Gurewitz told the Detroit Free Press in October.
Two points are at the center of Kilpatrick's appeal, both involving the testimony of two federal agents. The agents testified 23 times — testimony Gurewitz has argued the testimony should have been in admissible — and allowed to "testify as sort of the emcees in the case," the Free Press reported.
Gurewitz has also argued Kilpatrick was forced to go to trial on corruption charges with a lawyer he didn't want representing him, James Thomas. Kilpatrick tried to get Thomas off his case at the beginning of his trial, but a federal judge said Thomas was a good attorney, and Kilpatrick asked for him when he ran out of money.
© Copyright IBTimes 2023. All rights reserved.