Lady Gaga's Shoes 'Misbehaving': Singer Falls To The Curb Outside Lisa Vanderpump's Restaurant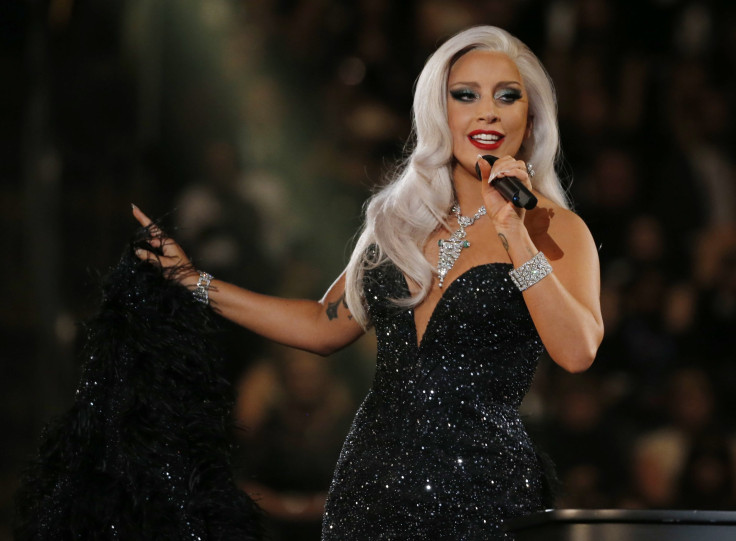 Lady Gaga has been known to wear out-of-this world outfits partnered with sky-high shoes. Everyone thought she was already an expert in walking around with almost skyscraper tall pumps. However this proves to be untrue, the singer took a tumble Wednesday, just outside Lisa Vanderpump's restaurant.
The "Born This Way" songstress had dinner with "Real Housewives" star Wednesday night, at the Vanderpump's Pump restaurant and lounge in Los Angeles, Page Six reported. The two friends were accompanied by Lady Gaga's mother, Cynthia Germanotta. The recently engaged singer was wearing a floor length red and black kimono, partnered with black high-heeled mules. She also wore a pair of red cat-eyed sunglasses, along with a bright pink flower in her hair.
After dinner, Lady Gaga confidently made her way to a waiting white Lincoln Continental convertible, arm-in-arm with Vanderpump, when she tumbled while stepping of the curb. The singer nearly banged her head on the car's door, as she tried to grab the side of the convertible for support.
A source told Page Six that Vanderpump was concerned when Lady Gaga went down and helped the singer stand up. Afterwhich, Lady Gaga quickly regained her composure and was driven off by a chauffeur. The insider was impressed with how the singer recovered and said, "She handled it like a pro."
Despite Lady Gaga's curb incident, the singer still managed to spend quality time with her friend and her mother. She even serenaded the diners at the Pump restaurant. Another Page Six source shared that nobody knew the multi-awarded singer was at the restaurant and how everybody was pleasantly surprised when she started singing "La Vie En Rose."
Vanderpump reportedly encouraged Lady Gaga to give the restaurant diners a surprise. The insider also described the moment as "magical" wherein everyone at Pump stopped and watched the songstress perform that one song.
After the dinner serenade and curb incident, Vanderpump took to Instagram to share a selfie pic with Lady Gaga prior the fall, US Weekly reported. The reality star captioned the image, "About last night....#pump #misbehaving."
Lady Gaga will soon be appearing on the hit Fox show "American Horror Story: Hotel," wherein she will play a bisexual and polyamorous character named Elizabeth. Season 5 is set to premiere on October.
© Copyright IBTimes 2023. All rights reserved.