Lara Trump On Fox News? What Eric Trump's Wife Will Do Amid Fallout From 2020 Election
Lara Trump has found a new job following her father-in-law Donald Trump's exit from the White House. On Monday, Fox News announced Lara Trump, the wife of Eric Trump, has been hired as a contributor.
Ainsley Earhardt announced the news during the network's morning show "Fox & Friends."
"Let's bring in Lara Trump, former senior adviser for the Trump campaign, and we have a big announcement. She is a new Fox News contributor. Welcome to the family, Lara," said Earhardt.
Throughout Donald Trump's presidency, Lara Trump has made appearances on several shows on the network.
"Well, I'm so excited, first of all, to be joining the Fox family, I sort of feel like I've been an unofficial member of the team for so long," she said.
"You guys know it was kind of a joke over the past five years, I would come there so often that the security guards were like, maybe we should just give you a key."
The 38-year-old is a graduate of North Carolina State University, where she received a bachelor's degree in communications. She spent four years as a story coordinator and producer for "Inside Edition" and has mulled a run for the U.S. Senate seat that will be vacated in 2022 by Republican Richard Burr.
Lara Trump's new gig comes amid her father-in-law's fallout with the network over the 2020 election. After Fox News called the election for then President-elect Joe Biden, Donald Trump began criticizing the network for failing to remain loyal to him.
Trump went on to promote smaller right-wing networks like One America News and Newsmax.
During the early days of the fallout, a source told Axios that Donald Trump was interested in starting a digital media company to compete with the network.
"He plans to wreck Fox. No doubt about it," the source said.
Although Donald Trump has been at odds with the network, during a podcast with Fox News contributor Lisa Boothe, he appeared to hint that he may be launching his own social media platform soon.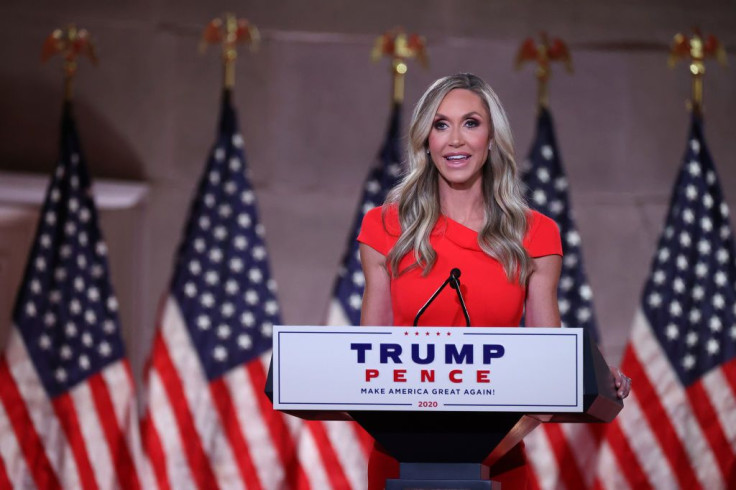 © Copyright IBTimes 2023. All rights reserved.