Watch: Trump Uses Wedding Speech To Attack Biden; Asks Crowd 'Do You Miss Me?'
KEY POINTS
Trump used a wedding speech to slam the Biden administration
The wedding reception took place at Trump's Mar-a-Lago golf resort in Florida
The former president repeated false claims about widespread fraud during the 2020 election
Former President Donald Trump on Saturday used a wedding speech at his Mar-A-Lago golf resort in Florida to attack the Biden administration and reiterate false claims of winning the November presidential election.
Trump appeared at the wedding of John and Megan Arrigo dressed in a tuxedo when he offered the couple his congratulations. "You are a great and beautiful couple," he told the Arrigos.
He then launched into a speech in which he attacked Biden for the situation at the U.S.-Mexico border and for what's happening with Iran.
"Enough about the couple, let's talk about me," Trump began. "I get all these flash reports, and they're telling me about the border, they're telling me about China, they're telling me about Iran — how're we doing with Iran? How do ya like that?"
"Boy, they were ready to make a deal, they woulda done anything ... and this guy goes and drops the sanctions and then he says, 'We'd love to negotiate now,' [and Iran says] 'We're not dealing with the United States at all,' oh, well, they don't want to deal with us," Trump continued.
Trump also repeated his baseless claims about voter fraud in the 2020 presidential election and called Biden's win a "strange thing."
"So it's a rough thing, and I just say, 'Do you miss me yet?'" he said. "We did get 75 million votes, nobody's ever gotten that. They said, 'Get 66 million votes, sir, and the election's over.' We got 75 million and they said... you saw what happened, 10:30 in the evening, all of a sudden, they said, that's a strange thing, why are they closing up certain places ... Now, a lot of things happening right now."
He did mention the couple again, but not until the end of the speech. "It's an honor to have you at Mar-a-Lago, you are a great and beautiful couple," he said.
Donald Trump's wedding speech came as Eric, his second son, appearing on Fox News, claimed his father had fixed issues with illegal immigration and proceeded to attack Biden for his immigration policies.
"My father had fixed this problem," he told Fox New's Maria Bartiromo on Sunday. "Illegal immigration was not a problem anymore. That's the most humane form of immigration where you don't have people making this dangerous trek, and it literally shows you what bad policy can do to the country that in 90 days, in less than 90 days, a system that was working and was perfect and that was fixed turned to absolute junk."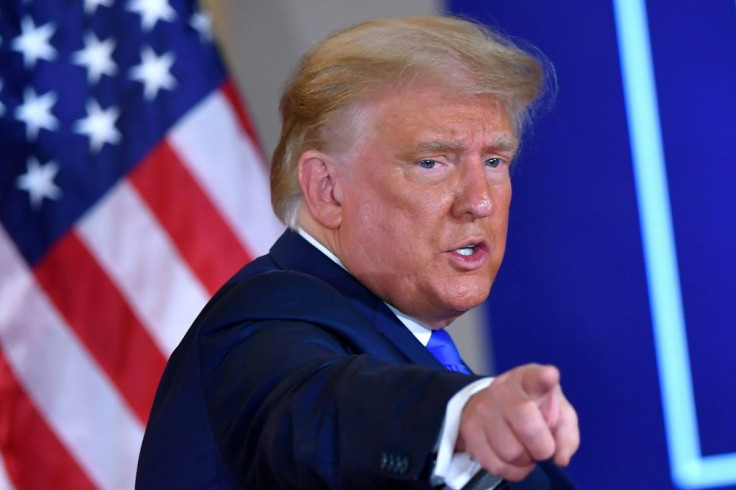 © Copyright IBTimes 2023. All rights reserved.