'Law & Order: SVU' Season 16 Spoilers: 'Desperate Housewives' Star Marcia Cross Returns To TV In Episode 16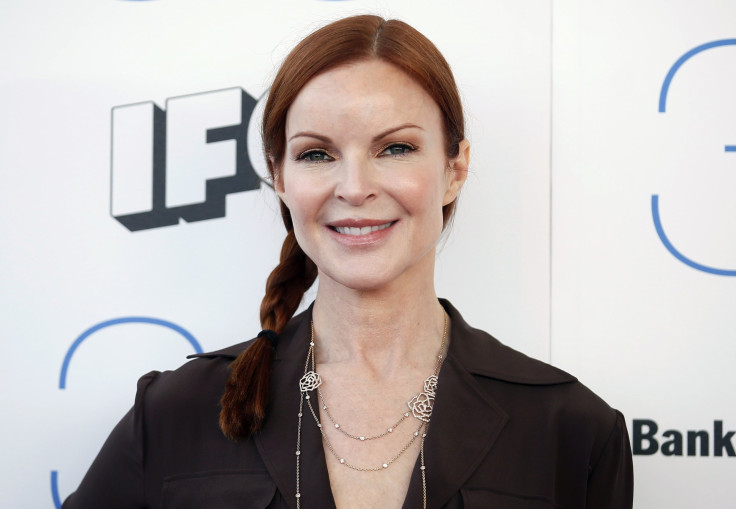 Wednesday's episode of "Law & Order: Special Victims Unit" should be a good one. The new installment unites two very special guest stars – former "Desperate Housewives" star Marcia Cross and TV icon Robert Vaughn. For one actor, it will be a long awaited return to television, for the other, it will be another chapter in a storied character.
The episode – titled "December Solstice" (Season 16, episode 16) – will feature Cross and Vaughn as guest stars playing Walter and Charmaine Briggs. Walter Briggs (Vaughn) is a renowned author suffering from dementia in the later years of a long and successful career. In addition to his career as a novelist, he has had quite a career with the ladies – marrying six times and allegedly sleeping with over 170 women. Charmaine (Cross) is the much younger sixth wife to Walter, and while she loves her husband, she is concerned about her financial security if Walter dies. The episode heats up when Walter's children accuse Charmaine of taking advantage of Walter sexually to get pregnant with his child.
In a media conference call Tuesday, the two actors discussed how they ended up working together on the episode.
For Cross, the appearance will her first role in television since her Emmy-nominated turn as Bree Van De Kamp on the hit ABC series "Desperate Housewives," which came to an end in 2012. The actress said she had been itching to get back to work and chose "Law & Order: SVU," thinking it would be relatively under the radar.
"It was a wonderful opportunity to get back to work," Cross said. "I thought, 'I'll see how it feels to get back into it.'"
Cross later admitted that after seeing how many loyal fans the series has, she was naïve to think the role would be low-key.
As for Vaughn, the iconic actor – most famous for starring in "The Man from U.N.C.L.E." – said it was not a hard decision to take the role alongside Cross.
"I am 80-years-old, so when I get a role where I can really sink my teeth into it, I jump at the chance because who knows when my phone will stop ringing?" Vaughn said.
Watch the promo for episode 16 below:
The two guest stars should make Wednesday night's episode exciting for fans of all ages – younger fans eager to see Cross' return to TV and older fans happy to see a TV legend in a new role. Be sure to tune in to "Law & Order: SVU" Wednesday at 9 p.m. EST on NBC to catch all the action.
Are you excited to see Marcia Cross return to television? Tweet your thoughts to @Ja9GarofaloTV.
© Copyright IBTimes 2023. All rights reserved.
FOLLOW MORE IBT NEWS ON THE BELOW CHANNELS