Lawrence Taylor, ex-Giants star, declared sex offender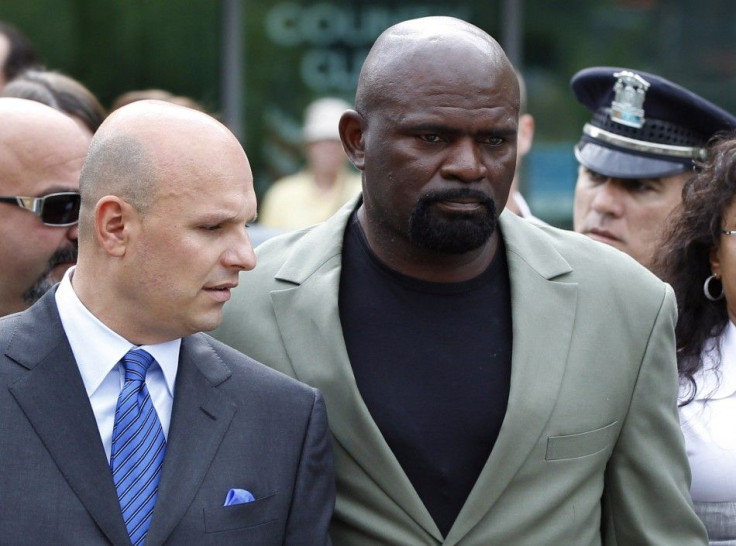 Legendary football player Lawrence Taylor was officially declared a sex offender on Tuesday.
As a sex offender, the Super Bowl hero is barred from porn websites and sex shops. He also cannot be alone with underage kids, except his 5-year-old son and his friends, and has to be home between 1 a.m. and 5 a.m.
The former linebacker, accused of sleeping with a minor, faced the victim for the first time since the incident in the courtroom.
Taylor was sentenced to six years probation in Rockland County Court for patronizing a prostitute and sexual misconduct.
Christina Fierro, who is 17, appeared in court in front of cameras and denied she was a prostitute.
I am not a prostitute, she said. I am a victim and I am hurting. I don't think the sentence given to Mr. Taylor is fair.
Fierro's attorney, Gloria Allred, said her client would have objected to the plea agreement had she been consulted.
Fierro was a week shy of turning 17, which is the legal age of consent, when she met the athlete in a Holiday Inn on May 6, 2010.
Taylor was first charged with felony statutory rape because Fierro was a minor but copped a plea to lesser charges.
Allred said that Fierro was beaten up by a pimp named Rasheed Davis into meeting with Taylor. Allred also said that Taylor should have known her client was underage.
Taylor's lawyer, Arthur Aidala, responded by saying that exposing the victim to the media was a disgrace.
This young woman is being victimized once again, he told TV cameras.
Aidala also insisted that the Super Bowl-winning athlete had no idea the girl was underage when he slept with her and apologized on his behalf to his wife and family.
He never wanted to tarnish his image. Mr. Taylor readily accepts responsibility. Aidala said.
Taylor now awaits a hearing to determine his sex offending level and he has to put his name in a public registry. The hearing will be held April 12.
© Copyright IBTimes 2023. All rights reserved.