LeBron James Fires Back At Draymond Green Over Super Team Comments During Warriors Parade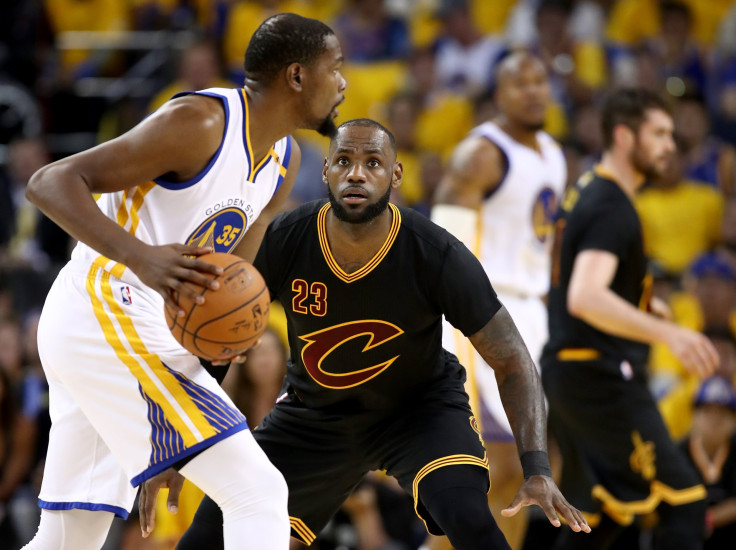 Cleveland Cavaliers player LeBron James and Golden State Warriors star Draymond Green have been sparring publicly since the Warriors' defeated the Cavaliers in Monday's NBA Finals. After the two exchanged jabs — namely about whether James invented or ever played for a super team — the back-and-forth culminated Friday with James' discussing the ostensible beef in a new interview.
Read: LeBron James vs. Draymond Green: NBA Stars Have Been Going At Each Other For Years
James gave the interview on a "Road Trippin'" podcast that aired Friday and told hosts and fellow Cavaliers players Richard Jefferson and Channing Frye, as well as sideline reporter Allie Clifton, that he disagreed with assertions by Green that James started NBA super teams. While the claim has most certainly been made by others before, the most recent accusation was delivered by Green during Thursday's Warriors Championship Parade in Oakland, California.
"'I never played on a superteam…'" Green quoted James as saying before adding, "You started the superteam, bro!'"
"No," James said of Green's comments in the Friday podcast, according to ESPN. "No. I mean in 2003, the Lakers combined Karl Malone, Gary Payton, Shaq and Kobe. And in '96, when Jordan was retired, the Rockets joined Charles Barkley, Hakeem Olajuwon and Clyde Drexler all on the same team."
He added, "But I don't look at it as ... I definitely didn't start the superteam, if that's what he's trying to say. But I just feel like that it's great that on the day you're celebrating your championship, my likeness and my name is in your head. I love that."
Read: Does LeBron James Think That Super Teams Exist in the NBA?
James' comments were the latest in a string of social media call-outs, which were exchanged between the two after Monday's loss. Green's comments on Thursday directly addressed James' response during a press conference Monday after his team fell to their NBA Finals challengers.
The Warriors forward was asked whether he thought star-studded teams like his own — which boasts household player names that include Kyrie Irving, J.R. Smith and Tristan Thompson — were good for the NBA.
"I don't believe I've played for a super team," James said. "I don't believe in that."
But that's not the only time they've taken virtual shots at each other. Their social media feud goes back to 2015.
© Copyright IBTimes 2023. All rights reserved.