'Legends Of Tomorrow': Courtney Ford Promoted To Series Regular For Season 4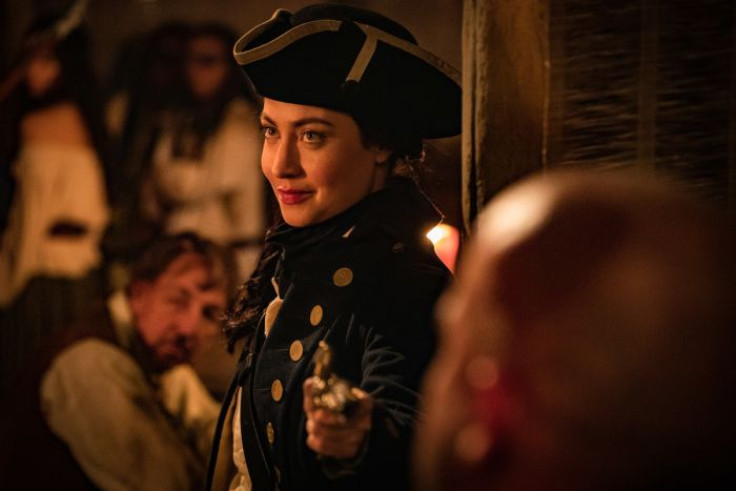 Courtney Ford will be a permanent fixture in Season 4 of "Legends of Tomorrow."
According to Deadline, Ford, who recurred as Nora Dark in Season 3, has been promoted to series regular for the next season of the CW series.
Nora is the evil daughter of Arrowverse villain Damien Darhk (Neal McDonough). The father-daughter duo went up against the Legends last season when they tried to release time demon Mallus into the world. Ford made her debut appearance in Season 3, episode 5, and has appeared in nine episodes so far.
Two months before Ford's promotion was announced, series star Brandon Routh explained why he wants to see Nora return to the time-travel series next season.
"I want Nora to come back [because] she made [my character] Ray [Palmer] a more three-dimensional character and brought out some of the more interesting story aspects for Ray," Routh told Syfy Wire in April.
Though Routh and Ford are spouses in real life, Routh doesn't want to see their characters quickly develop a romance with each other.
"I'm hesitant to have Ray jump into anything [romantic] with Nora," the actor said. "I think that was the idea at the beginning because Courtney and I are a couple in real life, but I think it's so much more interesting, as characters, to have them be at odds, to have the 'Moonlighting' relationship that they have, versus any lovey-dovey stuff too soon."
"I like them sussing each other out," Routh continued. "Are they just going to be friends? Do they have any kind of romantic connection? Or are they just connecting on a humanity level [like], 'I see you, you see me, we're learning from each other'? And is that enough? That can be more powerful sometimes than a romantic relationship, because you can see people more clearly that way, on all kinds of levels. But I do really love the relationship between Sara Lance (Caity Lotz) and Ava Sharpe (Jes Macallan) — I'm an Avalance shipper! [Laugh]."
Also last April, executive consultant Marc Guggenheim told Entertainment Weekly's Superhero Insider that they did have plans to bring the Ford back for Season 4.
"You know we love Courtney. I saw her last night. We had a little party for the finale, saw her and Brandon, and was like, 'Yes, we absolutely have to have you back on the show. We have to figure out a way,'" Guggenheim said. "And you know it was very intentional that we gave that character the time stone [in the Season 3 finale] so that we have all sorts of different possibilities open to us as writers to have Nora back."
What do you think of Ford's promotion to series regular? Sound off in the comments section below!
"Legends of Tomorrow" Season 4 premieres on Monday, Oct. 22 at 9 p.m. EDT.
© Copyright IBTimes 2023. All rights reserved.