Leigh Van Bryan, Emily Bunting: Tourists Arrested in L.A. on Terror Charges over Twitter Joke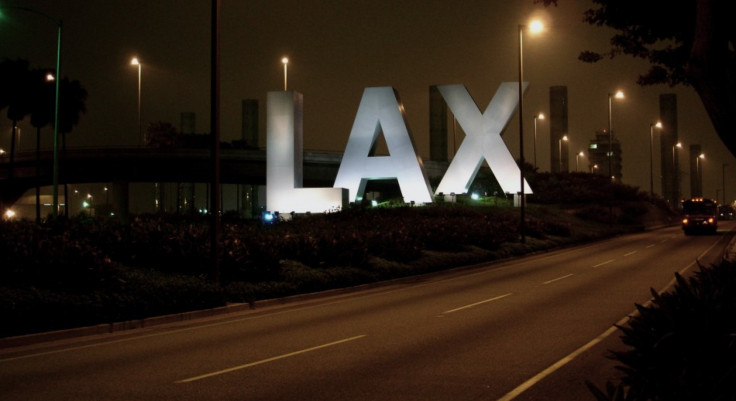 Irish tourist Leigh Van Bryan probably did not expect his trip to the U.S. to involve handcuffs and a jail cell, but that is where he ended up.
Leigh Van Bryan, 26, was kept under armed guard in a jail cell with Mexican drug dealers after landing in Los Angeles with friend Emily Bunting, 24, all over a Twitter joke. Van Bryan tweeted excitedly to pals about his upcoming vacation, writing Free this week, for quick gossip/prep before I go and destroy America? and 3 weeks today, we're totally in LA p****** people off on Hollywood Blvd and diggin' Marilyn Monroe up!
After going through Los Angeles International Airport (LAX) last Monday, the couple was detained, reported The Daily Mail. Despite insisting that the term destroy means to party in British slang, they were held on suspicion of planning to commit crimes and had their passports confiscated.
Federal agents looked through Van Bryan's suitcase, looking for spades and shovels. They claimed that Bunting was to be his lookout while he raided Monroe's tomb.
The two were quizzed for five hours at LAX before they were handcuffed and locked up overnight. They spent 12 hours in separate jail cells before they were sent on a plane home via Paris. Leigh, an Irish national living in Britain, and Emily arrived at Birmingham Airport last Wednesday afternoon.
Bunting was angered (and confused) by the situation. The officials told us we were not allowed in to the country because of Leigh's tweet. They wanted to know what we were going to do. They asked why we wanted to destroy America and we tried to explain it meant to get trashed and party, she said.
I almost burst out laughing when they asked me if I was going to be Leigh's lookout while he dug up Marilyn Monroe. I couldn't believe it because it was a quote from the comedy 'Family Guy,' which is an American show.
It got even more ridiculous because the officials searched our suitcases and said they were looking for spades and shovels. They did a full body search on me too. We just wanted to have a good time on holiday. That was all Leigh meant in his tweet. He would not hurt anyone, she added.
Leigh posted the questionable tweet on Jan. 16 before the pair flew to L.A. together last Monday.
It's just so ridiculous it's almost funny, but at the time it was really scary. The Homeland Security agents were treating me like some kind of terrorist, said Van Bryan. I kept saying to them they had got the wrong meaning from my tweet but they just told me 'you've really f***** up with that tweet boy.'
When I was in the van I was handcuffed and put in a cage. I had a panic attack but the worse was yet to come. When we arrived at the prison I was shoved in a cell on my own but after an hour two huge Mexican men covered in tattoos came in and started asking me who I was, he said.
Van Bryan's charge sheet read: He had posted on his Tweeter website account that he was coming to the United States to dig up the grave of Marilyn Monroe. Also on his tweeter account Mr. Bryan posted that he was coming to destroy America.
U.S. Customs and Border Protection released a statement about the terrorist tweet, confirming that two people had been taken into secondary interviews and said that during those interviews, information was uncovered that revealed both individuals were inadmissible to the United States.
CBP strives to treat all travelers with respect and in a professional manner, while maintaining the focus of our mission to protect all citizens and visitors in the United States, the department told ABC News. We recognize that there is an important balance to strike between securing our borders while facilitating the high volume of legitimate trade and travel that crosses our borders every day, and we strive to achieve that balance and show the world that the United States is a welcoming nation.
This arrest comes on the heels of a recently released public document from the FBI asking how to harvest infomation from social networking sites. The bureau is looking for a mapping app that will allow for search of publicy available sources like Facebook, Twitter and such for national security threats, according to NPR.
Some other facets sought by the FBI, via NPR, include:
... instant notifications of breaking events, incidents, and emerging threats that have been vetted and meet the defined search parameters.
Ability to immediately access geospatial maps that plot US Domestic terrorist data; global terrorist data; US Embassy, consulate and military installations around the world; weather conditions and forecasts; and video feeds from traffic cameras.
Ability to instantly search and monitor key words and strings in all 'publicly available' tweets across the Twitter Site and any other 'publicly available' social networking sites/forums (i .e. Facebook, MySpace, etc.).
Ability to immediately translate into English, tweets and any other open forum publicly available social media captured in a foreign language.
Ability to geo-locate the open source social media 'search' by setting a radius by both miles and kilometers (i.e. 5 miles, 10 miles, 50 miles radius) that will allow the user to quickly narrow the search to a specific area/region/location.
The ability to geospatially locate bad actors or groups and analyze their movements, vulnerabilities, limitations, and possible adverse actions
The ability to develop pattern-of-life matrices to support law enforcement planning and enforcement operations
... reference documents such as a dictionary of 'tweet' lingo
© Copyright IBTimes 2022. All rights reserved.
FOLLOW MORE IBT NEWS ON THE BELOW CHANNELS