Lena Dunham Backlash: 'Girls' Scribe Has More Defenders Than Haters After $3.5 Million Book Deal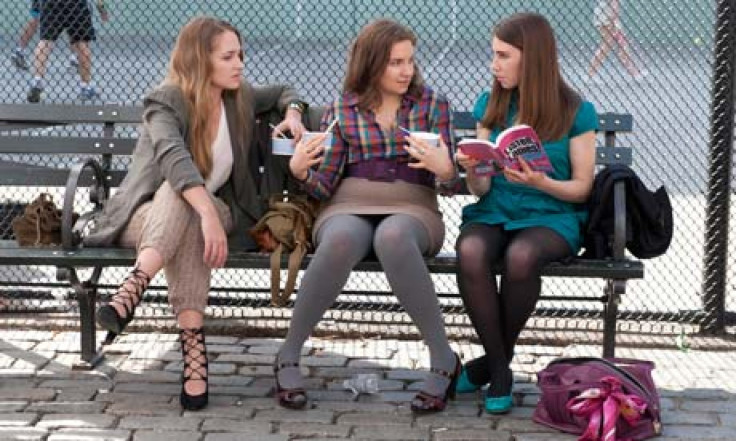 Random House has paid a cool $3.5 million to win a bidding war for the rights to Lena Dunham's forthcoming essay collection. According to the New York Times, the book was pursued by several publishers after the 26-year-old shopped around a clever 66-page proposal for her "non-advice" guide to girlhood. "Not That Kind of Girl: A Young Woman Tells You What She's Learned," will be comprised of several essays written by the actress, director, writer, and polarizing voice of a generation.
Dunham, whose HBO hit "Girls" is heading into its second season, first made a splash with her 2010 indie feature "Tiny Furniture." She has since become something of an icon for New York City hipster culture and is a rare example of a prominent post-recession artist. But her remarkable success has not come without backlash -- and perhaps more than her fair share of it.
When "Girls" debuted in April, many criticized Dunham for focusing on the so-called plight of arguably privileged white women while featuring hardly any characters of color. Others renamed the show "Nepotism" in mock posters since Dunham is the daughter of artist Laurie Simmons, and the show's other three leads have famous parents.
Last week, when reports surfaced that Dunham was close to signing a major book deal, the blog FEMTHREADS claimed that Dunham's presumed self-involvement and lack of life experience are not qualities associated with a great author.
"… what is so excruciatingly annoying about Lena Dunham is, admittedly, what is really annoying about lots of ambitious yuppies in their 20s: We all want the world to recognize our own brilliance, but due to being twentysomething and having like zero life experience … we don't have the years of wisdom that actually makes someone awesome.
"So you work and you live and you hope that one day, you'll become eclectic, brilliant and wise. And you try to keep your self-importance to yourself … But not Lena Dunham."
Almost immediately after Dunham's massive literary coup became public, several bloggers and journalists -- anticipating a barrage of criticism -- rushed to her defense.
Hours after the deal was reported, The Huffington Post's Emma Gray and Margaret Wheeler Johnson posted "10 Reasons We Won't Participate in the Lena Dunham Backlash."
"How many 26-year-olds do you know who have made two web series, two feature films, multiple short films, written, produced, directed and starred in a hit HBO TV show and published two (well-received) essays in the New Yorker?" ask Grey and Wheeler. "How many young women not only dream big but, instead of succumbing to self-doubt, proceed as though those dreams deserve to be brought to fruition? ... when a young woman does, that is something to celebrate."
Leslie Gornstein of E! News also rushed to Dunham's defense with the story "Why Lena Dunham Totally Deserves a $3.5 Million Book Advance," which affirmatively answers its own question: "So 'Girls' creator/star Lena Dunham is getting more than $3 million to write a book? Is that even fair?"
Also joining in the chorus, Jezebel's Katie J.M Baker asked, "Why Does a Wildly Successful Young Woman Owe Anyone an Apology?" in a post defending Dunham and pointing out the difficult position she is in.
According to Baker, the fact that Dunham is a woman in the spotlight means that she must appear grateful for her success and is unable to own her achievements with confidence that could be misconstrued as arrogance. She also cites the actress's age as a reason that many refuse to accept her success.
"Older people get away with owning their success and making controversial artistic decisions because people usually agree that they've earned it. Lena is often compared to Larry David and Louis C.K., two celebrities who are unrepentant about being assholes onstage and on the TV screen -- but that's not only because they're men, it's because they've worked as actors and writers for decades. But young, successful men get away with being cocky in a way that young, successful women do not.
"Young famous women, on the other hand, have two choices: they can appear spoiled and ungrateful, or apologetic and 'aw, shucks'-like. The savvier ones, like Dunham, often go with the latter. Women -- particularly young women -- are supposed to be respectful. They're supposed to make Taylor Swift faces when they win awards."
Mike Fleming of Deadline was one of the few journalists who deemed Dunham unworthy of the deal. He notes that "Tiny Furniture" was hardly a box office success and that it will be difficult for someone with a cult following to release a book that's a massive hit.
"She may become the voice of her generation, but right now she seems to have more of a cult than mainstream following, and you have to sell a lot of books to recoup a $3.6 million advance," Fleming said. "That must have been some proposal to get so many publishers hot and bothered!"
Entertainment Weekly's Stephan Lee calls the deal a "surprise" but credits the star's impeccable proposal for the book's superior advance.
"It might come as a surprise that Dunham, whose TV show and debut film 'Tiny Furniture' has attracted a large amount of media attention but a relatively small, rarefied audience, can draw such a hefty book deal," Lee says. "But according to my contact at a major literary agency who reviewed the proposal for 'Not That Kind of Girl,' what really drove up the bids from publishers was the clever content of the proposal itself rather than Dunham's name recognition alone."
E!'s Gornstein predicts that the publisher will likely make back the money offered to Dunham for the deal, and Celeste Fine of the publishing company Sterling Lord agrees.
"… awkward, smart girls like to buy books," Fine told E! "So this is an aggressive investment, but not insane. Obviously, there is always more risk at this level, but if they really get behind the book, they should be able to make it work."
The second season of "Girls" premieres on HBO in January 2013. The publication date for "I'm Not That Kind of Girl" has yet to be announced.
© Copyright IBTimes 2023. All rights reserved.