Lil Wayne Vs. Birdman Beef: Weezy Slams Baby, Says 'He's Not Family'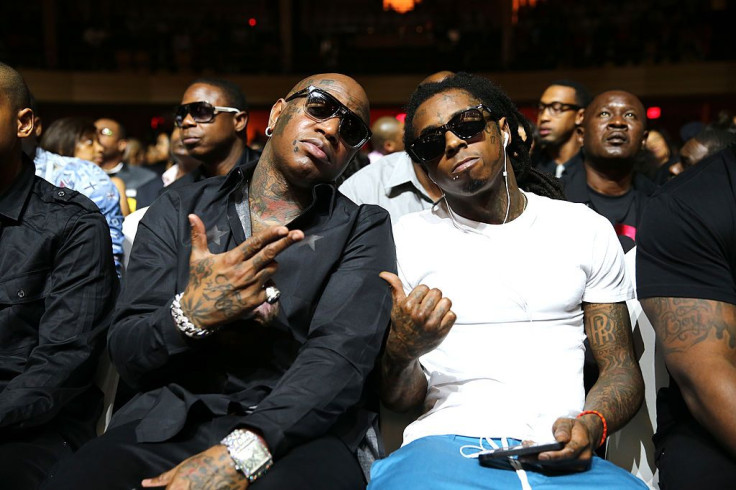 Lil Wayne's relationship with Birdman gets worse everyday and during a recent interview, it was revealed that the rapper no longer even considers Birdman as family.
Speaking with HipHollywood.com, when asked if he would be able to patch up his relationship with Birdman, Lil Wayne said, "I'm 34, baby, I'm too old for friends." While he may be too old for friends, what about family? "His last name isn't Carter, baby. He's not family," said Wayne.
Lil Wayne's real father, Dwayne Carter, is still alive, but after abandoning Lil Wayne and his mother early in the rapper's life, Weezy developed a father-son relationship with Birdman, even calling him his father. Birdman has also called Lil Wayne his son.
Although it began to look like Wayne and Birdman's relationship was getting better, the rapper has been speaking bad about Birdman and Cash Money Records as of late. As fans have been waiting for the release of Lil Wayne's "Tha Carter V," which Wayne said was delayed by Birdman, Wayne's manager, Cortez Bryant, revealed the label had a chance to release the album for free.
Speaking with the Rap Radar podcast last week, Bryant said Lil Wayne could have partnered with Google to release the album, but Birdman and the record label didn't understand how it would work.
"The deal was lucrative. When I presented it to [Ronald 'Slim' Williams, Cash Money Records co-founder] and Baby, they didn't get it. They didn't get streaming," said Bryant.
"They went to the powers that be, the label was against it because they hadn't put their hands in the [streaming services'] pockets yet, they had no control over it, and they basically told me we can't put the album out," he continued. "And when I had to tell Wayne that, he was like…what? He was like, 'You can't stop me, you can't hold me back, my fans don't deserve this and I'm about to air it out.'"
The rapper's feud with Birdman dates back to 2014 when the rapper accused Birdman of delaying his album. This eventually led to Wayne filing a $51 million lawsuit against Birdman and Cash Money Records.
© Copyright IBTimes 2023. All rights reserved.