Lil' Wayne's Daughter Seemingly Responds To 'Found Dead' From Seizure Rumors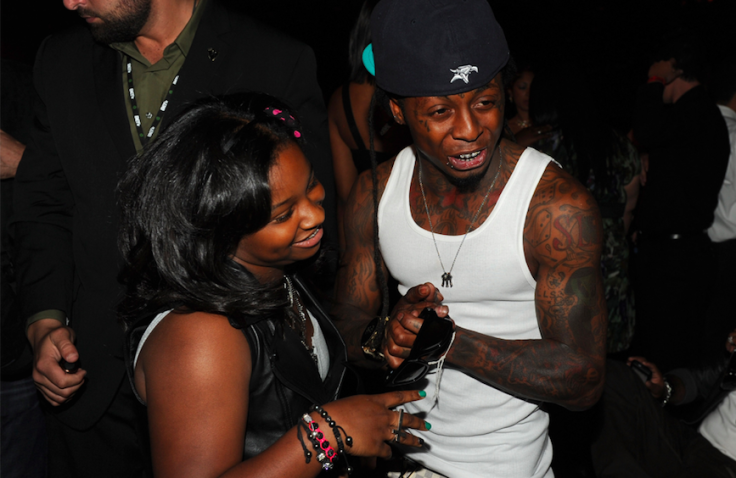 Reginae Carter, the daughter of rapper Lil' Wayne, took to Twitter after her father was hospitalized in Chicago this weekend. The rapper suffers from epilepsy and had multiple seizures Sunday, TMZ reported.
His Las Vegas show was canceled. The star, 34, is reportedly resting.
Lil's Wayne's daughter did not provide an update on her father, though she seemed annoyed by all the chatter about her father's health. She indirectly responded to his hospitalization and seemingly slammed rumors that Wanye died.
"People really have a problem with minding their own business," she tweeted Monday.
Next, she shared a video of Brynesha "Talone" Seegers rapping. The caption for the video from the netizen read: "'Now she say she gon do what to who? lets find out and see. who me? ion play with b----es. B---- don't play with me.' i felt this spiritually."
Her messages could have been directed at people who eroneously claimed the rapper died.
Wayne was discovered unconscious in his hotel room at the Westin on Michigan Avenue Sunday. He had at least one seizure. He was taken to Northwestern Memorial and reportedly suffered another seizure, TMZ wrote.
The rapper was released from the hospital, but it was against the advice of his doctors. Wayne's had seizures while flying before, and doctors claimed it was too dangerous for him to fly. TMZ noted it was possible he was still in the hospital.
The star has suffered with seizures for years. Last year, his Las Vegas show was canceled because of the same emergency. This year, he was slated to perform at Drais Beachclub in Vegas at midnight alongside Rae Sremmurd . As of now, however, the gig has been canceled.
The club confirmed the cancelation. "Due to unforeseen circumstances Lil Wayne will be canceling his previously scheduled performance," Las Vegas' Drai's nightclub said in a statement Sunday. "Our priority is the health and well-being of our artists. Everyone at Drai's wishes Lil Wayne a speedy recovery during this time."
The rapper opened up about his seizures in 2012 after he suffered one mid-flight. "I'm prone to seizures," he told Rolling Stone. "This isn't my first, second, third, fourth, fifth, sixth, seventh seizure. I've had a bunch of seizures, y'all just never hear about them."
According to the Centers for Disease Control and Prevention, 1.2 percent of the U.S. population had active epilepsy in 2015, which means 3.4 million people suffered with epilepsy nationwide. Three million of people were the afflictions were adults.
Follow me on Twitter @mariamzzarella
© Copyright IBTimes 2023. All rights reserved.