Lindsay Lohan to Sing 'Saturday Night Live' Monologue; a Walk Down Music Memory Lane [VIDEOS]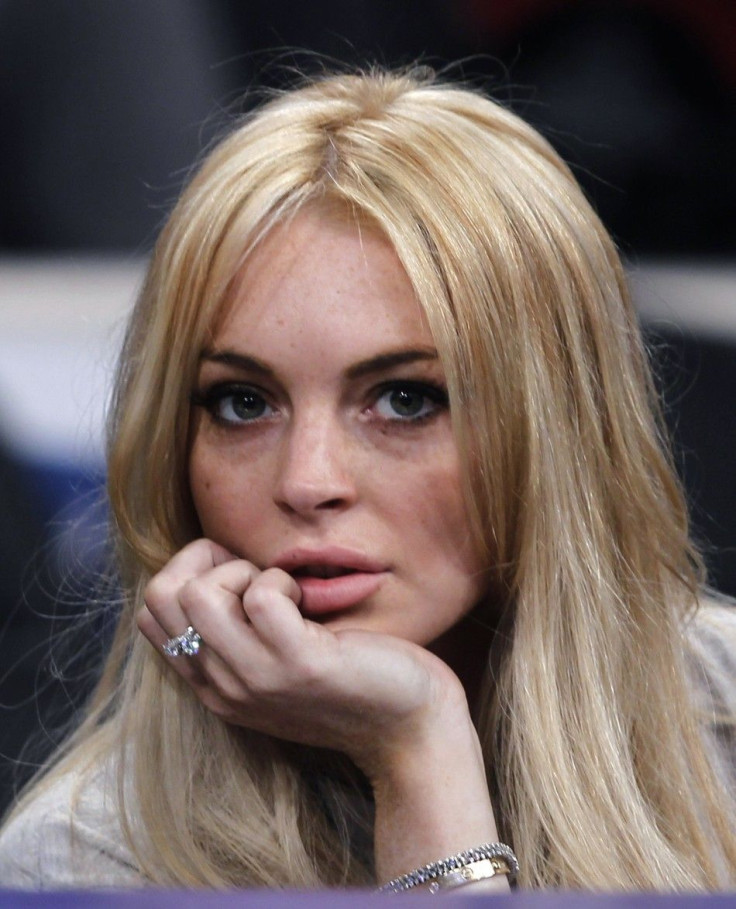 Lindsay Lohan is set to take the stage at Studio 8H on Saturday, March 3, for her Saturday Night Live return. The troubled actress might be able to use the 'SNL' gig as a launching pad to restart her faltering career.
TMZ reported on Saturday that Lindsay Lohan will even dip back into her musical bag of tricks for 'SNL' and sing her opening monologue. That's right. The 25-year-old plans to sing the majority of her opening monologue. Lohan was a hopeful pop star at one point, with two CDs under her belt - Speak (2004) and A Little More Raw (2005).
Lohan will be joined on stage by several cast members who will sing in the chorus.
Sources also told TMZ that nothing is off the table Saturday night and Lohan is willing to poke fun at her train wreck of a life in skirts for the show - from the arrests and endless court dates to her necklace theft and morgue work.
Lindsay Lohan wants to show the world that she does not take herself as seriously as everyone thinks she does. So she is willing to be the butt of the jokes for her Saturday Night Live return.
TMZ also reported that Lohan extended invites to numerous celebrity pals to join her on the show and they unanimously said yes! There is no word on who any of the surprise guests will be; and much of the script for the night has been kept under wraps.
There is a lot riding on Lindsay Lohan's Saturday Night Live performance. The actress is in dire need of a comeback and this might just be a make or break moment.
On Thursday, Lohan's interview with The TODAY Show host Matt Lauer aired I think that that's gonna take -- I think that takes time, Lohan said regarding her credibility in Hollywood these days. And I think that it's actions. Because people can say things all they want, but I think I still need to go through the process of proving myself, you know, with 'SNL,' being on time, being, you know, keeping my -- can't say the word -- but stuff together.
I don't want people to have that reason to be scared anymore, she said. So being able to have this opportunity with 'SNL' and the film, I'm gonna do what I'm supposed to do, and enjoy doing it, and do it as best as I can.
Lohan claims that these days she is a homebody. It's [partying] not my thing anymore. I went out, actually, a few months ago with a friend. And I was so uncomfortable, she said. Not because I felt tempted, just because it was just the same thing that it always was before. And it just wasn't fun for me.
Fans might be happy about Lohan's new positive attitude but they surely did not overlook her drastically new facial appearance. Many questioned how much plastic surgery that actress has undergone. At just 25-years-old, Lindsay Lohan looks well beyond her years. The Daily Mail featured a photo of Lohan walking through New York City on Tuesday and noted her puffy pillow face.
The actress joins Madonna and Kylie Minogue as the most obvious examples of stars whose ever youthful glow suggests they may have had fat implants in their cheeks, causing the 'pillow face effect,' wrote The Daily Mail. The online publication stated that many celebrities are opting for fillers instead of tucks these days, which gives a plumped-up look rather than a wind tunnel or frozen effect.
In honor of Lindsay Lohan's return to Saturday Night Live and her potential sing-song monologue, here is a walk down musical memory lane.
© Copyright IBTimes 2023. All rights reserved.