List Of Josh Duggar Scandals As Sisters Sue Police Over Releasing Child Molestation Reports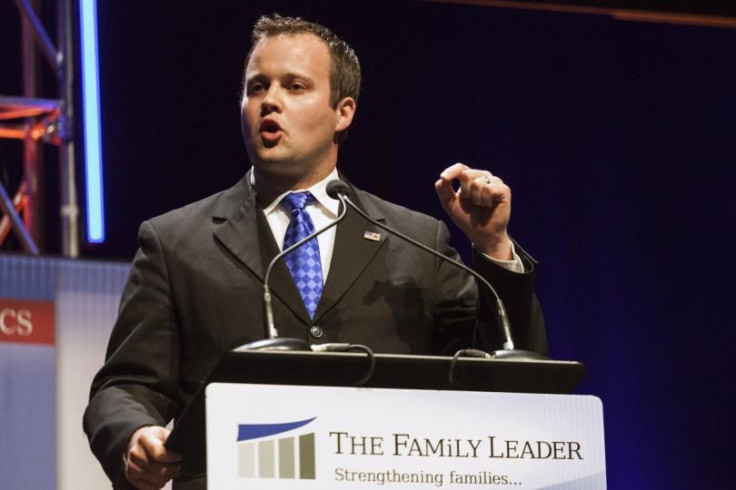 Four of Josh Duggar's sisters — Jill, Jessa, Jinger, and Joy — have filed a lawsuit against the city of Springdale in Arkansas, its local police and gossip website InTouch Weekly for releasing investigative reports detailing their brother's 2016 child molestation case.
TMZ reported Thursday, the lawsuit alleges that the reports were part of an investigation conducted in 2006 when all four were under age, therefore they were told that the reports would only be made available to law enforcement and child service officers if need be. In the lawsuit, the sisters also claimed that In Touch magazine filed a Freedom of Information Act request when the molestation case came to light and as many as eight stories were published about the investigation.
Read: Joy Anna Duggar's Wedding Date Will Make Her The Family's First Teen Bride
Under Arkansas state law, any information revealing the identity of a victim in a case of child sexual abuse, is prohibited from being released by police.
In a statement, the former stars of "19 Kids and Counting," said they are filing the lawsuit to protect all children who are victims of abuse.
Josh's molestation case came to light in 2015, and later Jessa opened up for the first time about her brother's actions during a guest appearance on The Kelly File.
"It was very wrong. I'm not going to justify anything that he did or say it was ok, not permissible, but I do want to speak up in his defense against people who are calling him a child molester or a pedophile or a rapist, some people are saying. I'm like that is so overboard and a lie really, I mean people get mad at me for saying that but I can say this because I was one of the victims. So I can speak out and I can say this and set the record straight here," she said.
She added, "In Josh's case, he was a boy, a young boy in puberty and a little too curious about girls. And that got him into to some trouble. And he made some bad choices, but really the extent of it was mild, inappropriate touching, on fully clothed victims, most of it while girls were sleeping."
Just days after the news surfaced about the molestation case, Josh stepped down from his position at the Family Research Council
"Today Josh Duggar made the decision to resign his position as a result of previously unknown information becoming public concerning events that occurred during his teenage years," Family Research Council President Tony Perkins told Us Weekly in a statement at the time. "Josh believes that the situation will make it difficult for him to be effective in his current work. We believe this is the best decision for Josh and his family at this time. We will be praying for everyone involved."
Below are some of the Duggar family scandals:
On May 19, 2015, several reports surfaced that Josh had molested several children at a young age. In the weeks that followed it was reported that the abuse had occurred in 2002 and 2003 when Josh was 14. A police report, obtained by InTouch magazine at the time, revealed that there had been five victims, four of whom were his sisters.
In June 2015, Jill and Jessa confirmed to Fox News during Megyn Kelly's interview that they were among their brother's molestation victims.
In August of the same year, Josh was hit with another scandal when his name was leaked along with several other Ashley Madison users. After the website, which is designed to help married people find cheating partners, was hacked, it was revealed that Josh had two paid accounts with the service.
In a statement released on the Duggar family's official website in August, Josh admitted having cheated on his wife Anna, with whom he has four kids. "I have been the biggest hypocrite ever. While espousing faith and family values, I have secretly over the last several years been viewing pornography on the internet and this became a secret addiction and I became unfaithful to my wife," he wrote in a now-edited statement. "I am so ashamed of the double life that I have been living and am grieved for the hurt, pain and disgrace my sin has caused my wife and family, and most of all Jesus and all those who profess faith in Him." He concluded with an apology. "I humbly ask for your forgiveness. Please pray for my precious wife Anna and our family during this time."
The same year, an adult film actress named Danica Dillon came forward and claimed that Josh paid her thousands of dollars to have sex with him on more than one occasion.
© Copyright IBTimes 2022. All rights reserved.
FOLLOW MORE IBT NEWS ON THE BELOW CHANNELS