Liverpool Transfer News: Memphis Depay, Andre Ayew, Nainggolan All Linked To Reds Rumors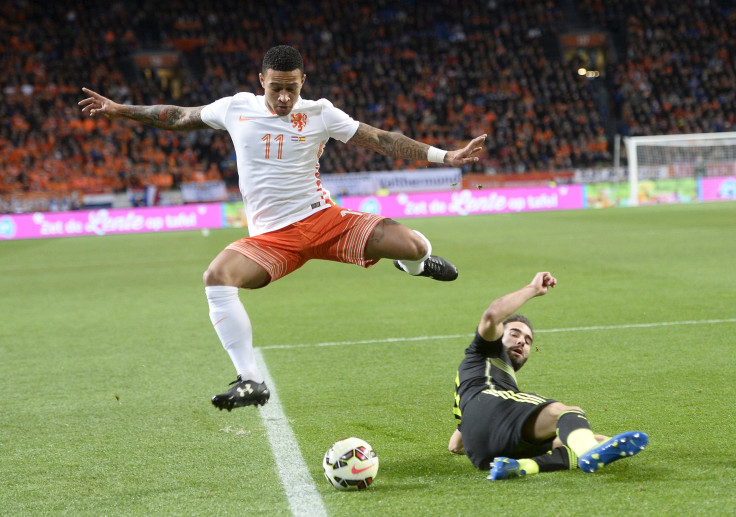 Six fixtures remain for Liverpool to climb above fifth-place on the Premier League table and possibly upend rival Manchester United for the last Champions League qualifying spot. It's also potentially the same amount of time manager Brendan Rodgers has to prove he's still capable of leading the Anfield side.
With Jurgen Klopp's departure from Bundesliga's Borussia Dortmund quickly approaching, the Reds and other top clubs around Europe have been linked to the German manager, perhaps putting Rodgers on notice. However, when speaking to reporters, Rodgers relayed his desire and qualifications for the job, but added the qualifier that he needs the proper "tools" to succeed.
"When I sit down and look at it, I will hold myself up against anyone to manage this club and to fit the model of what they want," Rodgers said. "I am super-ambitious in terms of wanting to win and there will be no greater place to do that than here, but of course in modern football there are lots of processes that go on behind the scenes that people will never be aware of.
"We are here to win and there is no-one more ambitious. If there comes a time when that is not the case and we move on, there will no-one who respects the owners more than me.
"But Christ, no, I will fight for my life as I have said before to be here and if I can get the tools here to help us we can be really successful."
Considering the unexpected and sudden departure of last year's top scorer and playmaker Luis Suarez, on top of the crippling injuries sustained by Daniel Sturridge, the Reds and Rodgers should be proud of their current position.
But there's no question Liverpool require reinforcements for next season, especially in the midfield and attack.
The Reds are currently in a race with Everton, Swansea and Newcastle for Marseille winger Andre Ayew, a 25-year-old Ghana international who's out of contract with the Ligue 1 side this summer, according to Daily Mirror.
The report stresses Newcastle have already made a four-year offer to Ayew, who's accrued 41 goals in 148 appearances for Marseille since 2007. Liverpool already inked midfielder Jordan Henderson to a five-year deal Thursday, but with Steven Gerrard on his way out the Reds are in need of more depth and attacking in the midfield.
Another option at midfield is Roma's Radja Nainggolan. Metro reports the Reds might be changing their transfer policy by seeking players who can start immediately and play on a regular basis rather than joining a growing platoon on the bench.
Both Roma and Cagliari own the rights to Nainggolan, 26, but the two Italian sides can't seem to agree on a fee for the Belgian, which opens the door for Liverpool.
Spending his entire career in Italy, Nainggolan's split his time over the last five years between Roma and Cagliari, tallying 12 goals over 183 appearances.
As for the top of the attack, Liverpool appeared to be in contention to land PSV winger Memphis Depay, but The Express reports Manchester United are inching closer to a deal.
Depay, 21, reportedly flew to England to meet with United officials and the deal could be worth £25 million. The Sun also indicated Depay and his agent Kees Ploegsma have possibly negotiated a 130,000-per-week wage.
Blessed with top notch dribbling and creative attacking skills, Depay's scored 37 goals in 87 appearances with PSV over the last four years. His services would pay off huge dividends for Liverpool, especially if they are unable to hold on to forward Raheem Sterling.
© Copyright IBTimes 2023. All rights reserved.