LOOK: BTS' Jungkook Reveals A Health Issue Caused By His Bed Springs And Pillow
KEY POINTS
Jungkook was featured on "Most Requested Live" for iHeartRadio's "Ask Anything Chat"
The BTS member answered questions sent by fans from different parts of the world
One BTS ARMY asked Jungkook about the last time he had a good night's sleep
Jungkook answered different fan questions during his "Ask Anything Chat" guesting on iHeartRadio's "Most Requested Live."
One fan asked the "Golden Maknae" of BTS the last time he had a good night's sleep, to which Jungkook replied, "I can't sleep these days. I think I have to change my bed."
According to the South Korean singer, who just celebrated his birthday last Friday, it would be better if his bed was soft. He shared that his bed springs were quite elastic, and he was using a wooden pillow, so he was suffering from nasal congestion, which was uncomfortable.
However, he explained that his bed springs and pillow weren't the only ones to blame for his sleeping difficulties. "There are multiple factors that are contributing to my lack of sleep," he said.
When asked about the best thing that happened to him last week, he revealed that there was "not much."
"I mean life is fun but nothing in particular, personally. I'm enjoying life, but I do wish my cold would please go away," Jungkook explained.
In the same exclusive virtual Q&A with fans, Jungkook revealed his thoughts about doing a world tour.
When asked whether he has any plans for a world tour in the near future, the "Seven" artist revealed that he didn't have any plans yet but shared that if he could, he wanted to do a world tour. However, he would need more songs to do that.
"I don't have plans just yet, but of course, if I can, I do want to, and you need a lot of songs," he answered the fan's question.
In other news, in June, Jungkook fell asleep during a random Weverse live broadcast. Early morning of June 12, the BTS member started a livestream while lying in his bed, trying to fall asleep.
He told ARMYs – BTS fans – that he couldn't sleep at the time. After chatting with the fans, he finally managed to doze off with millions of ARMYs watching until the live broadcast was turned off.
After Jungkook's sleeping livestream, the neck pillow seen on his Weverse Live quickly sold out in different online stores. ARMYs were quick to purchase the pillow to own a similar item to the K-Pop idol.
The neck pillow Jungkook used reportedly helps ease neck and back tension, according to one fan. Several stores said the pillow was designed for spine and neck support during sleep.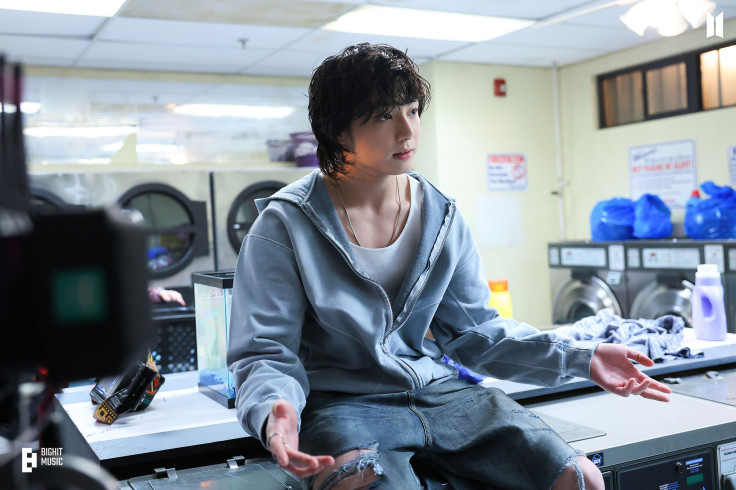 © Copyright IBTimes 2023. All rights reserved.