Jungkook World Tour? JK Admits He Has 'Desire' To Tour But Has No Plans Yet
KEY POINTS
Jungkook was featured on "Most Requested Live" for iHeartRadio's "Ask Anything Chat"
The BTS member answered questions sent by fans from different parts of the world
Jungkook also talked about "Seven" and the milestones it hit that stood out to him the most
BTS' Jungkook, who made his solo debut in July with his solo debut single "Seven," revealed his thoughts about doing a world tour.
In his "Ask Anything Chat" guesting on iHeartRadio's "Most Requested Live," the 26-year-old BTS member read a fan's question saying, "My handsome Jungkook, are there any plans for a world tour in the near future?"
Jungkook then revealed that he didn't have any plans yet but shared that if he could, he wanted to do a world tour. However, he would need more songs to do that.
"I don't have plans just yet, but of course, if I can, I do want to, and you need a lot of songs," he answered the fan's question.
Meanwhile, when asked about his solo debut single and its milestones that stood out to him the most, the South Korean idol answered, "Billboard Hot 100, ranking No. 1 there; ranking No. 3 on the U.K. official singles chart and ranking No. 1 on Korean music shows," then proceeded to thank ARMYs – BTS' fans.
"And, topping the Spotify Global charts. I think that's about it," Jungkook continued.
When asked about the best perk about being an artist, the "Seven" singer shared that he's happy to have fans, the ARMY.
"...getting the opportunity to meet people like our ARMY is just awesome. Honestly, isn't that the greatest perk as an artist?" Jungkook said.
"Of course, it's great to be able to sing, but what makes it great is that we're singing together with ARMY. Don't get me wrong, I do love singing itself as well, but ARMYs are the foundation, and being able to meet our ARMY is the best perk," he further explained.
In other news, Jungkook announced that he might go missing in action for the next few months. But there's no need to panic since he won't enlist in the military yet.
The youngest member of BTS revealed on a Stationhead radio livestream that he won't be doing many livestreams in the coming months, especially on Weverse, for he will be "very busy" preparing many things. However, he did not disclose further details about his solo project.
Before this, Jungkook appeared as a guest on his bandmate Suga's talk show, "Suchwita," and revealed that he would be releasing a mini-album by November and another single.
He recently concluded the promotions for his solo debut single, "Seven" featuring American rapper Latto, in July. The all-English track immediately became a hit, dominating South Korean music charts and ranking No. 1 on several Billboard music charts simultaneously.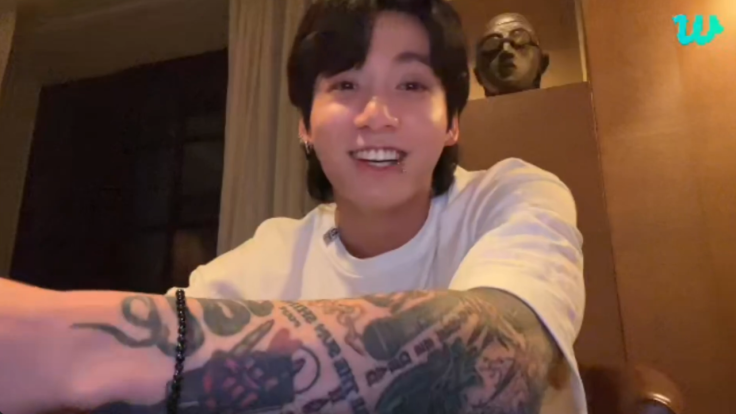 © Copyright IBTimes 2023. All rights reserved.