LOOK: SB19's 'Gento' Makes It To Seattle's Channel R Radio's 5 Songs Of The Summer 2023
KEY POINTS
SB19's song "Gento" made it to a summer songs list of a radio station in Seattle
The Filipino pop group is the only Filipino artist on Channel R's Songs of the Summer 2023 list
One of SB19 member Ken's solo song from his debut EP also made it to the top 10
Filipino boy band SB19's group song "Gento" and member Ken's solo song "Criminal" made it to Channel R Radio's Songs of the Summer 2023.
Channel R Radio, an all-music radio station in Seattle, released the 10 songs included in its Songs of the Summer 2023 list. The top 5 were solo songs of BTS members Jimin, V and Suga and songs by Zayn Malik and Filipino pop group SB19.
SB19's "Gento," which has been rising as a dance craze among idols in South Korea and other countries recently, made it to the fifth spot on the list, following Suga or Agust D's "Haegeum" at No. 4 and V's "Love Me Again" at No. 3.
BTS Jimin's "Like Crazy" and British singer Zayn Malik's "Love Like This" topped the list at No. 1 and No. 2, respectively.
A solo song by SB19 member Ken Suson, who goes by his birth name Felip for his solo releases, also made it to Channel R's top 10 Songs of the Summer 2023 list at the eighth spot.
His solo song "Criminal" followed BTS Jungkook and Latto's "Seven" at No. 7 and Louis Tomlinson's "High In California" at No. 6. Meanwhile, Felip's solo song beat Kylie Minogue's "Padam Padam" and Dua Lipa's "Dance The Night" at No. 9 and No. 10, respectively.
"Gento" is a pop, hip-hop track recorded by Filipino boy band SB19 for its second EP, "PAGTATAG!" The song, which talks about empowerment, was written by SB19's leader Pablo and co-produced by Joshua Daniel Nase and Simon Servida.
In the song, Pablo used gold mining and refining gold as a metaphor for achieving success.
The inviting dance steps of the chorus of "Gento" attracted many to join the dance challenge on TikTok, regardless of age, gender and race.
With its continuously growing popularity, "Gento" by SB19 has also been nominated in the Song of the Year category of #TikTokAwardsPH2023.
Meanwhile, "Criminal" by SB19's Ken is about "having negative thoughts but finding the will to get them out of one's mind," per his guesting on Rappler's "Live Jam."
"Criminal" is one of the featured songs from Felip's debut EP "COM•PLEX," which was released earlier this year.
Other songs on Felip's debut record, which features his own musical experiments and song lyrics in English and Bisaya, are "Rocksta," "Superiority," "Mictest," "Drinksmoke" and "Straydogs."
His first-ever solo EP, which highlights Felip's proud Bisaya heritage and personal journey of self-discovery, dropped after the Filipino pop idol's solo releases "Palayo" in 2021 and "Bulan" in 2022, per Bandwagon Asia.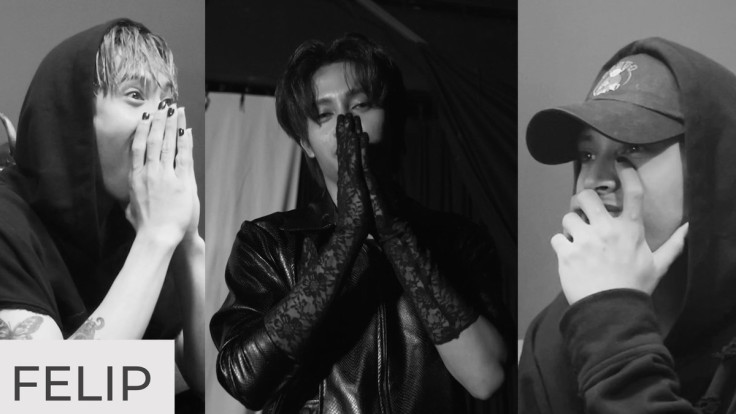 © Copyright IBTimes 2023. All rights reserved.