Los Angeles Times Defends Firing Ted Rall, Editorial Cartoonist And Fierce LAPD Critic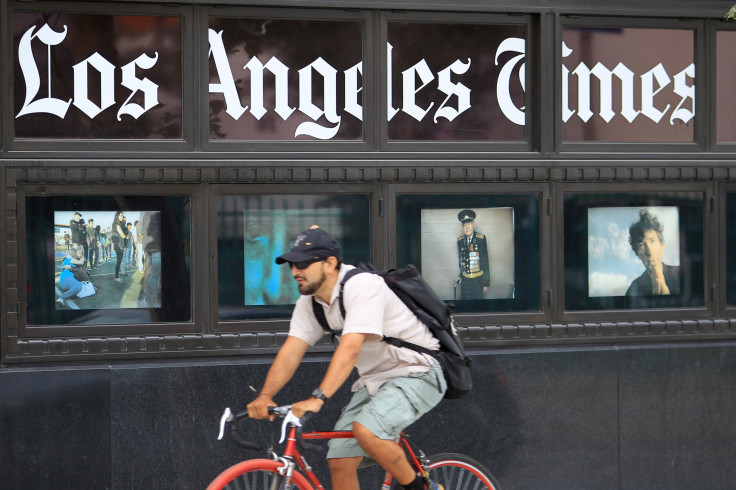 Cartoonist and columnist Ted Rall says something sketchy is going on. A month ago the Los Angeles Times publicly fired him over a column in which he alleged that a Los Angeles Police Department officer handcuffed him during a 2001 jaywalking incident. In a note to readers, the Times said the LAPD had convinced editors that Rall's account was not credible and took great liberties with the facts. According to the Times, police officials handed over an audiotape of the incident that disproved Rall's version of events.
"[T]he recording and other evidence provided by the LAPD raise serious questions about the accuracy of Rall's blog post. Based on this, the piece should not have been published," the note read, with the kicker: "Rall's future work will not appear in The Times."
Rall is on record as a longtime critic of the LAPD -- in his cartoons, he often portrays the force as thuggish, brutal and militaristic -- and has since been fighting to clear his name. He told International Business Times on Thursday that he was surprised by the abrupt dismissal.
"This whole thing is a farce," he said. "I was freelance, so they didn't need an excuse to get rid of me. All they had to do was say they no longer needed me." Instead, he said, the Times humiliated him.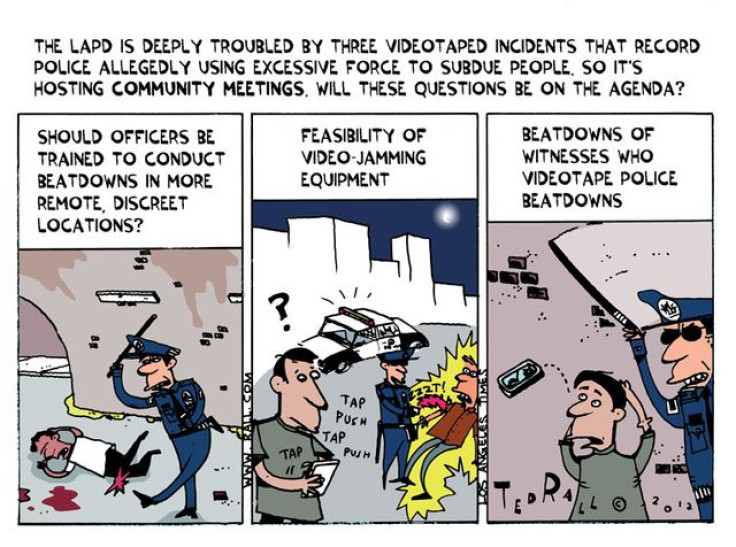 Rall, an award-winning cartoonist and Pulitzer finalist, told IBTimes that he suspects his firing was a "favor" to the police department and its union, the Los Angeles Police Protective League (LAPPL).
"They hated my cartoons and they wanted to send a chilling message to other journalists: don't f--- with us," he said. "As a New York-based freelance cartoonist, I was low-hanging fruit they assumed couldn't fight back and no one would care about."
Reached for comment, the Times' editorial page editor referred IBTimes to a lengthy updated post in which the Times defended its decision and reaffirmed that Rall's story contained inconsistencies. "The Times has reexamined the evidence and found no basis to change its decision," the paper wrote.
He Said, Police Said
That 2,500-word statement lays out in encyclopedic detail the Times' case: that Rall's initial account of having suffered mistreatment at the hands of the police has since been challenged by subsequent disclosures.
According to the statement, Rall's complaint to police in 2001, included on the page, did not mention being handcuffed or roughed up -- assertions that appeared only in his later accounts in columns and blogs. The paper also said it hired audio experts to analyze Rall's "enhanced" tapes, but they did not hear, as Rall had claimed, evidence of bystanders objecting to his being handcuffed. The Times also produced LAPD records that the paper said proved investigators "looked into his allegations, questioned the officer who ticketed Rall, listened to the recording and tried repeatedly to reach Rall."
Rall gave his response to IBTimes on Thursday.
Regarding the 2001 complaint: "A friend advised me how to file an internal affairs complaint, specifically against what I thought they didn't have the legal right to do," Rall said. "I didn't put in a complaint for being handcuffed because I was told that was legal for them to do. That happens all the time."
"The thing that [annoyed me] beyond belief was the fact that I was not actually jaywalking," he added, stating that was the purpose of his complaint.
As for the Times' experts remarks on his enhanced tape, he said, "I'm not going to speak ill of their experts, but I've spoken to a lot of people."
"Why don't they enhance the tape?" he added. "Why I am the one doing that?"
As for the calls from the LAPD, Rall maintains that he never got a call and said the police either missed him or are lying.
"Why would I be ignoring their calls? I filed the complaint!" he said. "I was waiting by the phone because I was [annoyed] by this officer."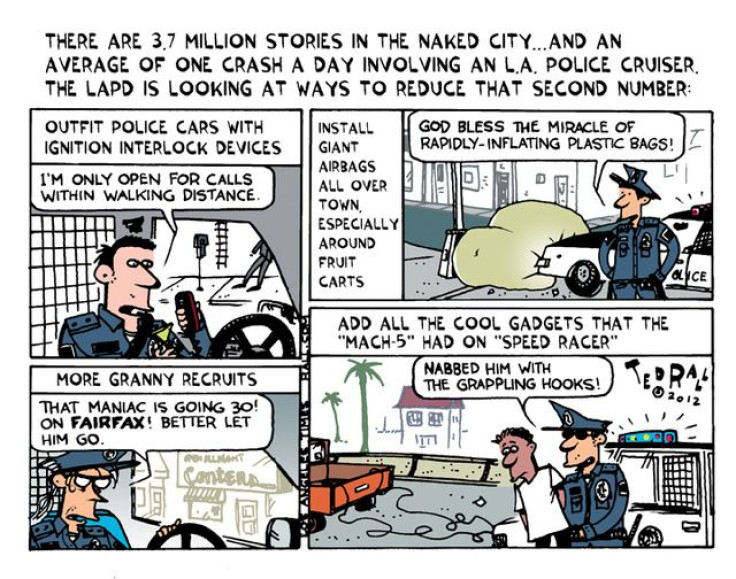 We're The Boss Now
Whatever the merits of these dueling portrayals, there is precedent for police departments leaning on newsrooms to mute critics. The Times itself reported in 2009 that the LAPPL pressured the San Diego Union-Tribune to fire editorial writers critical of police officers after Platinum Equity, which managed LAPD pension funds at the time, bought the paper's publisher.
"Since the very public employees they continually criticize are now their owners, we strongly believe that those who currently run the editorial pages should be replaced," the police union's president, Paul M. Weber, wrote to Platinum's CEO.
The union did not respond to IBTimes' request for comment.
Another employer of Rall published a piece on the affair Thursday morning, saying that police had asked him to fire Rall several times.
"Rall suspects police officials told the Times to fire him, which would not be surprising," wrote Kevin Uhirch, editor of California's Pasadena Weekly. "That same request was made of me many times by Pasadena police and other city officials."
The board of the Association of American Editorial Cartoonists has called for an independent investigation of Rall's firing.
Meanwhile, the LAPPL did a victory lap over the news, posting a note on its website applauding the decision to fire Rall.
"So many within the LAPD were pleasantly surprised at the recent firing of Los Angeles Times opinion cartoonist Ted Rall, which we believe was justified based on evidence proving that he lied about his encounter with LAPD officers," the note read, expressing hope that other news publications would take a similar line in other cases.
That post has since been taken down. The dead link still holds the URL, "LAPPL Applauds LA Times Firing Of Cartoonist Ted Rall."
Rall said he still can't believe what has transpired.
"If I were guilty as sin, most newspapers wouldn't have fired me over this. I would have gotten a talking to, maybe," he said. "I've had colleagues who have plagiarized, and they're still working."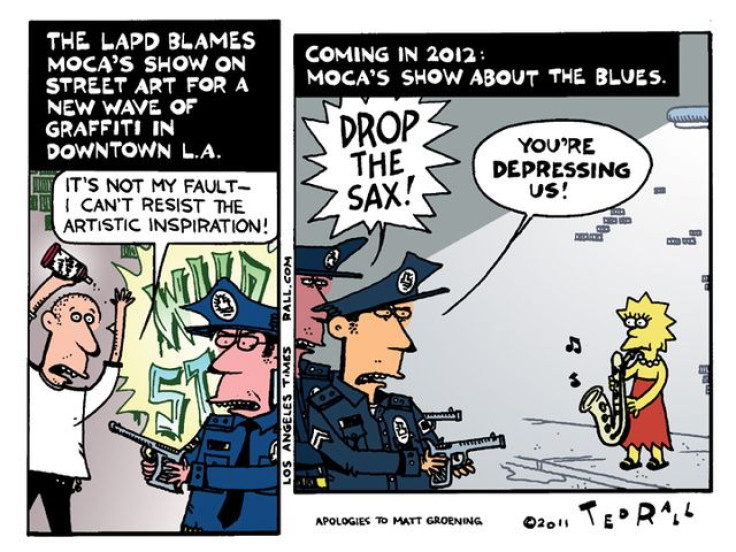 © Copyright IBTimes 2023. All rights reserved.