The Lucky One: Peter Travers Rips The New Nicholas Sparks Movie [VIDEO]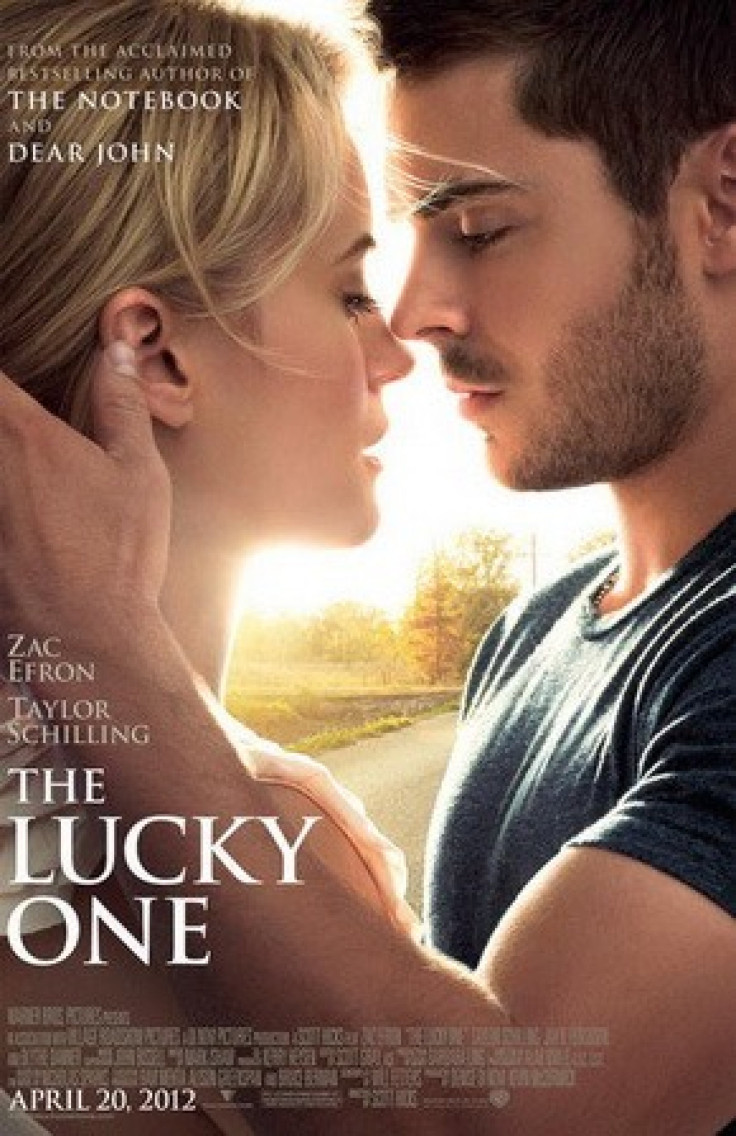 While there is no doubt a market for Nicholas Sparks and his book-turned-movies, The Lucky One, the latest Sparks movie, starring Zac Efron and Taylor Schiling, has received mostly negative reviews.
The film, which is an adaptation of the Nicholas Spark book of the same name, surrounds the story of a U.S. Marine named Logan Thibault (Efron). Thibault returns to North Carolina from his third tour of duty in Iraq, with the one thing he credits with keeping him alive--a photograph he found of a woman he does not even know.
The woman, whose name is Beth (Taylor Schilling), is surprised when Thibault shows up at front the door of her family-run local kennel. To no one's surprise the two characters meet and eventually fall in love.
But Sparks, who's famous for movie adaptations like A Walk To Remember, The Notebook, Message In a Bottle and Dear John, is apparently making lots of critics sick to their stomachs with these tear-jerking films.
I'm describing this [movie] and it's making me sick to even describe it, Rolling Stone movie critic Peter Travers said.
Travers admits that he cried while watching the film and goes as far as saying that he doesn't see much hope for the future of movies if Hollywood continues to make these awful pictures based on Sparks' dopey romance novels.
I can't believe how bad this movie is. . . I hated it, Travers said.
The movie, which was released on April 20, also caught much flak from Tom Charity of CNN.
Charity goes into much detail on the plot, or lack thereof. He critiques the underdevelopment of the characters and the storyline, as the combination of the two don't make for a very memorable movie.
As for the plot, there isn't one, Charity wrote. Beth has a gifted, but insecure son (Riley Thomas Stewart), one of those wry grandmas you see in this kind of movie (Blythe Danner), and an ex-husband with a sheriff's badge and a real bad attitude (Jay R. Ferguson, from Mad Men).
The CNN movie correspondent then rips the films overindulgent tint features. While the story takes place, for the most part, in the Deep South, Charity writes that Director Scott Hicks mistakes the movie for an antiseptic shampoo commercial.
Director Scott Hicks (Shine) bathes the whole show in an amber halo that makes the Deep South look like an antiseptic shampoo commercial and shies away from anything that might be dramatically sticky, complex or even halfway interesting, Charity writes.
With many sour reviews already coming out on the movies release date, it doesn't look like fans and critics alike will be seeing it as one of the top earners this weekend at the box office.
Check out the trailer for The Lucky One.
© Copyright IBTimes 2023. All rights reserved.