Luis Suarez Bite Video: Liverpool Forward Appears To Bite Arm Of Chelsea's Branislav Ivanovic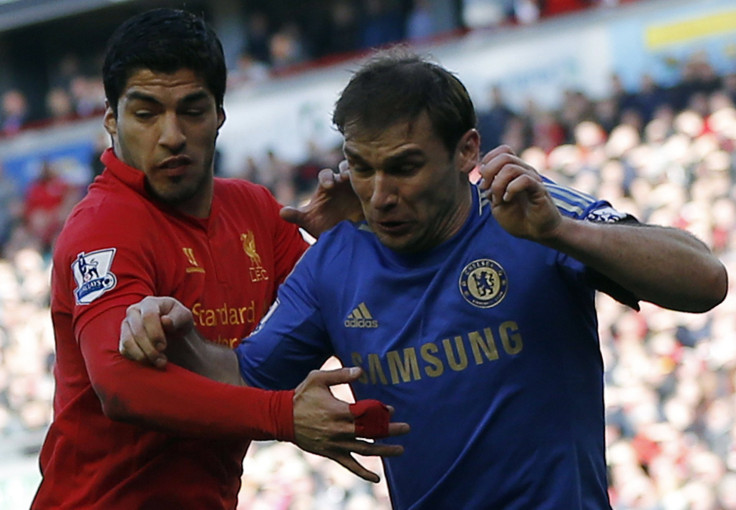 Liverpool forward Luis Suarez looks set to face punishment after video footage appeared to show him biting the arm of Chelsea's Branislav Ivanovic.
The incident occurred during Liverpool's Premier League encounter with Chelsea at Anfield, which ended in a 2-2 draw after Suarez scored a late equalizer. In an eventful afternoon for the Uruguayan, Suarez also conceded a penalty, which Eden Hazard scored to put Chelsea 2-1 in front in the second half.
The event that will be most discussed, though, is undoubtedly Suarez's apparent bite on Ivanovic's arm as the two tussled in the penalty area. While it was not seen by officials during the match, the Football Association has said that it will review footage of the clash.
Incredibly, it is not the first time that Suarez has been caught taking such unusual action against an opponent. In November 2010, Suarez, then an Ajax player, was banned for seven matches by the Dutch Football Association after having bitten PSV Eindhoven's Otman Bakkal.
Suarez has also been involved in controversy during his time in England. In December 2011 he was given an eight-match suspension by the English FA for having been found to have racially abused Manchester United's Patrice Evra.
Both Liverpool manager Brendan Rodgers and Chelsea boss Rafael Benitez refused to comment on the latest incident after the match until they had watched the video.
The controversy comes at the end of a week in which Suarez was nominated for the Professional Footballers' Association Player of the Year Award.
Update: Liverpool have issued a statement containing an apology from Luis Suarez.
"I am deeply sorry for my inexcusable behavior earlier today during our match against Chelsea, Suarez said.
"I have issued an apology and have tried to contact Branislav Ivanovic to speak to him personally. I apologize also to my manager, playing colleagues and everyone at Liverpool Football Club for letting them down."
Manager Brendan Rodgers also condemned his player's actions.
"Having reviewed the video footage and spoken to Luis, his behavior is unacceptable and I have made him aware of this," Rodgers said.
© Copyright IBTimes 2023. All rights reserved.