'Mad Men' Season 6 Episode 6 Recap: 'There's Poop On The Stairs Again'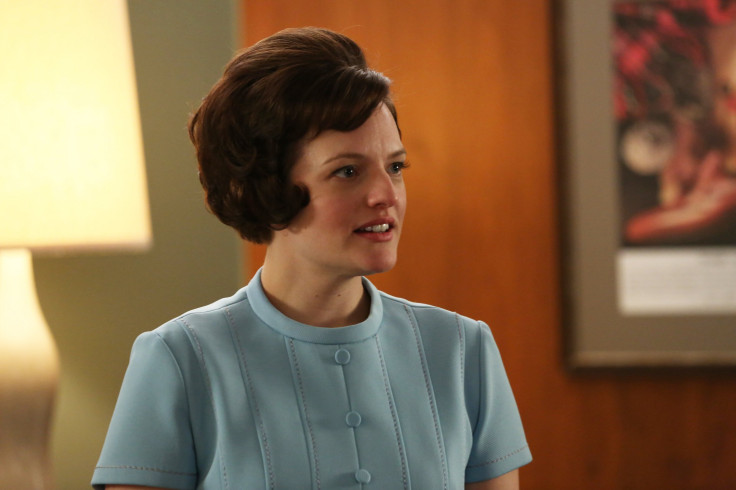 In "For Immediate Release," the sixth season-six episode of "Mad Men," old alliances are broken and new ones formed. Don Draper, Pete Campbell and Roger Sterling all make critical decisions about the future of Sterling Cooper Draper Pryce without consulting their partners. In Roger's case, his rogue efforts are only for the good of the firm but lead to a stunning development that might not benefit everyone, especially Peggy Olson.
Don and Ted Chaough make the impulsive decision to join forces while at a Detroit bar (they are both in town for a Chevy pitch) after realizing that neither firm is big enough to compete at the highest level. This comes just as Peggy has been considering getting romantic with Ted, who hates it when people say he's nice but loves how Peggy "works every account like it's make or break." He mostly just loves Peggy. The move is sure to disrupt the power dynamic, as Peggy will now be reporting to Don and Ted and will move back into the SCDP offices. Ted and Don both try to convince Peggy that she's a winner here too, but she's not buying what they're selling, and she shouldn't.
Roger has successfully blended business with pleasure, enlisting the flight attendant he's sleeping with to help SCDP land a pitch meeting with the Chevy guys. It's good timing for Roger, who has been edging toward irrelevance at the firm and even better timing for Don -- it takes attention away from the bombshell that he had hastily dropped the Jaguar account during an unpleasant dinner with Jaguar's Herb. And how proud he is of himself for finally cutting ties with the creep, seeming to expect some kind of hero's welcome when he breaks the news back at the office.
Not even close. Pete is furious, and so is Joan Holloway. Pete has been working behind the scenes to arrange an initial pubic offering for SCDP, and the Jaguar account is essential to the IPO's value. And Joan feels like losing Jaguar lends her sacrifice meaningless.
"Honestly, Don, if I could deal with him, you could deal with him, and what now?" Joan says. "I went through all of that for nothing?" This is the most emotional we've seen Joan in awhile. Her voice and temper rising, she goes on: "Just once, I'd like to hear you use the word 'we,' because we're all rooting for you from the sidelines, hoping that you'll decide whatever you think is right for our lives."
Peggy and Abe are pioneering the gentrification of the Upper West Side. Abe is right at home in the rundown building, but he probably shouldn't get too comfortable. Peggy tells him that she doesn't like change, but that's not really what she means. She doesn't like feeling downwardly mobile -- the neighborhood ne'er-do-wells are camping out on their front stoop and defecating in the stairwell -- and Abe is single-handedly responsible for that. She can't kiss him without fantasizing that he's Ted.
In last week's episode, Pete was championing civil rights from a soapbox; this week, he's back to his lowlife self. After running into his father-in-law (and Vicks Chemical salesman) at a whorehouse, he panicks and goes on the defensive, zeroing in on Tom's choice of companion, "a 200-pound negro." Ken Cosgrove tries to reassure Pete that the awkward run-in will stay a secret, because it represents "mutually assured destruction," but he's wrong: Tom hastily pulls Vicks Chemical's business from SCDP and tells Pete to stay the hell away from his daughter. Pete responds with a fumbled preemptive strike, trying to turn Trudy against her father by telling her what he saw. But Trudy doesn't want to hear a word of it or, for that matter, anything Pete has to say. She orders him out of their house and tells him to take his things this time.
Though she didn't have much to do with the story, having Mme. Calvert around always makes for a better "Mad Men." It's fascinating to watch the touch-and-go dynamic between her and daughter Megan. Though Calvert typically prefers to speak French when it's just the two of them (and even when it's not), Megan sometimes insists on responding in English, depending on how close she feels to her mother at the moment. At dinner with Herb and his wife Peaches, who Calvert says is the "apple that goes in a pig's mouth," Megan shows us once again how fast she is on her feet as she "translates" her mother's acid commentary about her dinner companions into polite conversation. The scene also showed us how unwilling Calvert is to make her daughter's life easier when she has the chance.
Still, Megan takes her mother's advice to become a sex kitten for her husband, lest he feel too threatened by Megan's success (which now involves sublimating sex on TV). The night before Don heads to Detroit, Megan gives him the submissive's version of a pep talk and oral sex. "I want to do whatever I can to make sure you do not fail," she tells him. "Then you can jump off the balcony and fly to work like Superman."
Even though "For Immediate Release" was one of the few recent episodes where death wasn't a subtext of almost every scene, Megan's words obviously recalled the opening credit image, which haunts the series like a promise. Don has never been a particularly reckless man, but lately he has been overestimating his power, appearing to somehow believe that's he's invincible even as he's losing his footing in so many ways. A mortal can only leap so many tall buildings before he gets the landing wrong.
© Copyright IBTimes 2023. All rights reserved.