Maddie Vs. Chloe: 'Dance Moms' Fans Slam Lifetime For Controversial ALDC Special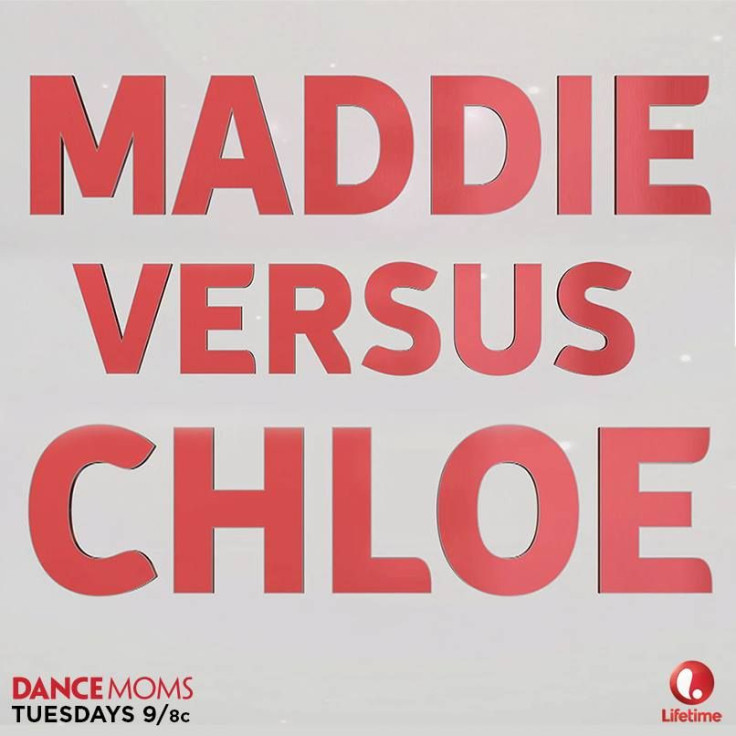 "Dance Moms" may be on hiatus but that hasn't stopped the drama-filled Lifetime series from stirring up controversy.
Leading up to the airing of the "Dance Moms" special "The Battle of Maddie vs. Chloe" Tuesday night, Lifetime asked viewers to vote for their favorite dancer on their official Facebook page Tuesday by "liking" the post for those in favor of Maddie Ziegler, 11, and "sharing" the post in favor of dancer Chloe Lukasiak, 12.
While some fans played along, other viewers, in response to Lifetime's interactive request, took to social media to bash the network for pitting two of the series' young stars against one another for the sake of entertainment.
"They are both great dancers. Why do you have to pick?" questioned viewer Jen Moran Kerrigan Tuesday, a comment which had been up-voted 197 times on Lifetime's site as of Tuesday afternoon. "Still pitting one against the other. Poor girls," added another heavily-liked comment from viewer Tina Grimes. "Stop pitting children against each other like they're in a cage match. They are both very talented, can't you just leave it at that?" added fan Ari Manillo in a request to the network's producers. "Jesus this post is horrible," said fan Ashley Pickett. "Either way one little girl is going to get their feelings hurt. Way to go 'Dance Moms'…. Shame on you."
Despite the criticism, some viewers claim that the reality-TV based competition between the pair, which has played out on the show since its premiere in July 2011, is purely that. "Welcome to the world of competition!" said fan Eri Renee Tuesday. "It's called COMPETITION and good sportsmanship," added viewer Beverly Murphy. "There is nothing wrong with competition even if they are friends."
According to Lifetime, the hour-long special is in honor of the ALDC performer' four seasons worth of rivalry. "Maddie and Chloe battled for first place in competitions, first position on the pyramid and ultimately, for a place in Abby's heart… But is the rivalry really between them… or between their mothers?" teased the network in its episode synopsis.
"The Battle of Maddie vs. Chloe" airs Tuesday, May 13 at 9 p.m. EDT on Lifetime.
The cast of "Dance Moms" is currently two weeks into filming the second half of Season 4, with the series rumored to be returning this summer. "Dance Moms" coach Abby Lee Miller's spin-off series, "Abby's Studio Rescue," is scheduled to premiere on Lifetime on June 17.
© Copyright IBTimes 2022. All rights reserved.
FOLLOW MORE IBT NEWS ON THE BELOW CHANNELS