Maddie Ziegler's Last Competition: Leaked Video Reveals 'Dance Moms' Star's Emotional Speech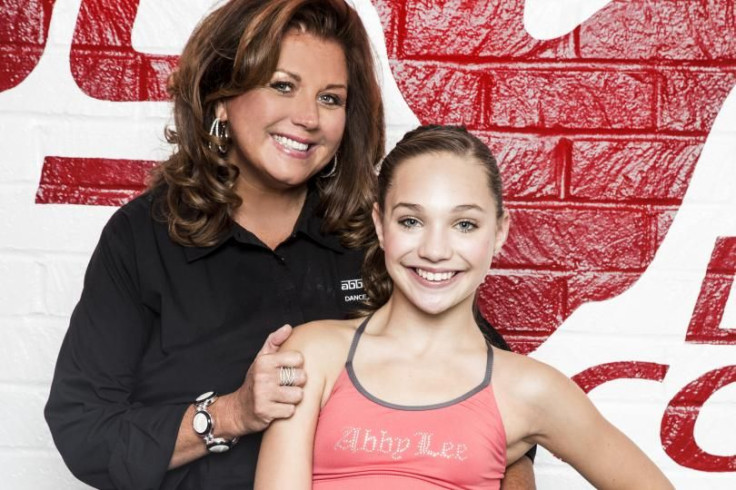 The Zieglers are moving on. Following rumors that Maddie Ziegler, her sister Mackenzie, and their mother, Melissa Gisoni, are parting ways with Lifetime's "Dance Moms," the trio filmed their last episode of the dance reality program Saturday.
While Lifetime has yet to confirm that the "Dance Moms" stars are leaving the show, one fan was able to obtain a video of Maddie's appearance at New York Dance Experience in Riverside, California, her last as part of longtime coach Abby Lee Miller's elite junior team.
Melissa is the first to speak in the clip, revealing that she's "struggling" during her daughters' last competition. "This is the first competition that they did on 'Dance Moms' … and their last," she says onstage. When asked to speak from her heart, Melissa gives a special shoutout to Abby and her co-choreographer, Gianna Martello.
"I just want to thank Abby for everything you've done for my kids through the years. And Gia, I adore you like a daughter," she says. When Melissa gets emotional, Maddie, 13, takes over for her mom on the microphone.
"I just want to thank Abby, Gia and all of my other dance moms and all the girls," Maddie said, her voice audibly breaking.
"It's just really hard to leave," Mackenzie, 11, adds.
While the results for the Ziegler sisters' final "Dance Moms" competition vary, both girls did get a big sendoff from the ALDC by performing solos. One "Dance Moms" spoiler site reports that Maddie danced to a contemporary number, "The Hostage," and Mackenzie performed a jazz piece, "Hero."
Following rumors that Maddie had "grown out of her role" on "Dance Moms," Melissa reportedly confirmed her family's decision to quit the program this month during a taping. Her announcement came after Maddie took several breaks during "Dance Moms" Season 6 to film "Jurassic World" director Colin Trevorrow's drama "The Book of Henry." The film, which also stars 2016 award season darling and "Room" star Jacob Tremblay, is due out this year.
Maddie, Mackenzie and Melissa are original "Dance Moms" cast members. The show kicked off on Lifetime in 2011 in Pittsburgh and is currently in its sixth season. Lifetime recently renewed "Dance Moms" for more episodes, though its unclear which cast members will return.
"Dance Moms" airs Tuesdays at 9 p.m. EST on Lifetime.
© Copyright IBTimes 2023. All rights reserved.