Manchester United Sees Revenue Growth After Barren Season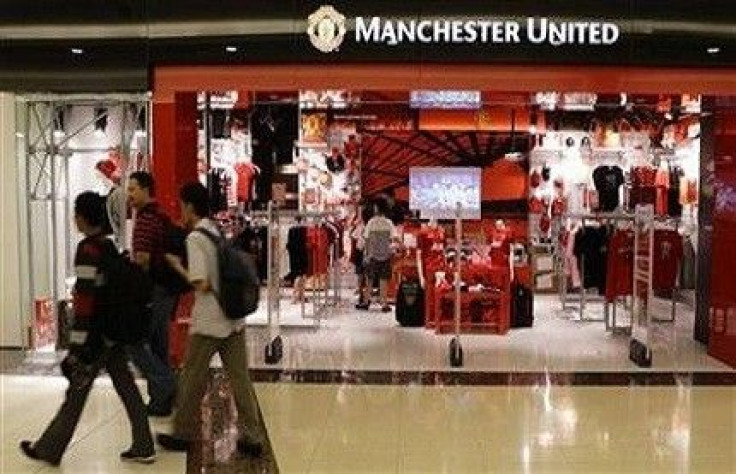 (Reuters) - Manchester United are counting on an improved performance on the pitch to boost revenues after the English Premier League club paid the price for a rare barren season in 2011-12.
United, owned by the American Glazer family, floated on the stock market in New York last month at $14 per share, valuing the 19-times English champions at $2.3 billion.
The shares have drifted lower since then and were trading at $12.65 at 1444 (10 a.m EDT), down 2.4 percent on the day.
United failed to win a trophy last season for the first time since 2005 and made an early exit from the lucrative European Champions League, meaning a reduction in income from sales of matchday tickets and lower broadcast revenues.
The cost of those failures was apparent as the club made a loss from continuing operations of 14.9 million pounds ($24.2 million) in the three months to end-June 2012.
Underlining its commercial strength, United forecast a brighter 2012-13, based on the club reaching the quarter-finals of the Champions League and domestic cup competitions.
It said underlying earnings (EBITDA) should rise by 17-20 percent to 107-110 million pounds. Revenue was likely to be between 350-360 million pounds, up from 320 million last year.
It has just signed a record $559 million shirt sponsorship deal to have the Chevrolet brand on its red shirts for seven years from 2014.
The 20-team Premier League has also agreed a new 1 billion pound annual domestic TV deal from 2013, up 70 percent.
"We also expect a substantial increase in the value of the Premier League's international television contracts scheduled to be announced later this year," Executive Vice Chairman Ed Woodward said in a statement.
ANGRY FANS
A mystery to most Americans but a household name in soccer-loving parts of the world, the club opted for New York flotation after ditching plans to list in Asia.
The listing was structured to leave the Glazer family firmly in control of a club they bought in 2005 for 790 million pounds in a highly leveraged deal.
A vocal section of United's fans say the owners have held the club back by saddling it with hefty debt repayments.
United said borrowings were 436.9 million pounds at the end of June. The flotation raised approximately 68 million pounds which has been used to further cut debt.
However, fans' anger was fuelled after half of the proceeds from the flotation went to the Glazers, rather than all of it benefiting the club.
Criticism of the Glazers has subsided after United paid out a reported 24 million pounds to sign Dutch striker Robin van Persie from Premier League rivals Arsenal in August.
United have won three of their first four league matches this season and are in second place in the league behind Chelsea.
(Editing by Neil Maidment and David Cowell)
© Copyright Thomson Reuters 2023. All rights reserved.