Manchester United vs. PSV Eindhoven: Video Highlights, Live Score Updates For Champions League Match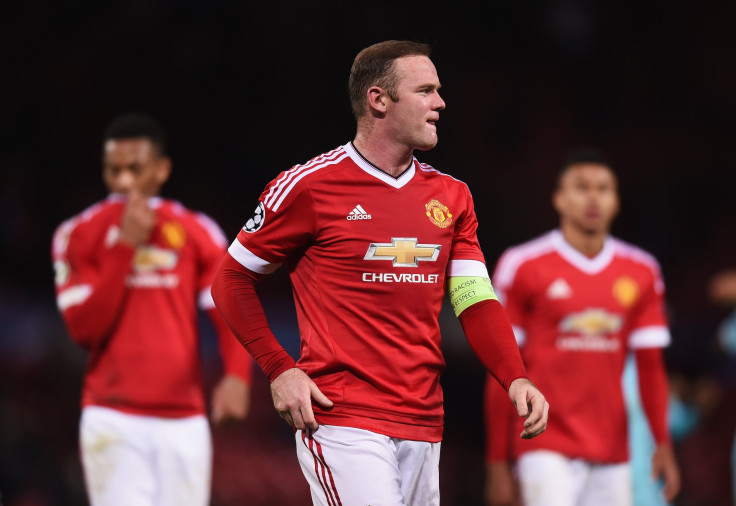 Recap: Manchester United were left frustrated in a goalless draw with PSV Eindhoven that means they will go into the final round of group matches in real danger of failing to progress to the last 16. A win for United would have secured them a place in the knockout phase with a game to spare. But after a desperately uninspiring 90 minutes, in which they created few chances and spurned the ones they did manufacture, Louis van Gaal's side could well have to beat Wolfsburg in Germany in two weeks' time.
Group B remains finely poised entering the final round of fixtures, with Wolfsburg on top, a point clear of United, and PSV a further point adrift. With PSV hosting an already-eliminated CSKA Moscow on the final match day, the Dutch champions have to be confident of getting a victory that would guarantee them progress. It would then be between Wolfsburg and United for the other berth, with Wolfsburg just needing a draw to go through.
Manchester United could have made things a whole lot simpler with a win on Wednesday, but instead they produced the sort of ponderous, unimaginative performance that has been witnessed all-too often from them this season. PSV were well-organized and happy to sit back, and, while United showed promise early on, the visitors were increasingly comfortable, especially in a second half that saw a wretched display from Van Gaal's men.
There were still chances for the hosts, but a lack of composure in front of goal proved costly. Anthony Martial fired straight at goalkeeper Jeroen Zoet in the first half and Jesse Lingard shot waywardly off target with a clear sight of goal in the second. Even the introduction of Marouane Fellaini failed to produce any increase in urgency from United, with players regularly dallying on the ball, looking forward in vain for a passing option before simply playing a safe sideways or even backward ball.
The boos that rung out around Old Trafford at the end were understandable given the lack of entertainment on show. While such uninspiring play may be forgivable when results are going the team's way, if United were to exit the Champions League in two weeks' time some serious questions will be asked about the progress made during Van Gaal's tenure.
Match highlights:
FULLTIME! Manchester United 0-0 Wolfsburg
Boos ring out around Old Trafford after a hugely frustrating night for Manchester United. Needing a victory to secure progress to the knockout phase with a game to spare, United displayed ever diminishing invention or purpose going forward, and were comfortably held at bay by a well-drilled PSV side. Group B will now go to the final day, with Wolfsburg leading United by a point, and PSV a further point back.
90 mins: Three minutes of injury time for Manchester United, or PSV, to find a winner.
87 mins: Even entering the final three minutes, United's play is painfully ponderous. Rooney is often picking the ball up off his own defenders but then seeing a lack of options forward either hitting hopeful long balls or simply playing the ball backward and preventing any tempo being injected into the play.
84 mins: Manchester United make their final change, replacing Darmian with Juan Mata. Van Gaal really going for it, as well he might, in the closing minutes.
83 mins: United won a free-kick in a dangerous position on the left and Rooney swung it in looking for Fellaini on the far post, but the substitute had his volley blocked by a defender.
79 mins: Manchester United have already offered up four goalless draws this season, and the reaction from the Old Trafford crowd is unlikely to be kind if a fifth arrives today. But that's the way this match is heading, with United little sign of being able to find a breakthrough. And there's now even an increasing danger of PSV nicking a goal at the other end.
75 mins: Van Gaal clearly wasn't satisfied with Fellaini's positioning, and he's moved Rooney deeper into midfield, allowing Fellaini to get forward in support of Martial. Now United just have to supply the Belgian with the kind of ball he thrives upon.
73 mins: United produce their best move in some time, but a golden chance is spurned once again. Young's deflected cross falls perfectly for Lingard in front of goal, but he leans back and fires high and wide. The recently capped England international puts his head in his hands, knowing full well that was a chance he should be burying.
72 mins: In the last few minutes it's been PSV that have posed the greater threat going forward. Having seen what little United have had to offer right now, Phillip Cocu's side appear to be growing in belief that they can take all three points.
70 mins: It's very odd to see Fellaini picking the ball up of his own center-backs. Certainly, it's hard to imagine that's what Van Gaal was envisaging when he brought him on. And Manchester United fans are understandably going increasingly restless with what they're witnessing from their team now.
68 mins: PSV and Jurgen Locadia waste a really promising counter attack. They had the numbers breaking forward after Rooney lost possession from a corner, but the winger shot aimlessly wide from distance when better options were available. Those are the sort of openings PSV have to take advantage of if they're to snatch a victory.
65 mins: Young delivers his first two crosses in quick succession, but on both occasions Fellaini was outside the area. It's hard to know what the purpose of the Belgian's introduction to proceedings is if not to get on the end of those sort of crosses.
62 mins: Some sloppy play from United, allows Davy Propper to fire in a shot from 20 yards that De Gea holds comfortably. The substitutions from United have brought no improvement so far, with Fellaini playing deeper than he is often deployed. Still, PSV have reacted to United's changes by switching to a back five, presumably to help defend against Fellaini's aerial presence when he moves forward into the box.
60 mins: PSV make their second change, replacing Jorrit Hendrix with Nicolas Isimat-Mirin.
57 mins: And Van Gaal has seen enough of what he's starting lineup has to offer. Both Ashley Young and Marouane Fellaini are brought on, replacing the disappointing Memphis as well as Bastian Schweinsteiger. Little doubt about what United's main tactic will be now: get the ball wide to Young to whip in crosses onto the head of Fellaini in the box.
55 mins: That early wave of pressure from Manchester United has now dissipated and it's more of the ponderous possession from Van Gaal's side. The United fans are beginning to vocalize their frustration.
53 mins: Luuk de Jong threatens for one of the first times in the match, creating space for a shot against Blind but firing it just wide of the near post.
50 mins: United have definitely stepped up the intensity at the start of this second half and are looking to get the ball into the box earlier. Now they need to make this early pressure count.
48 mins: An even better chance for the home side. Martial delivers a teasing cross from the right that Lingard meets at the near post, but he can only direct it wide across goal. A real opportunity for Louis van Gaal's side.
46 mins: An early chance for United in the second half. Again it's a good delivery from a corner from Blind, and again it's Schneiderlin who meets it. This time the midfielder has a header from the center of the box, but directs it a long way off target. The France international will be disappointed who didn't at least fine the target there.
Second Half Kickoff! Manchester United get the second 45 minutes underway, and let's all hope it provides more entertainment than the opening period.
HALFTIME! Manchester United 0-0 PSV Eindhoven
Not the most exciting 45 minutes you'll see this season, although the kind of half that's a little too familiar to Manchester United fans, some of whom greeted the halftime whistle with jeers. United started well enough, utilizing the pace they have going forward, but their play has become increasingly ponderous. PSV have sat back and offered precious little going forward, but they'll be the happier side at the interval.
45 mins: Right before halftime, United produce one of their best moves of the period. Fed by a quick pass from Memphis, Martial test Zoet at his near post with a fierce low drive that the PSV goalkeeper does well to turn past the post.
42 mins: Schweinsteiger looked to have a clear header in front of goal, but he headed wide under a heavy challenge from Zoet and the flag had already gone up erroneously for offside. PSV lucky to get away with that.
39 mins: Almost a calamity at the back for PSV. Zoet slipped with the ball at his feet, almost providing Rooney with a golden chance to give United the lead. Sparing his blushes, the goalkeeper just recovered to slide in and get the ball away before Rooney could seize upon the opportunity.
37 mins: But just as PSV were building some momentum, Manchester United have their best chance of the match. Lingard's shot deflected into the path of Martial, but the French forward's poked shot was straight at Zoet, who blocked with his legs. Martial will feel he should have done better with that opportunity.
36 mins: PSV have been far better in the last five minutes, showing much more conviction going forward. Young left-back Joshua Brenet just went on an impressive slaloming run to win a corner.
33 mins: That's the best attack PSV have produced so far. The visitors get the kind of situation they've been looking for on the break, but United were able to get the numbers back, forcing Jorrit Hendrix into a curling shot from the edge of the box that De Gea held.
30 mins: United so close to an opening goal. Daley Blind whipped in a superb corner into the heart of the six-yard box, but Schneiderlin just failed to get enough purchase on his shot as he slid in ahead of his marker. Zoet was able to cling onto the ball right before it crossed his goal line.
28 mins: PSV have just produced their best passing move of the match, still, though, they haven't come close to posing any danger to David de Gea's goal. Former Newcastle United striker Luuk de Jong is cutting a fairly isolated figure up front.
24 mins: The pressure is mounting on PSV now. Martial just displayed some clever control on the edge of the box, only for his final pass to let him down. United will be looking to keep this up as they seek a crucial breakthrough.
21 mins: Big chance for United, spurned by Lingard. Andres guardado sloppily gave the ball away and Rooney played a good pass into the area that Martial stepped over to leave Lingard with a fairly clear path to goal but the young winger's touch let him down.
20 mins: Darmian puts in a superb cross on the run down the right, and it's inches away from being turned in by Rooney in the middle. That's the closest United have come to breaking down this PSV side.
18 mins: Unsurprisingly Narsingh can't continue, and young Uruguayan Gaston Pereiro comes onto replace him and bring PSV back to full strength. Pereiro has scored an impressive eight goals this season.
15 mins: Winger Luciano Narsingh has hobbled off the field clutching his hamstring, and it would be a big surprise were he able to continue. That's a significant blow for PSV.
14 mins: Lingard puts a dangerous cross into the box from the right, but Santiago Arias does well to head to safety with a United player waiting to head for goal at the back post.
11 mins: PSV have shown very little going forward so far. Phillip Cocu's side are happy for United to take the initiative and try and rely on their pace down the flanks to strike on the break.
9 mins: Manchester United fans have been shining their phone lights as a tribute to the club's legendary No. 7 George Best, who passed away 10 years ago today.
5 mins: The first shot of the contest arrives, with Bastian Schweinsteiger arriving onto a Lingard pass and hitting a tame left-footed shot that Jeroen Zoet easily claims in the PSV goal.
4 mins: Danger again in the PSV box. Martian drives forward and finds Rooney in the box, who lays it onto Memphis, but the winger's flick is cleared to safety. Encouraging start for the home side.
3 mins: Memphis threatens early against his former club, getting in behind the defense down the left and trying to find a teammate in the middle, but Jeffrey Bruma turned the ball behind for a corner. After getting back into the team on Saturday and marking it with a goal against Watford, the young Dutch forward will be eager to impress again.
1 min: As expected, it's Wayne Rooney lining up behind Anthony Martial up front, with Memphis on the left and Jesse Lingard on the right.
KICKOFF! PSV get the match underway.
2:44 p.m. EST: Wolfsburg's win over CSKA Moscow earlier in the day means there's big pressure on PSV Eindhoven. A defeat tonight and they would need to beat CSKA and hope Wolfsburg fall to United in the final round of fixtures, while also turning around a deficit in the goal difference column.
2:42 p.m. EST: Both teams are now out on the field, lining up for the Champions League anthem in front of a packed out Old Trafford. The fans have regularly complained about entertainment this season, but the result is surely all that counts tonight. A win for Manchester United and they will be through to the last 16.
2:02 p.m. EST: And here's the PSV lineup, which does include Andres Guardado, who had been an injury doubt.
2 p.m. EST: Manchester United have made four changes to the team that beat Watford on Saturday. Matteo Darmian, Marcos Rojo and the fit again forward duo Wayne Rooney and Anthony Martial replace Ashley Young, Juan Mata and the injured pair of Phil Jones and Ander Herrera.
Preview: Manchester United will secure a place in the Champions League knockout phase if they can beat PSV Eindhoven at Old Trafford on Wednesday. A win over CSKA Moscow last time out means that United go into the contest sitting top of Group B and with the chance to clinch a place in the last 16 with a game to spare.
But United's position is hardly a comfortable one. With PSV Eindhoven and Wolfsburg just a point back and CSKA Moscow three points adrift, anything other than a win on Wednesday would take a wide-open group to the final round of fixtures. Louis van Gaal's side will be keen to avoid having to travel to Wolfsburg in two weeks' time requiring a positive result to progress.
So far in this season's group phase, Manchester United have been far more convincing at home, where they have won both matches so far. On the road, United began their campaign with a 2-1 defeat to PSV Eindhoven back in September. That proved to be a torrid night for the Premier League giants, with left-back Luke Shaw also suffering a horrific leg injury that is likely to keep him out for the rest of the season.
PSV have also been much better at home in Europe this campaign. Phillip Cocu's young squad followed up the win over United with away defeats to CSKA Moscow and Wolfsburg before they revived their hopes with a home win over the German side last time out.
And PSV's form has improved of late, both in Europe and domestically. The Dutch champions had been on a five-match winning streak before a 2-2 draw with Willem II on Saturday. But they will go into Wednesday's contest still without Jetro Willems and Maxime Lestienne. There is mixed news on the injury front for Manchester United. Wayne Rooney, Anthony Martial and Marouane Fellaini are fit to return after missing Saturday's win over Watford, but Shaw, Michael Carrick, Ander Herrera, Antonio Valencia and Phil Jones all miss out.
Check back here at 2:45 p.m. for live score updates and video highlights from the key matchup.
FOR FREE to continue reading
✔️ Unlock the full content of International Business Times UK for free
offer available for a limited time only
✔️ Easily manage your Newsletters subscriptions and save your favourite articles
✔️ No payment method required
Already have an account?
Log in
© Copyright IBTimes 2023. All rights reserved.