'Manson Family Vacation' Movie's Opening Scene Is One Of The Most Bizarre At SXSW 2015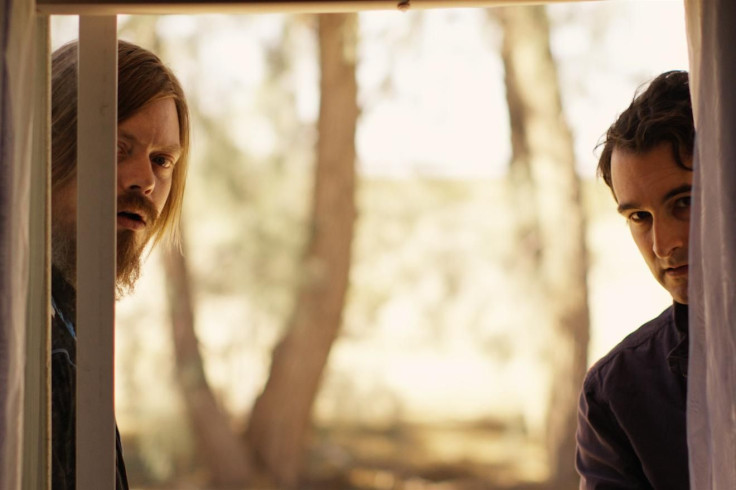 You can't look away when the screen for "Manson Family Vacation" first lights up the dark movie theater. The image is slightly frightening, but curiosity keeps your eyes fixed on convicted cult leader Charles Manson as he looks wildly about, unfocused. He's speaking in an old news interview, back when his beard and hair were still black.
"I'm a child. I never grew up," he coyly answers the journalist about his appeal to people who write him. Then, he spontaneously breaks into a flailing dance that surprises the cameraman filming the segment.
This is the odd scene that opens J. Davis' first film and South by Southwest debut, "Manson Family Vacation." A hitchhiking troubadour named Conrad (Linas Phillips) obsessed with Charles Manson heads to Los Angeles to visit his straight-laced lawyer brother Nick (Jay Duplass). The eccentric Conrad and no-nonsense Nick are estranged when underlying childhood tension between them boils over, revealing Conrad's real reason for visiting: He wants to visit the sites pivotal to the Charles Manson case. Little does Nick know how much Manson is going to ruin his weekend.
The heart of the story is the brother's tenuous relationship, which is sometimes mean-spirited but often cooperative for the sake of family. But the movie is truly a 'Manson Family Vacation,' cramming almost every bit of Charles Manson memorabilia short of becoming a documentary. Manson interviews interrupt the brother's story, giving audiences a sense of Conrad's obsession. Conrad wears a Manson shirt throughout the movie and carries an old worn copy of Manson's book, "Helter Skelter." When Nick and Conrad are driving to Conrad's new environmental job, Conrad plays a CD of Manson songs.
If you didn't catch "Manson Family Vacation" at SXSW, you might be able to watch it soon in the comfort of your own home. According to Variety, Netflix bought the distribution rights for the film. Stream date is unknown at this time.
The SXSW Film Festival runs March 13-21. To follow the rest of my coverage, follow me on Twitter @mcastimovies.
© Copyright IBTimes 2023. All rights reserved.
FOLLOW MORE IBT NEWS ON THE BELOW CHANNELS