Is ManyChat The Best Chatbot App For Facebook? Pricing, Features, Support & More
This article uses affiliate links, which means if you purchase products through these links, we may earn a commission. Click here to see our
T&C
. For licensing please click
here
.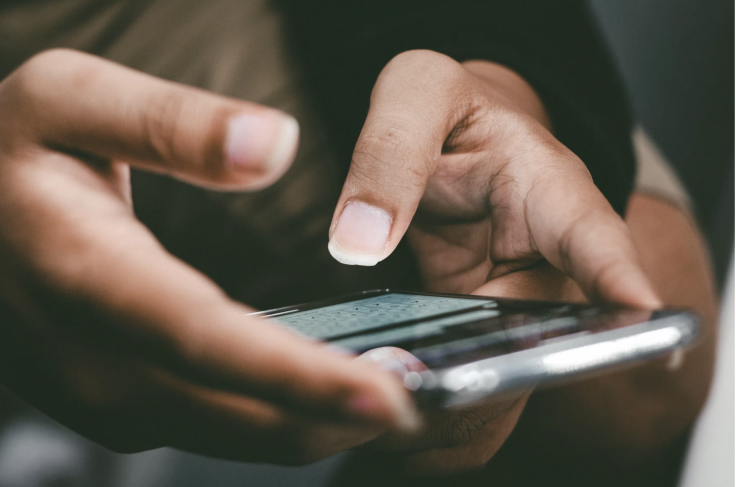 As the world becomes increasingly more connected and digitized thanks to the internet, chatbots have been more and more essential. Designed to answer questions and open conversations, chatbots are incredibly versatile and can be programmed to say or ask just about anything.

But just as with any other emerging technology, the number of available chatbot apps has significantly increased to cater to businesses that have decided to make the digital leap.
So if you're a business owner in need of an effective chatbot for your services on Facebook, this gives you a ton of choices.

So which one should you choose? Here's why you should consider ManyChat. Keep reading to learn more about one of the best chatbot apps this 2021.
What is ManyChat?
ManyChat is a simple service that allows users to create chatbots for Facebook's Messenger app. These chatbots can also be used for just about any business, including marketing and customer care.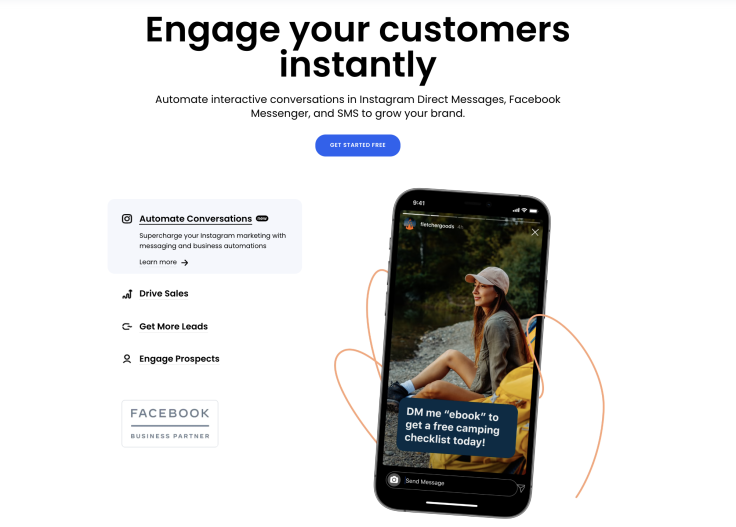 ManyChat has claimed that it's one of the most popular messaging channels in the world, which is very impressive as Messenger has billions of users, with broadcasts having an open rate of 80%, higher than email and other strategies.
But does ManyChat deliver and take advantage of this? Here's what you should know.
Key Features
ManyChat offers a lot of useful features, but your journey as a user starts at its biggest selling point: its ease of use. ManyChat offers an incredibly simple user interface, which is available 24 hours a day and designed to be extremely easy to use.
The interface is icon heavy and both the basic and flow builder let you design a conversation flow without any prior experience. As it's very straightforward, there's no need to spend a lot of time going through tutorials.
The Flow and Basic Builder
When building a conversation tree, ManyChat offers two options: the Flow and the Basic Builder.
With the Flow Builder, you get a much more comprehensive picture of all the interactions your user can make, while the drag-and-drop interface lets you easily connect messages. Overall, this builder is for users looking for a more structured overview of the chatbot.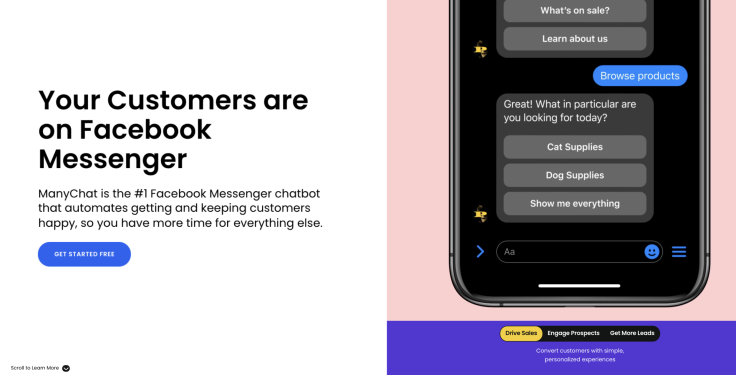 Meanwhile, the Basic Builder is a simple chatbot builder that can keep your chatbot organized. Here, everything is easy to follow, with messages following a chronological order.
As for the chatbot elements, ManyChat provides plenty, including:
Delays
Images, video and audio
Attachments
Gallery (Horizontal and Vertical List)
Emojis
Persistent Menu
Quick Replies
Location Sharing
Email and Phone Number Validation
Free text input
With this, your messages can be as versatile as you want them to be, allowing for more expression between users. Plus, it makes automated customer care more personal, even with a bot.
Growth Tools
Aside from the straightforward chat builder, ManyChat also comes with useful business growth tools. For example, the Facebook commenter tool pulls leads from people who interact with your posts by turning commenters into bot subscribers.
Then, there's the Facebook Ads tool, which does the same thing for people that click on your ads. Additionally, the messenger code tool can even be used to create scannable graphics.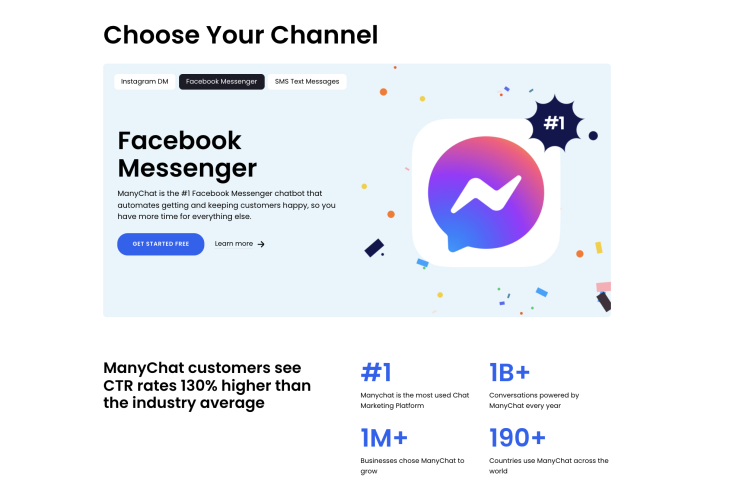 As for analytics, the platform provides straightforward and easy-to-understand metrics, including:
Impressions
Conversion rates
Opt-ins
Click and open rate
Email blocks
The dashboard is also simple and provides important information at a glance. This makes ManyChat an effective platform for chatbot marketing, especially if you're on a tight budget.
Other Features
Here are other features you may find useful in ManyChat:
Channels – With ManyChat, you can make an omnichannel chatbot experience that integrates all your channels, including Facebook Messenger, Instagram, SMS and email.
AI & NLP – ManyChat's artificial intelligence and natural language processing is also effective, letting you group certain words and create a response for your users.
Integrations – ManyChat offers built-in live chat integration. There's also integration for plenty of other apps, with the live chat even offered on iOS and Android devices so you can respond to any inquiry on the go.
Pre-Made Templates – For those that don't want to waste time creating a bot from scratch, ManyChat offers pre-made templates that you can customize to your liking. Just follow the instructions and it should be good to go.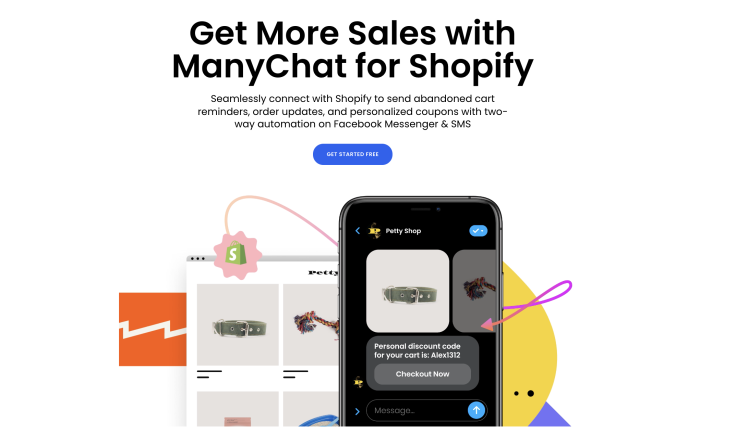 Pricing
Of course, ManyChat's pricing is also straightforward, providing three tiers:
The Free Plan
Pro Plan – Starts at $15/month
Business Plan – Contact the ManyChat team for more info
The free plan stays free forever and comes with tons of features. However, it is limited to only 1,000 contacts, so you should be looking at the Pro Plan to get the full extent of what ManyChat has to offer.

It's also important to note that the Pro Plan's price increases with the number of subscribers your chatbot has. While there's no free trial, it comes with a 30-day, money-back guarantee.
Support
As for assistance, ManyChat offers plenty through a variety of channels, each of which addresses a certain topic. This starts with the Help tab, which provides access to the assistance options.
First, there's the extensive support documentation, which provides you with everything. You can also submit a ticket to the ManyChat support team or join the active community to connect and ask questions with other users.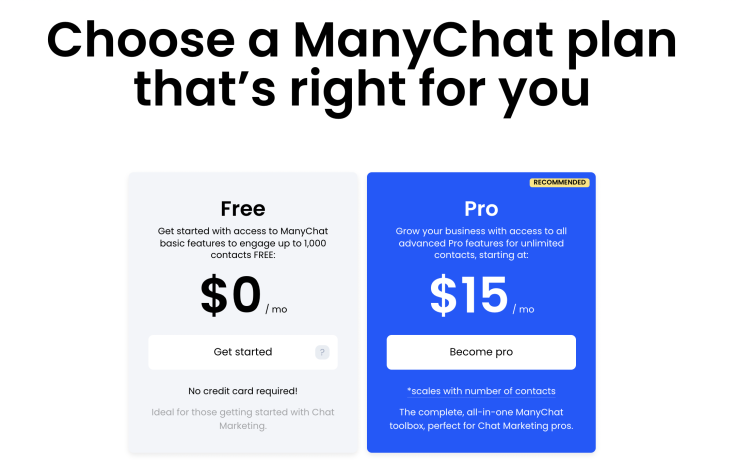 Conclusion
Overall, ManyChat is an incredibly well-designed chatbot app with plenty of features. It's structured but flexible, has plenty of integrations, a lot of chatbot elements and provides plenty of avenues to grow your business and your chatbot. Easy to say, it's one of the best chatbot apps right now.
By stripping away the complexity of the world of AI, ManyChat offers a tool that focuses on helping you connect and communicate in the most effective ways at a low price point.

If you're interested in making your first chatbot, learn more about ManyChat by clicking here.