'Maps To The Stars' Movie Review: Cronenberg Is Lost In Hollywood With Julianne Moore And Robert Pattinson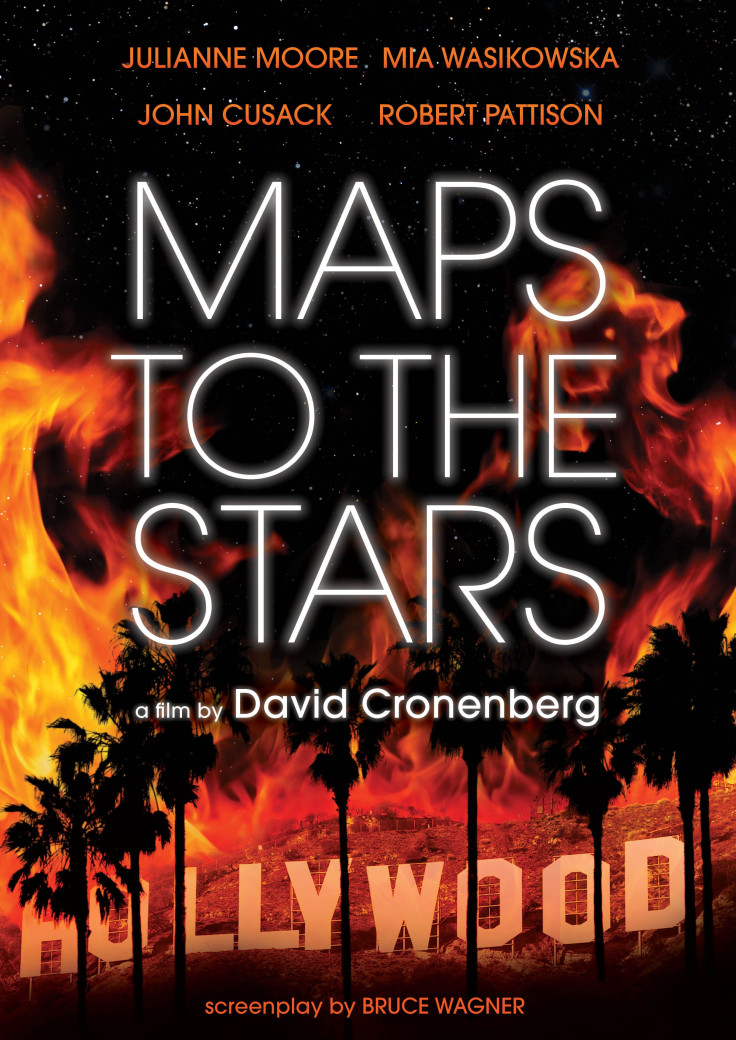 Back down the creepy rabbit hole we go into the wonderfully weird world of director David Cronenberg ("The Fly," "Scanners"). Step right up to see the performance that earned Julianne Moore a prize at the Cannes Film Festival. Over to your left, you'll see John Cusack in the role of a rich guru to the stars. And on your right there's Mia Wasikowska in her most alienating, busy manipulating others in Hollywood's hypocrisy.
"Map to the Stars" is a jumbled yarn of Hollywood drama and scandal. A fresh from rehab Agatha (Mia Wasikowska) shows up in Hollywood unannounced to reconnect with her estranged parents, Dr. Stafford Weiss (John Cusack) and Christina Weiss (Olivia Williams), and her troubled younger brother Benjie (Evan Bird). Tempestuous troubled actress, Havana Segrand (recent Oscar winner Julianne Moore) employs Agatha, unaware that her family is rejecting her because of her secret violent past. Robert Pattinson is once again in a car in a Cronenberg film (their previous creation was the limo driven adaptation of Don DeLillo's "Cosmopolis") as the chauffeur Jerome. I hope the appearance of a well-dressed Robert Pattinson becomes the director's next signature scene for movies to come.
Director David Cronenberg is arguably the biggest reason to watch this oddity, even if it is a messy movie. His body horror pokes at our discomfort with ourselves, and in "Maps" the horror is with our heroes, the celebrities we chose to celebrate and the terrible human beings they may be behind closed doors. Cronenberg has never shied from showing the unglamorous or the grotesque, but he tones it down here to get his message of "Hollywood is terrible" across.
In the movie, Hollywood is portayed as an incestuous circle from generation to generation, filled with soul-crushing delusion. Cronenberg sees no end to it but to destroy it. The ideas of which are very interesting to watch as they play out, but perhaps it's not as well executed. Its absurdist tone is often at odds with its sermon against inauthenticity and vanity.
In Cronenberg's indictment against Hollywood's false and fake ways, he stumbles. Part of it is due to the amount of caricature injected into its actors. The movie becomes so over the top, that "Maps" devolves from satire into farce. Cronenberg nails the parallel between Agatha's burn scars and the always perfect surface of those who work in Hollywood and the repression of secrets in a land that lives off of society looking through its glass houses. Ultimately, "Maps to the Stars" gets so silly, it finally self-implodes before it actually ends.
"Maps to the Stars" opens in select theaters and on VOD Feb. 27.
© Copyright IBTimes 2022. All rights reserved.
FOLLOW MORE IBT NEWS ON THE BELOW CHANNELS