Can Marco Rubio Stop Donald Trump? Florida And A Narrow Path Ahead After Super Tuesday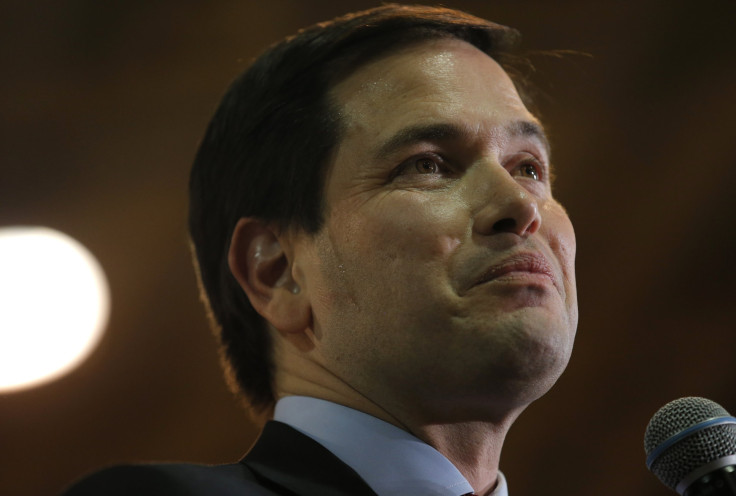 After disappointing finishes in states across the nation that voted on Super Tuesday, Florida Sen. Marco Rubio now faces be his biggest and most important challenge yet: Convincing voters in the state that elected him to the Senate six years ago that he's a better choice for president than the man who builds beachfront hotels and golf courses there.
Rubio's losses in all but one Super Tuesday state — Minnesota — follows a less-than-inspiring start to the nominating season where he wanted a win in at least one of the first four states that vote early but failed. He now faces an incredibly narrow path to winning his party's nomination against the juggernaut of Donald Trump, who won in three of those first states and beat Rubio in most states Tuesday.
The senator, during his election night speech Tuesday, already appeared to be looking ahead to the March 15 contest in Florida, attacking Trump and returning to the frequent talking points of his campaign that invoke his humble beginnings.
"I didn't inherit $100 million. I didn't start out with a small $2 million loan from my dad," Rubio said to a crowd in Miami in a clear critique of Trump, who got started in business with a multimillion-dollar loan from his father, New York developer Fred Trump. "My father was a bartender."
Rubio then made another appeal to his fellow Cuban-Americans in Florida. "If any community understands that socialism doesnt work, it's right here in Miami and it's right here in Florida," he said to cheers from the crowd.
Rubio has just two weeks to turn around a polling deficit in his home state — where he currently ranks second, 19.5 percent behind Trump in averages of polls — and perhaps states like Ohio, where he falls far behind Trump in fourth place with just 13 percent of the vote. Both of those states vote March 15, are winner-take-all and together present 165 potential delegates (Florida has 99 up for grabs).
If Rubio comes in "second in two weeks, he's toast," said Harry Wessel, a professor of political science at Merrimack College in Massachusetts. Wessel said there are several potential coalitions that could keep Rubio afloat on March 15, when six states will vote, but that Florida represents one of the most promising opportunities to cut back on whatever delegate lead Trump ultimately amassed on Super Tuesday.
RCP Poll Average for Florida Republican Primary | InsideGov
Rubio's relatively weak standing in Florida comes just six years after he came out of nowhere, bolstered by Tea Party support, to win his Senate seat over then-Gov. Charlie Crist. Since then, however, he has been the subject of some unfavorable coverage, including criticism surrounding his oscillating position on immigration, questions about his use of a Republican Party credit card for personal reasons while speaker of the Florida House and his opposition to thawed relations with Cuba that could alienate young Cuban voters in his native South Florida.
If that sounds like bad news for Rubio, it more or less is. But a path to the nomination isn't in the realm of the impossible just yet. Perhaps his best chance at winning in some of those states comes, according to conventional wisdom, if Rubio's main rivals outside of Trump drop out and their support flocks to the Floridian. For example, if Texas Sen. Ted Cruz were to drop out of the race, his 15.8 percent support in Florida could land on Rubio's lap, bringing him within 5 percent of the front-runner. If Ohio Gov. John Kasich were to drop his candidacy and his support also went to Rubio, that would give Rubio a slight edge over Trump.
There's at least some evidence to suggest that that exchange could happen. Rubio has been experiencing a rise in Florida polls since former Gov. Jeb Bush dropped out of the race last month, which may indicate that Bush's votes are flowing to the young senator. During that same time, Cruz has been experiencing a drop in support in the state.
Missed Votes: Rubio's vs. Past Presidential Candidates' | InsideGov
But Rubio may stay in the race no matter the results in two weeks, struggling to wrangle together as many delegates as he can. If he does stay in, it's likely he hopes the race will result in a brokered Republican convention this summer. If no candidate is able to secure a majority of delegates in the nominating season, then a contested convention occurs in which the delegates get to argue amongst themselves during successive ballots to determine the Republican nominee. A brokered convention could ultimately benefit Rubio, who has attracted more endorsements from current officeholders than any of his rivals, showing strong support from the GOP establishment that will show up en masse for the convention.
© Copyright IBTimes 2023. All rights reserved.