Who Won The Fox News Republican Debate? Ted Cruz Takes On Donald Trump With Strong Attacks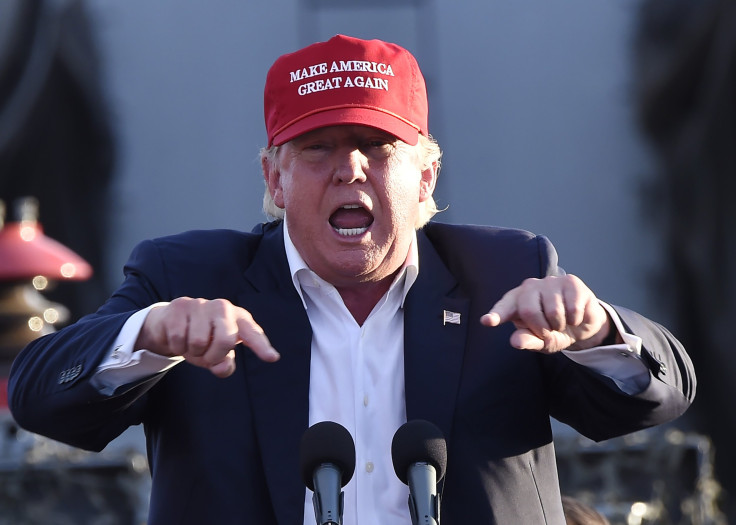 Donald Trump was put on the defense for the second debate in a row Thursday night, as his GOP rivals trained their attacks on him. The Republican front-runner has won primary after primary and pulled ahead in the delegate count, increasing the pressure on Texas Sen. Ted Cruz, Florida Sen. Marco Rubio and Ohio Gov. John Kasich to find ways to blunt his momentum.
For two hours, the Fox News moderators pressed the candidates for policy specifics. But the debate's viral moment focused not on substance but size. Rubio recently sniped that Trump's hands were small and implied that other parts of his body must be, likewise. Thursday night, Trump held up his hands for inspection and reassured any viewers who might be wondering, "I guarantee you there's no problem" with any area of his physique.
Throughout the debate, Cruz and Rubio largely focused on Trump rather than each other, and Trump struggled to fend off their attacks at times. Cruz stayed calm and on point, hammering his conservative consistency and his five wins against Trump. An increasingly desperate Rubio — with only one win in the campaign so far — kept up his new tactic of interruptions and personal attack. Trump dismissed him as "Little Marco" and got in a smack at "Lying Ted" as well. Kasich, continuing to present himself as positive and above the fray, escaped without a Trump-bestowed nickname.
"If we nominate Donald, we're going to spend the summer and fall with the Republican nominee facing a fraud trial," Cruz said, referring to an ongoing suit about Trump University. He condescendingly told Trump to calm down, saying, "You've got to learn not to interrupt. Count to ten, Donald. Count to ten. Breathe."
As in other debates, Kasich got far less speaking time than his opponents. And even when he made substantive policy points, his demeanor was overshadowed and drowned out by the boisterous fights between Trump, Cruz and Rubio.
Cruz and Rubio went after Trump for misrepresenting his positions on a variety of topics, from bringing jobs to the U.S. to his record of business success and his positions on immigration. As the Washington Post pointed out, the two senators "seemed to advance a relatively coherent argument against Trump — arguing that, in private, he had hurt the very blue-collar workers he now wants to represent."
When Trump was asked about an off-the-record conversation with the New York Times in which he reportedly said he would not follow through with his tough stance on immigration, Cruz dug in, saying the businessman should release the transcripts of the conversation.
"Donald, you could resolve this issue very easily by simply releasing the New York Times tapes," Cruz said. "If in fact you went to Manhattan and said, 'I'm lying to the American people,' the people have a right to know."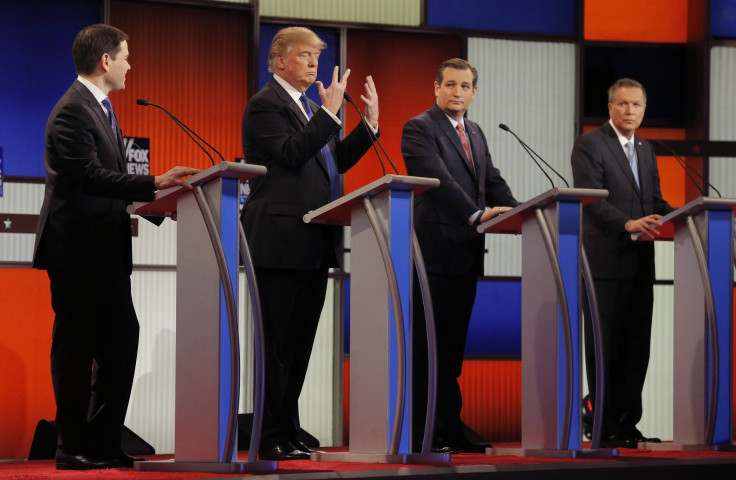 Cruz was not alone in attempting to pin Trump down. The Fox News moderators had ready an aggressive line of questioning and video clips that called out times when Trump had switched his positions on topics in the past. In particular, they highlighted his various positions on Afghanistan, Iraq and Syrian refugees.
Trump defended himself by saying "I change my tune," in a somewhat stumbling response. He portrayed malleable positions as a negotiating technique.
Still, despite Trump taking a significant heat and his at times fumbling responses, many viewers on Twitter declared Trump victorious Thursday night. In a Time.com poll after the debate, 72 percent of respondents said they thought Trump won the evening.
Pressed by the moderators, all the candidates vowed that they would support the eventual GOP nominee.
Even before the Republican candidates took the stage Thursday, there was plenty of drama. After Trump claimed sweeping victories in primaries around the country on Super Tuesday, former presidential candidate Mitt Romney came out against the New York businessman in an aggressive speech Thursday. Romney urged Republicans to support any GOP candidate except for Trump and made the case that The Donald was defrauding voters, calling Trump a "phony" and a "fraud."
However, Trump shot back in typical fashion and mocked Romney for seeking his endorsement when the former Massachusetts governor was running for president in 2012. Trump has so far seemed immune to virtually all attacks, whether from Republican establishment leaders or other candidates.
The debate Thursday night offered another opportunity for Trump's rivals to make their case before the next round of voting this weekend.
Donald Trump Presidential Candidate Profile | InsideGov
As Trump has accumulated more and more delegates in recent weeks, the pressure has increased for Republicans hoping to stop him to coalesce around one of the other candidates. After Cruz won his home state of Texas on Tuesday, he called for Rubio and Kasich to "prayerfully" consider uniting behind him, but none of the candidates appeared ready to end their quests on Thursday.
Recent polling has continued to show Trump with a commanding lead, both nationally and in many key primary states, as he pointed out repeatedly. Analysts will be watching to see if Cruz's numbers go up after his strong performance. Meanwhile, retired neurosurgeon Ben Carson did not attend the debate, and said ahead of Thursday that he did not "see a political path forward" for his campaign.
© Copyright IBTimes 2023. All rights reserved.