Mariah Carey's New Billboards For Las Vegas Residency Show Banned By Airports In California — Find Out Why!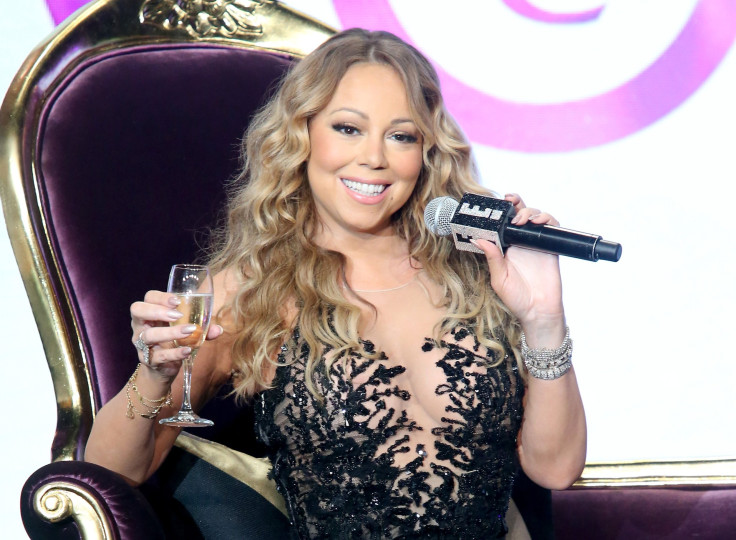 Mariah Carey's new billboards, which she commissioned for the final leg of her Las Vegas residency show "Number 1 to Infinity," have reportedly been banned by two airports in California for being too racy.
According to TMZ, the billboards were supposed to be placed at two major Las Vegas-bound spots for Los Angeles visitors, near Burbank and Orange County airports. The airports, however, allegedly have an issue with the songstress' chest in the advert, which according to the website were barely covered by a gold sheet.
Sources also told TMZ that even Caesar's Palace — the venue of her residency show — is looking for a censored version of the provocative billboards. However, despite the alleged backlash, the website reported that the "When You Believe" hitmaker is still pressing for the use of the original in all its glory.
"Number 1 to Infinity" — which features all Carey's eighteen U.S. number-one hits — started on May 6, 2015 and has already completed four legs. The fifth and final leg will kick off on Aug. 24 and will conclude on Sept. 11.
Carey will then start the Latin America leg of her "The Sweet Sweet Fantasy Tour" on Oct. 28 in Buenos Aires, Argentina. The leg is scheduled to wrap on Nov. 9 in Monterrey, Mexico. According to Pollstar's 2016 Mid Year Special Features, the tour grossed $15.3 million from 26 shows with total of 204,767 tickets sold in Europe [first leg] and Africa [second leg].
Aside from live performances, Carey is also working on an eight-part docu-series called "Mariah's World," which follows the making of her "The Sweet Sweet Fantasy Tour." At the Television Critics Association summer press tour earlier this month, the former "American Idol" judge said that she doesn't see the project as a reality series.
"I don't consider it reality," Variety quoted her as saying. "I haven't been on tour in Europe in about 10 years. So I thought, let's just show the behind-the-scenes, what it really takes to do a tour… and mainly, watch how the music evolves, watch the process, and watch how the different personalities clash."
"Mariah's World" premieres on Sunday, Dec. 4 at 9 p.m. on E!
© Copyright IBTimes 2023. All rights reserved.