Marijuana Industry Hosts Big, Three-Day Investor Summit In Denver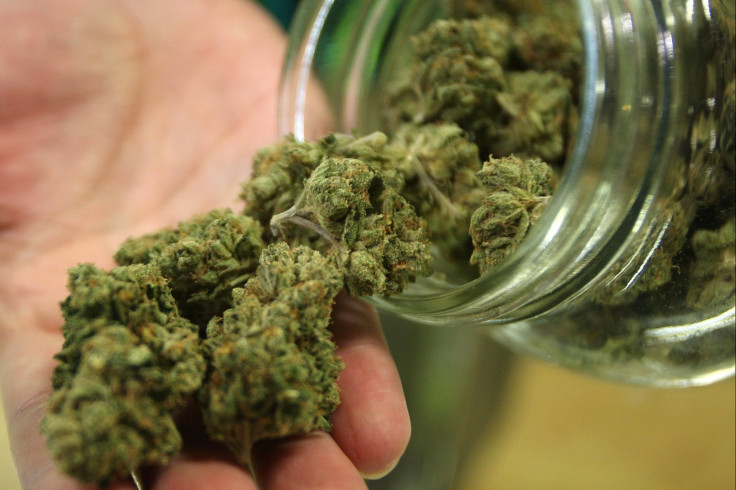 DENVER — The convention floor at Denver Airport's Crowne Plaza this sunny Tuesday afternoon in April could be the trade show for any well-established industry -- gray-haired execs in conservative suits mingling with office park dads in polos and fresh-out-of-college types in brand-emblazoned T-shirts. Only this is a new kind of business conference with a special Colorado theme: legal weed.
As states and cities follow Colorado's lead and consider legalizing marijuana for medicinal and recreational use, the cannabis market looks less like a music festival and more like a Silicon Valley confab, upscale, data-driven and focused on investors.
Vendors and potential financiers at this month's Marijuana Investors Summit say the current market for legal marijuana is more than $3 billion in the 23 states that have already legalized marijuana for medicinal or recreational use. Expanding that market, they say, will require not just drug reform legislation, but also a consistent infusion of capital at a time when the marijuana economy still exists in a legal gray area -- one where the drug is permitted in some states, but still outlawed at the federal level.
"It's going to take time, but it's a great opportunity," said Chris Rentner of Akouba Credit, a Chicago small business lender exploring the possibility of working with marijuana businesses. "For people that think everyone is a stoner lying on the sidewalk passed out, it's going to take time for them to get comfortable with it. But there's too much money in it. We just need to figure out the risk associated with it, but if we can find a way where it makes sense legally, then why wouldn't we try to be in this market?"
If Akouba jumps into the marijuana market, the company would be trying to address one of the biggest obstacles to the industry's growth: access to financial services. Because marijuana is still prohibited under federal law, cannabis "grow houses" and dispensaries have trouble finding traditional banking partners, leaving much of their business to be conducted in cash.
That not only presents a risk of robbery, it also can limit the industry's access to the kinds of lending and accounting services that are typically involved in small business development. Because Akouba is comprised of private investors' money and would have its loans paid from marijuana customers' ATM fees rather than directly from marijuana cultivation revenues, Rentner says his firm may be more readily able to provide those financial services, but only if its funders are comfortable with the risks that come with a new and legally tenuous market.
Like Akouba, many of the 78 exhibitors and nearly 1,000 attendees at this week's conference are not in the business of actually harvesting cannabis. Instead, they aim to provide support services for cultivators and distributors, services like marketing, website development, legal advice and grow-house construction.
"The majority of these companies aren't actually touching the plant," said John Downs of the Marijuana Investment Company, as he pointed to a big screen showing the real-time price of publicly traded companies in his firm's Marijuana Index. "There's a green line: You are either in the ancillary and tertiary services, or you are digging in and growing."
That term -- "touching the plant" -- is a term-of-art that distinguishes businesses that provide support services from those that actually grow cannabis. It's not a minor semantic difference. "Touching the plant" can bring greater regulatory scrutiny and threats of federal action, thereby putting investors' capital at risk.
Trent Woloveck of the American Cannabis Company told International Business Times that the biggest question he hears from potential investors is whether firms touch the plant or not. His nine-person company, which provides consulting services to marijuana businesses in 14 markets, went public in May 2014. That status typically means a business cannot generate revenue directly from the sale of cannabis.
"With publicly traded companies, you trade and operate on a federal market and those are regulated by the SEC, Financial Industry Regulatory Authority and other federal agencies," Woloveck said. "If you are now touching the plant, that puts you in direct violation of federal legislation. You can be a contractor for cultivating, refining and dispensing, but you cannot have an equity stake in those operations if you are publicly traded."
That rule of thumb may start to change. In January, the SEC for the first time allowed a company that deals with marijuana cultivation to sell shares of stock. While that ruling was a positive sign for marijuana entrepreneurs looking for new capital, Woloveck said his company's decision to go public was not just about raising seed money.
"The big thing about being public is being fully transparent and fully reporting to the SEC in a way that gives a lot more comfort to potential investors," said Woloveck, who went into the marijuana business after a career in the healthcare industry. "But this is not just a capital thing; it's more of a society thing. We are trying to redefine society's views on cannabis. Being good stewards and showing that this industry is not just all smoke and mirrors is important, and being a publicly traded entity helps us do that."
On top of questions about track records and revenue streams, a key concern for potential investors, said FlexMod Solutions' Steve Smith, is the changing rules surrounding cannabis.
"It's the legal stuff, the regulations changing, and it's being prepared for what you don't know," Smith said as he described his modular construction company, which builds grow houses and dispensaries. The motto on the firm's glossy brochure is "a new model for the new frontier of commercial grow facilities in the 21st century."
That ongoing legal uncertainty has created a whole cottage industry for firms like iComply, which provide compliance and auditing services for marijuana producers.
"The key to staying in business is complying with the many different rules and regulations and they can change quite rapidly," said iComply's Andreas Nilsson. "I believe this industry is a safe investment now and I believe it because I've seen a lot of well-put-together operations. Three years ago, though, I might have said something different. But things have gotten a lot better, especially here in Colorado."
Nilsson said that while there remains political opposition to marijuana legalization from leaders like Colorado's Democratic Gov. John Hickenlooper, the state's officials put together "very well-developed and clear" regulations and "decided to go in and create a system that is not designed to fail."
That solid system, said Nilsson's colleague, Frank Lynch, was a result of the overwhelming vote in Colorado in 2012 to enshrine legal marijuana as a constitutional right. The historic vote, which made Colorado the first to fully legalize marijuana for recreational use, forced lawmakers to accept the existence of the cannabis industry for the long haul, Lynch said.
"Colorado passed a constitutional amendment rather than just a law, which created a climate that is very progressive and positive rather than punitive," he told IBTimes. "In other states, even though the people may want legal marijuana, you have politicians who are reluctant and who can change the statutes, and those are the states where it's not working as well."
© Copyright IBTimes 2023. All rights reserved.