Marijuana Legalization: Maryland Bill Seeks To Regulate Cannabis Like Alcohol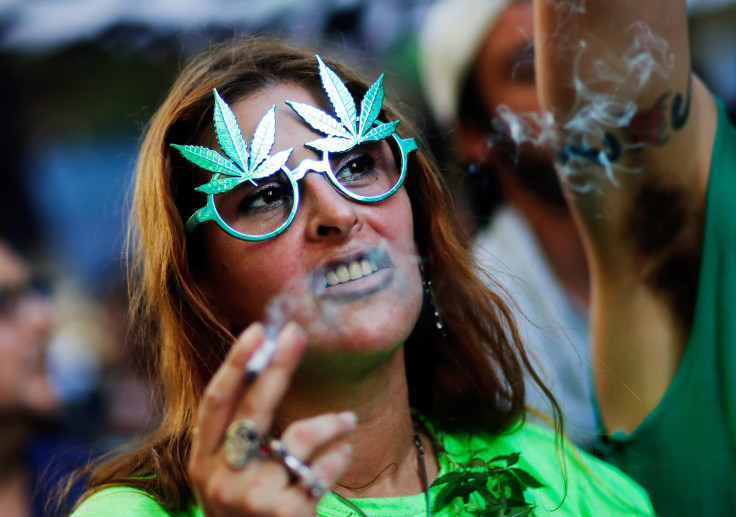 Maryland lawmakers on Friday introduced a bill that would legalize marijuana in the state. The state's general assembly put forth HB 911, a bill that would regulate and tax marijuana similarly to alcohol. If passed, the state would follow New Hampshire as the first states in the nation to legalize marijuana for recreational use via legislative body vote.
Dubbed the Marijuana Control and Revenue Act of 2015, the bill is sponsored by state delegate Curt Anderson, and if passed would allow adults 21 and older to possess up to one ounce of marijuana and grow up to six plants in their homes. The bill would also require the Maryland Comptroller to establish rules and regulations for the operation of cultivation facilities, product manufacturers, retailers and safety compliance labs. A companion bill in the state senate, SB 531, was introduced by state Sen. Jamie Raskin earlier this week.
Anderson, the assembly's deputy majority whip, had attempted to pass similar legislation in 2013 to regulate and tax marijuana like alcohol.
"The bill would take marijuana out of the realm of a criminal enterprise and make it so that folks can actually buy it in recreational ways," Anderson told Baltimore's WBAL-TV last year. "This issue is so important, I think, to folks in my community in terms of the arrest of young African-American males. They get records, they can't get jobs, they can't get into some schools."
The bill's latest incarnation would also create an oversight commission to monitor marijuana businesses and advise the comptroller on regulatory issues. The bill was championed by the state's chapter of the American Civil Liberties Union.
"The Marijuana Control and Revenue Act is the next step on the road to saner drug policy in Maryland," said Sara Love, public policy director for the ACLU of Maryland, in a statement. "For too long, tens of thousands of Marylanders, disproportionately black Marylanders, have faced life-altering criminal penalties simply for possessing a substance most voters believe should be legalized. Now, our state has the opportunity to move beyond the tragic costs of the counterproductive 'war on drugs' and toward increased revenue that can be used to support policies that strengthen communities."
As part of the bill's regulations, marijuana businesses would not be permitted to operate within 1,000 feet of a school, and localities would be able to enforce additional regulations. Using marijuana in public and driving under the influence would remain illegal.
Maryland moved to decriminalize small amounts of marijuana last year, replacing jail time for offenders with a fine of up to $100 for a first offense, up to $250 for a second offense, and up to $500 for subsequent offenses.
Even if Anderson's latest bill makes it through the house, it may have trouble in the senate. Maryland Senate President Thomas V. Mike Miller told the Baltimore Sun in January that legislators were still not ready to approve full legalization. "We're going to move forward with medical marijuana, try to solve people's aches and ills," Miller said, according to the Sun. "If it's a valuable resource for people with cancer, we're going to make it available to them.
"But in terms of making it available to the general public, I don't anticipate that happening any time soon."
After New Hampshire's House of Representatives passed its legalization bill, Gov. Maggie Hassan, a Democrat, told WMUR-TV that she would veto it if it ever reached her desk. Maryland Gov. Larry Hogan, a Republican, has not threatened to veto the bill, but did tell WBAL-TV during an interview when he was a gubernatorial candidate that he did not support marijuana legalization. He refused to answer questions about his views on marijuana during an interview with the Washington Post.
Martin O'Malley, the state's former governor, took a similar position, but also initially opposed decriminalization before signing the state's reform in 2014.
"As a young prosecutor, I once thought that decriminalizing the possession of marijuana might undermine the public will necessary to combat drug violence and improve public safety," O'Malley said in a statement when he signed Maryland's marijuana decriminalization bill. "I now think that [it] is an acknowledgment of the low priority that our courts, our prosecutors, our police and the vast majority of citizens already attach to this transgression of public order and public health."
As of mid-February, 23 states plus Washington, D.C., have laws in place that allow the use of medical marijuana with a doctor's recommendation. Colorado and Washington have legalized marijuana for recreational use, and last year Alaska and Oregon voted to do so as well, but those laws have yet to go into effect.
© Copyright IBTimes 2022. All rights reserved.
FOLLOW MORE IBT NEWS ON THE BELOW CHANNELS