Marilyn Monroe Statue Dismantled: Chicago Says Goodbye to Norma Jean [PHOTOS]
After a year on Chicago's Magnificent Mile, Marilyn Monroe is headed west -- one piece at a time.
Seward Johnson's 26-foot, 40,000-pound Forever Marilyn statue was dismantled Monday night in preparation for the long drive to Palm Springs, California where the larger-than-life actress was discovered by a Hollywood agent.
Unveiled last July, the bronze and stainless steel sculpture depicts Monroe in her famous pose from the film The Seven Year Itch when her dress is caught in a draft as she passes over a subway grate.
Chicagoans, initially bemused by the sculpture, later mocked and criticized it. The piece was vandalized several times, once with red paint running down Monroe's leg.
Many viewed Monroe's skirt-billowing pose as sexist and one website, VirtualTourist.com, ranked it the worst piece of public art in the world. The site questioned why a replica of the famous New York City-based pose was placed in Chicago and called the pose offensive as visitors must peer up at Marilyn's panties.
Passers-by can freely gape up the screen siren's skirt and pose between her white, open-toe kitten heels. Abraham Ritchie of Chicago Art Blog called the Forever Marilyn statue creepy and sexist.
It's creepy schlock from a fifth-rate sculptor that blights a first-rate public art collection, he said. This sculpture caters to cheap titillation, titillation that is in itself pathetic. By making Monroe's panties visible, Johnson encourages voyeurism. When I visited it recently there were no less than three men taking pictures of Monroe's rear. If a clumsily rendered giantess puts wind in your sails, you have issues.
Others found another use for Monroe's parachute-like dress: The flowing gown acted like a giant umbrella, creating a perfect shelter from Chicago rainstorms.
Paul Zeller of the Zeller Realty Group, which owns the plaza in Chicago, said he likes to bring in things that cause conversation.
They might be controversial, but he likes art that makes people think, a spokesman said when the statue first appeared in the Windy City.
Tim Samuelson, cultural historian for the City of Chicago, agreed that the sculpture fulfilled its purpose.
No matter what opinions people had about Mega-Marilyn as a work of art, it was rare to have a sculpture that could attract a crowd at any hour of the day or night, he told the Chicago Tribune. Even passing by late at night, I never saw her standing alone. And when someone tagged her leg with graffiti, there were actual expressions [of] outrage and indignation. There were definitely unusual forces at work in the way she was received by the public.
Forever Marilyn will be stationed at the corner of Tahquitz Canyon and Palm Canyon drives in Palm Springs, California by the end of May and will remain through June 2013.
Have a look at the surreal dismantling of the Mega Marilyn below: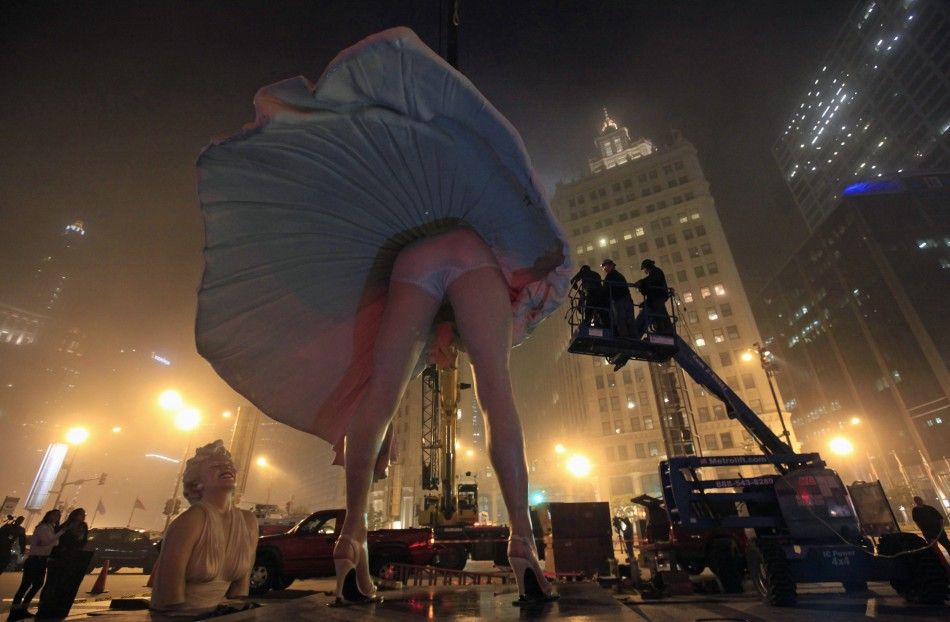 © Copyright IBTimes 2023. All rights reserved.