'Mario Kart 8 Deluxe' Producer Discusses Why Rainbow Road Is One Of The Best Tracks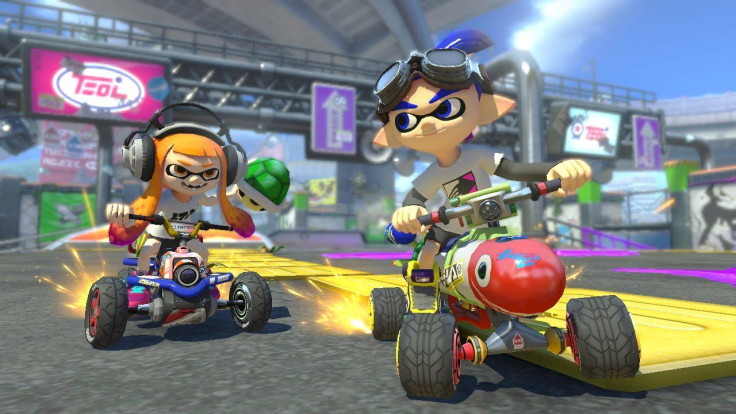 Mario Kart 8 Deluxe has nearly 50 tracks to its name, but Nintendo producer Kosuke Yabuki has a special fondness for the latest iteration of Rainbow Road. In an official interview, he discussed why the track was voted by U.K. fans as the game's best.
As a true connoisseur of the series, Yabuki links the appeal of the track to its design accoutrements. "My favorite part is how the two routes form an intertwined spiral before heading into the final corner," he said. "The design allows for lots of different tactical gameplay depending on your items and the situation around you, such as changing your route or taking a shortcut between the two paths of the spiral."
Read: Mario Kart 8 Deluxe Online Issues Frustrate Players
As for those iconic turns with no walls on the sides, Yabuki feels those sections got even better thanks to the auto-driving features found exclusively in Mario Kart 8 Deluxe. With smart steering and auto-acceleration enabled, Rainbow Road quickly becomes a universal source of enjoyment rather than pure frustration.
True Mario Kart fans will know that Rainbow Road has a more storied history beyond the one featured in Mario Kart 8, however. Thankfully, because the new game has many of those old variations on the same disc, Yabuki and his team felt free to experiment. With the addition of anti-gravity controls, the aim was to create a version of Rainbow Road with a "near-future" aesthetic. That's precisely why the latest version features Toads wearing space suits at the finish line. The visual was so well liked that these intergalactic Toads crept their way into the game's online menus too.
Rainbow Road's designation as Mario Kart 8's best track was determined on April 28, the release day of the Switch version. Beyond the single winner, other top tracks included Hyrule Circuit, Mount Wario and Bowser's Castle. The last name on that list has similarly been remodeled several times throughout the series.
Read: Nintendo Wants Multiple Switch Consoles In Every House
Mario Kart 8 Deluxe has been an irrefutable success on Nintendo Switch. Not only does the game have a Metacritic score of 93, but it was also purchased by nearly half of all Switch owners last weekend. Despite some troubling online hiccups, this enhanced Wii U port is a real winner. It continues a positive first-party trend set by The Legend Of Zelda: Breath Of The Wild. That game currently has an attach rate of over 100 percent.
Mario Kart 8 Deluxe is available now on Nintendo Switch.
Do you think Rainbow Road is the best track in Mario Kart 8 Deluxe? What makes the course so special? Tell us in the comments section!
© Copyright IBTimes 2023. All rights reserved.
FOLLOW MORE IBT NEWS ON THE BELOW CHANNELS