Marissa Mayer's First Interview As Yahoo Chief: CEO Discusses Mobile Push And New Strategy [VIDEO]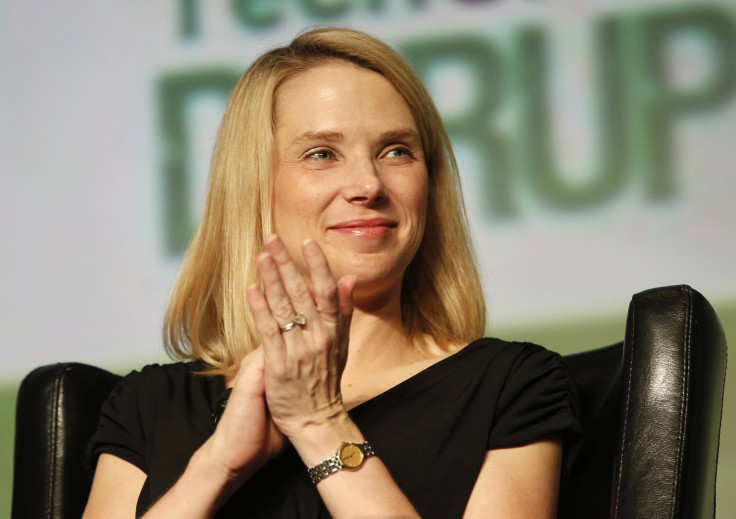 Marissa Mayer recently sat down for an interview for the first time since she became the CEO of Yahoo, providing insight as to what's ahead for the company she's been leading since July.
"I think one of the pretty important things for Yahoo's strategy moving forward is mobile," Mayer said to Fortune, as she explained that Yahoo employees would be making the switch from BlackBerry devices to smartphones in the workplace. This is an effort to make employees understand and become familiar with other prominent platforms in the smartphone industry, Mayer said on stage at Fortune's event in Palo Alto on Tuesday night.
"It was really important for our engineers, our salespeople, everyone throughout the whole organization really understand Android, iPhones and Windows 8," she said. "You want the engineers to feel it, you want the salespeople to say 'Hey, I saw this great thing on this app. We should do this on our app."
Yahoo isn't the only company looking to ditch BlackBerry when it comes to choosing a device to fit employees' work needs. A recent report from the International Data Corporation (IDC) has said that iOS and Android will replace BlackBerry as the top enterprise device for the first time in 2012.
The 37-year-old Yahoo chief continued to stress the importance for Yahoo's online assets to translate to smartphones and tablets.
"They're all the things that people want to be doing on mobile phones," she said.
While Yahoo's mobile ventures are likely to include services that the company's Web presence already provides, such as weather, mail and news, Mayer has said that creating a maps app has been ruled out.
"I've done maps in my former life," she said. "It's very expensive, very hard to do well. Apple's finding that out. So we're not gonna do maps."
Mayer's chief of staff was recently tasked with finding out which actions are most commonly performed on smartphones, excluding services from carriers such as voice and text. The results found that users typically check the news, read their email, view stock quotes, check sports scores, watch videos and share photos on their devices.
"This is a huge opportunity for Yahoo," Mayer said, "because we have all of the content we have all of the information people want on their phones and now it's about making it easy and relevant to use on mobile."
Mayer appeared to have set goals in mind and a clear direction for the future of Yahoo. When it comes to competing with other major players in the tech industry, she said that partnering with other companies that offer different services could be key for Yahoo.
"One of our employees got up at a Friday afternoon meeting and asked 'We don't have a mobile OS, we don't have mobile hardware, we don't have a browser, we don't have a social network. How are we going to compete?' And I said 'Well we don't have a mobile OS, we don't have mobile hardware, we don't have a social network and we don't have a browser, which means we can partner with the best people," she sad.
To see Fortune's full interview with Mayer, check out the video below.
© Copyright IBTimes 2023. All rights reserved.
FOLLOW MORE IBT NEWS ON THE BELOW CHANNELS