Marvin Gaye Vs. Robin Thicke: 6 Cases Of Music Plagiarism Lawsuits After 'Blurred Lines' And 'Got To Give It Up' Verdict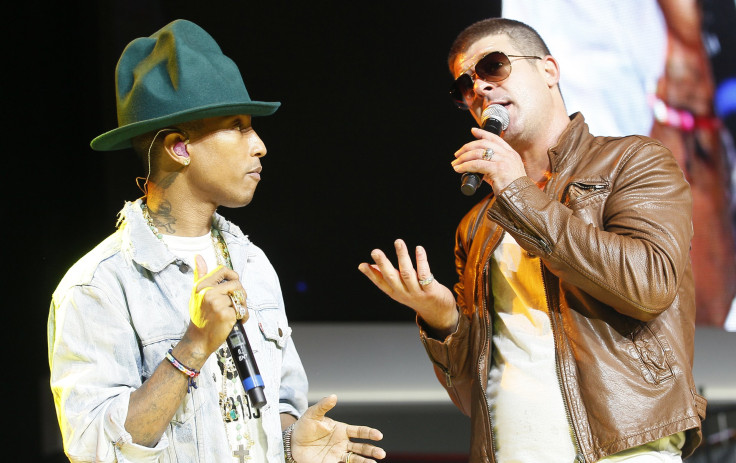 A court ruled this week that "Blurred Lines" singers Robin Thicke and Pharrell Williams must pay Marvin Gaye's children $7.3 million for infringing on the copyright of Gaye's 1977 song "Got to Give It Up." Such plagiarism cases have been a familiar refrain in the music business for decades, and Thicke and the "Voice" coach are just the latest performers to be slapped.
As troubling as it is to learn that favorite artists may not be as original as they claim to be, taking legal action against big-name celebrities for song stealing is surprisingly common. Acts from Led Zeppelin and the Beatles to Beyoncé and Jay Z have been accused of musical theft. Starting with the latest, here are some recent high-profile musical plagiarism cases.
Robin Thick And Pharrell Williams -- 'Blurred Lines'
After topping the Billboard singles chart for 10 consecutive weeks in 2013, the Grammy-nominated song was found on Tuesday to have infringed upon Marvin Gaye's "Got to Give It Up."
Gaye died in 1984. His children are hoping to not only claim the money, but halt future sales of "Blurred Lines" as well. While testifying, both Williams and Thicke acknowledged the similarities between their song and Gaye's but denied that they stole his.
Beyoncé And Jay Z – 'Drunk In Love'
In December, Hungarian singer Monika Juhasz Miczura (aka Mitsou) filed a lawsuit against America's power couple claiming they sampled a minute and a half of vocals from one of her songs. Fans of Beyoncé's 2013 hit "Drunk in Love" know the catchy vocal hook that opens the song. Mitsou says the vocals are hers from a 1990s song called "Bajba, Bajba Pelem" -- "Gypsy Life on the Road," according to Us Weekly. This isn't the first time that Queen Bey has come under fire. Time did a breakdown of the many instances in which other artists have called the singer out for alleged thievery. The Mitsou case is ongoing.
Eminem -- 'Rap God'
Perhaps Eminem isn't the "Rap God" he claims to be (OK, that was low-hanging fruit). A recently filed lawsuit claims 25 seconds of 2013's "Rap God," Shady's Guinness World Record holder (for most words in a song), were lifted from a song by Chicago rap group called Hotstylz. According to TMZ, group member Raymond Jones claims Eminem ripped off a portion of their 2007 song "Lookin Boy." The outlet did a side-by-side comparison of the two songs and it looks like they're pretty similar. Still, as MTV News noted, Eminem didn't take the lyrics directly, but merely copied the "flow" of the track. In any case, Jones is seeking $8 million.
Jay Z, Kanye West And Frank Ocean – 'Made In America'
According to rapper Joel McDonald, the trio of musicians stole the song "Made in America" from him. As McDonald tells it, he was a humble up-and-comer peddling CDs outside of the Mercer Hotel in New York's SoHo while the artists were inside making the album "Watch the Throne." He sold one of his CDs to a man named Mike Dean, who happened to be a producer on the album, according to TMZ. Next thing you know, the song he claimed to have written in 2009 became a hit in 2011, but he was getting no credit. The New York Daily News said McDonald is hoping for $3 million from the artists for copyright infringement.
Katy Perry – 'Dark Horse'
Many people say this year's Super Bowl halftime show star has stolen a lot of her music. Who could not notice the similarities between Perry's single "Roar" and Sara Bareilles' "Brave"? That wasn't the scandal it could have been thanks to Bareilles claiming she didn't mind the similarities, and that Perry's song only helped hers. However, a Christian group claims Perry's 2013 song "Dark Horse" is nothing more than a ripoff of their 2008 song "Joyful Noise." According to Time, St. Louis rappers Marcus Gray, Emanuel Lamber, Lecrae Moore and Chike Ojukwu are seeking damages from Perry and those involved with the song. They also say the single has tainted their original with "witchcraft, paganism, black magic and Illuminati imagery." Harsh words.
Sam Smith – 'Stay With Me'
Despite winning Grammys for record and song of the year, "Stay With Me" was not entirely the work of artist Sam Smith. But even the man who accused Smith of plagiarism, Tom Petty, believes it was a total accident that the chorus of "Stay With Me" is melodically similar to Petty and Jeff Lynne's 1989 song "I Won't Back Down." Smith and company agreed to give partial writing credit to Petty and Lynne, according to Rolling Stone. Petty, proving he's not what his name implies, released a statement saying "these things can happen" and there were no "hard feelings toward Sam."
© Copyright IBTimes 2023. All rights reserved.