Meek Mill Opens Up About Being Called The Loser In Drake Battle, Calls Social Media Users Cowards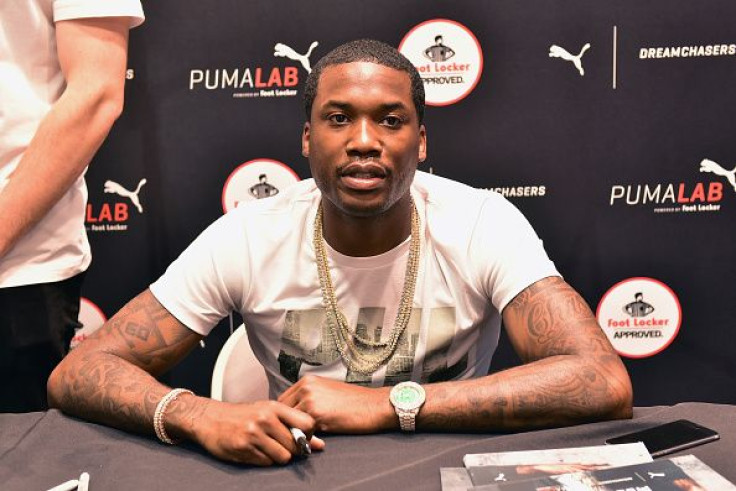 With all the rap battles that have taken place throughout hip-hop history, Drake and Meek Mill's back-and-forth was the first one where the winner was determined by people on the Internet. At least as far as mainstream rap battles go.
After Meek Mill, 29, dissed the Canadian rapper on Twitter in 2015 and accused him of not writing his own lyrics, Drake released the song "Charged Up," which was followed-up by "Back To Back." Then after that, the Philly native delivered his response cut "Wanna Know," but a lot of people said they didn't like it.
When all was said and done, most people on the Internet deemed Drake the winner, and Meek Mill became the subject of memes and plenty of jokes. In an interview with "My Mixtapez," the MMG artist spoke about being teased by rap fans and getting slammed on social media.
"I remember last year watching people, everybody going against me about a diss record," he said. "I remember looking at it like 'Ya'll really think this gon' stop me? You think telling me I'm going on my girlfriend's tour is going to stop me? Is that a joke?'"
The "Monster" rhymer was talking about Drake's line about Nicki's Minaj's "The Pinkprint Tour" in "Back To Back. "You love her then you gotta give the world to her / Is that a world tour or your girls's tour? / I know that you gotta be a thug for her / This ain't what she meant when she told you to open up more," rapped the OVO leader.
Up until now, Meek Mill hasn't spoken a lot about his battle with Drake, although others closely associated to him have, like his boss Rick Ross, who defended him during an interview on "The Breakfast Club" in October of 2015.
Conversely, Drake has spoken about the battle. He sat down with Rolling Stone in September 2015 and said he couldn't believe Meek Mill would diss him and not follow it up with music. If you recall, it took a long while for the Philly native to respond to Drake's two diss songs.
"This is a discussion about music, and no one's putting forth any music," Drake stated. "You guys are gonna leave this for me to do? This is how you want to play it? … Nobody told you that this was a bad idea, to engage in this and not have something? You're gonna engage in a conversation about writing music and delivering music with me?"
In his conversation with My Mixtapez, Meek Mill blasted those on the Internet for dissing him so much but accepts that it's simply the way things work these days as far as fans and social media go.
"Last year in the position I was in, a lot of people was going with like a wave of like I was actually losing, but my life was good," he said. "The Internet is kind of uncontrollable where people go with their own ways … It's a world of cowards where people get behind a computer and type anything."
© Copyright IBTimes 2023. All rights reserved.