Meghan Markle, Kate Middleton's Commonwealth Day Shoes Too Similar; Netizens React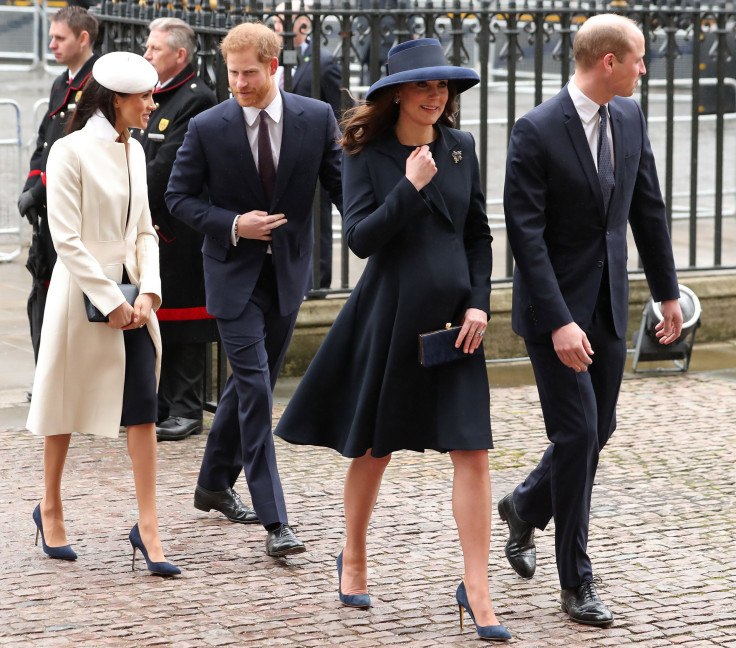 Kate Middleton and Meghan Markle's shoes during the Commonwealth Day service were too similar, apparently.
On Monday, the royal fab four reunited to celebrate Commonwealth Day. During the event, Prince William, Middleton, Prince Harry and Markle joined forces to meet a group of schoolchildren.
"Same shoes Meghan and Kate? New brooch for Kate? #MeghanMarkle #DuchessofCambridge" one post on Twitter read.
Aside from the Duchess of Cambridge and the "Suits" actress' shoes, many noticed that Prince William and Prince Harry's footwear were similar too.
"In all fairness, William and Harry also appear to be wearing the same shoes. I know: no one cares when it's men," @TheJoyGuru commented.
Some royal fans want Prince Harry's bride-to-be to have her own signature fashion and seeing the two women in similar pumps was a disappointment.
"Too Kate-like - I thought she'd make her own style," Little Clem commented.
Meanwhile, others are still not convinced about Markle's choice of clothing. A number believe that the "Horrible Bosses" star doesn't compare to the Duchess of Cambridge in the fashion stakes.
"I really don't like Meghan's recent outfit choices...." Naomi Clement wrote.
"I don't even think she's dressing as well as Kate!!" she added.
Aside from wearing similar shoes, Markle and Middleton both carried a small clutch bag, wore hats of the same color with their dress or coat and had their hair untied. According to body language expert Judi James, the similarities between the two women could be due to their training.
"But is this down to nature or nurture? Is it the kind of subconscious mirroring that would suggest like-minded thinking and high levels of either empathy and/or admiration, or is it more likely to be down to Palace training to ensure Meghan creates the same perfect royal 'fit' as Kate did when she married William?" James told Express.
James, however, recognized the possibilities that Middleton influenced Markle, especially in the latter's choice of bags.
"Kate has always favored a small clutch bag and used both hands to hold it in front of her torso at royal events," James explained. "Meghan made her first few appearances with a selection of normal, full-size handbags hanging from one straight arm but it looks very much as though Kate has influenced her to take something much smaller and neater."
As for Prince Harry and Prince William's similarities, James believes that this is because of their tight bond. The two princes grew up together.
© Copyright IBTimes 2023. All rights reserved.