Meghan Markle 'Perplexed' By Lack Of Friendships She Made While With Royal Family: Royal Commentator
KEY POINTS
A royal commentator claimed Meghan Markle invited A-listers "she didn't know" to her wedding hoping they would become "useful contacts"
Markle was "dumped by the stars she courted" following her royal exit, Neil Sean claims
He claimed that celebrities are now "waiting for" Prince William and Kate Middleton's upcoming visit to the U.S.
Meghan Markle allegedly didn't make many Hollywood connections during her time as a working member of the royal family, a royal commentator has claimed.
Many big names attended Markle and Prince Harry's royal wedding in 2018, including George and Amal Clooney, Oprah Winfrey, Idris Elba, Priyanka Chopra, Serena Williams, Elton John, Carey Mulligan, James Corden, Tom Hardy and Victoria and David Beckham, according to The Hollywood Reporter.
Neil Sean, a royal and entertainment commentator and correspondent who has been featured on Fox News, Sky News Australia and other outlets, claimed on his YouTube channel that the Duchess of Sussex "didn't know" some of the celebrities who attended her wedding but invited them in the hopes that they "would turn into very useful contacts."
However, Sean claimed that after she and Prince Harry stepped back from royal duties and moved to Montecito, California, the former "Suits" star "was dumped by the very stars she courted." International Business Times could not independently verify Sean's claims.
Citing an unnamed source, the royal expert claimed that Markle was "perplexed by the lack of friendships that she made within her time" in the royal family but failed to "realize exactly why [these celebrities] don't want to be friends with her."
"When you think about the British monarchy, they have a certain cachet," Sean explained. "To give you an idea, all American stars want to appear in the Royal Variety Performance. This is an annual event, a charity raising big event which is normally attended by senior members of the British monarchy. Celebrities attend the event for free."
Sean noted that Barry Manilow once told him in an interview that he was "honored and thrilled and delighted to be invited" to the Royal Variety Performance and that the sales of the singer's singles and streams "shot through the roof once the show was televised," which the royal commentator attributed to "the power of the monarchy."
Sean suggested that Markle lost the "pulling power" of the royal family after deciding to step back from her royal role.
"As Harry and Meghan's star declines rapidly, you can understand why those shallow stars who were once wanting to align themselves with Harry and Meghan have since departed," he claimed. "This is now one of the bigger problems that they are facing, not just those two individually but also the expensive PR marketing and brand experts surrounding them in Montecito."
He claimed that stars are now "queuing up and waiting for the big event in Boston," referring to Prince William and Kate Middleton's upcoming visit to the city in December for the second-annual Earthshot Prize award ceremony.
"I think [Harry and Meghan] could learn a lot of lessons because sometimes less is more," Sean continued in his video. "It's about the stars coming to you if you are members of the British monarchy, and not chasing them as Meghan did with her royal wedding."
Sean's comments came days after investigative journalist Tom Bower, author of the new royal biography "Revenge," claimed on MailPlus's "Palace Confidential" podcast that he learned that Markle wasn't close to Winfrey before the TV legend attended her royal wedding.
"[Meghan's father] Thomas Markle told me that he knew the people at the wedding better than Meghan because he filmed with them all [for] ABC and other studios," Bower claimed. "Meghan didn't know Oprah, she'd met her once for a few minutes. She didn't know George Clooney. ... [But] all of it was for her future. She used the wedding to build up her career when she returned to Hollywood."
While it is not clear where Markle stands with her A-lister wedding guests today, the former actress appears to have maintained a close friendship with Winfrey and Williams following her royal exit.
The duchess and Prince Harry sat down for an interview with Winfrey in March last year and were spotted driving to the TV mogul's home in Montecito in late June, Page Six reported.
Meanwhile, the tennis legend, who once called the duchess "one of [her] best friends," expressed support for Markle following her emotional March 2021 interview.
"I know it's not easy — and you can see from the interview that it wasn't easy — but she had so much poise and she still had so much class," Williams said on the "Stuart Weitzman Shine Series" at the time of Markle. "I just think that she is the strongest person I know. I don't know anyone else that could handle everything on such a global scale the way that she's had to handle things that are just untrue, minute after minute. Not even day after day. Just minute after minute, just another untrue allegation being thrown at her."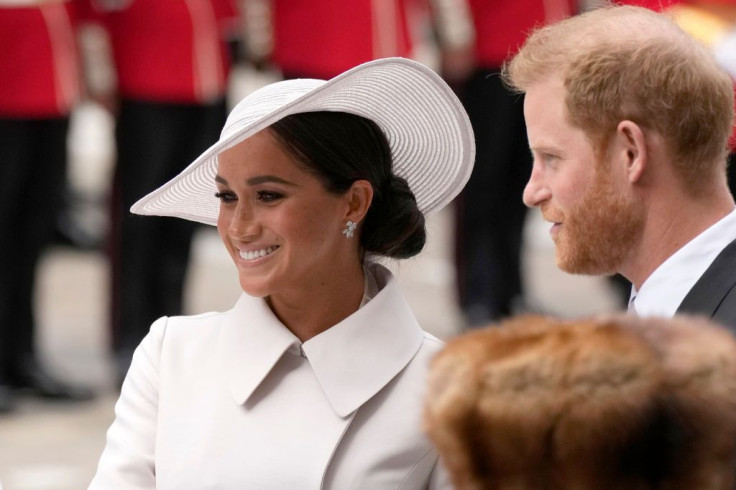 © Copyright IBTimes 2023. All rights reserved.
FOLLOW MORE IBT NEWS ON THE BELOW CHANNELS