Meghan Markle, Prince Harry's Private Wedding Claim Questioned By Vicar: 'You Can't Get Married Twice'
KEY POINTS
A vicar for the Church of England questioned Meghan Markle's claim she and Prince Harry had a secret, private wedding
Reverend David Green said couples "can't get married twice"
Markle's revelation that only three of them were present and that it was held in their backyard was also called into question
Meghan Markle and Prince Harry's revelation that they wed in a private ceremony days before their lavish 2018 royal wedding has been called into question by a vicar for the Church of England.
During their bombshell interview with Oprah Winfrey Sunday, Markle told the host that she and the Duke of Sussex secretly tied the knot "three days before" their public wedding on May 19, 2018, in St. George's Chapel at Windsor Castle.
"No one knows that. But we called the archbishop [of Canterbury], and we just said, 'Look, this thing, this spectacle, is for the world, but we want our union between us,'" Markle shared.
Reacting to Markle's statement, a vicar for the Church of England, Reverend David Green, tweeted after the interview, "I've no idea what they mean."
"Obviously lacking as a parish priest," he continued in the now-deleted tweet, obtained by Fox News, while debating the issue with Reverend Tiffer Robinson. "You can't get married twice. So what was the thing three days before [their public ceremony]? And if it was a marriage, what on earth are we doing 'playing' at prayer/holy matrimony for cameras."
The official rule book of clergymen provided by the Church of England defines a legal marriage and states that "a couple who are already lawfully married cannot choose to re-marry each other, unless there is some doubt as to the validity of the earlier marriage," per Fox News.
While Markle said only three of them were present during the private nuptials, the Church of England requires at least two witnesses to be present in any wedding ceremony for it to be considered to be valid, Page Six noted.
Her statement that it was held in their backyard was also called into question as according to church rules, the venue must be public and should have unrestricted access to allow for any objections to be made against the couple's union.
"She clearly thinks something happened with [Archbishop of Canterbury] 3 days prior," Green wrote in another deleted tweet. "So it would be helpful to clarify what it was. Plus this is something she claimed that can be verified by separate testimony (i.e. Lambeth). If it's BS, that helps assess the rest of the interview too."
Aside from the secret wedding revelation, Markle also cleared the air regarding rumors that she made Kate Middleton cry while preparing for her 2018 wedding. She said it was the Duchess of Cambridge who brought her to tears and "hurt" her feelings during a tiff over flower girl dresses, but Middleton never stepped up to deny the reports claiming the opposite.
Following the airing of the CBS special, royal expert Katie Nicholl said Prince William was upset over the interview because his wife was dragged into it.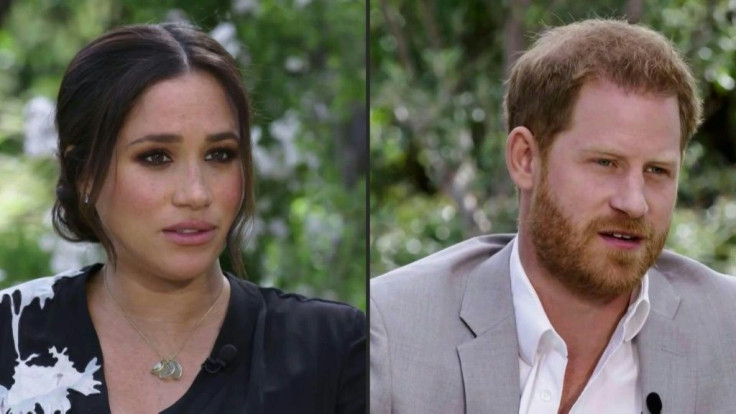 © Copyright IBTimes 2023. All rights reserved.