Serena Williams, More Celebrities React To Meghan Markle, Prince Harry's Bombshell Oprah Interview
KEY POINTS
Serena Williams said Meghan Markle's words in her interview with Oprah Winfrey illustrate the "pain and cruelty she's experienced"
Williams said the duchess is a "selfless friend" who "leads by example"
Tiffany D. Jackson, Leslie Jordan, Bernice King and more shared their thoughts about Markle's revelations
Meghan Markle and Prince Harry's bombshell revelations in their tell-all interview with Oprah Winfrey are trending on social media, with numerous celebrities, fans and royal watchers taking to Twitter to share their two cents.
The Duchess of Sussex got candid about her experiences after becoming a member of the royal family and the events that led to her and Prince Harry leaving last year on Sunday's "Oprah with Meghan and Harry: A CBS Primetime Special." During the interview, Markle cleared up some rumors, such as Kate Middleton being the one to make her cry instead of the reverse, and spoke about the suicidal thoughts she had due to the constant negative headlines about her.
Royals fans and celebrities, including Markle's friend Serena Williams, rallied behind the duchess and expressed their support for her on Twitter.
"Meghan Markle, my selfless friend, lives her life — and leads by example — with empathy and compassion. She teaches me every day what it means to be truly noble. Her words illustrate the pain and cruelty she's experienced," the tennis superstar wrote.
Williams also encouraged people to "decry malicious, unfounded gossip and tabloid journalism." She stressed that mental health oppression and victimization can be "devastating, isolating and all too often lethal."
Leslie Jordan also offered support for Markle in a video posted on Instagram. "We got your back, honey.....we've got more Queens than they do," he wrote, along with smiling emoji.
Some expressed shock over what the Sussexes had revealed, such as the royal family, including Prince William, agreeing to have Prince Harry and Markle's security team removed.
"The fact that his brother allowed the 'firm" to take away his ONLY brother's security (a f---ing prince) is crazy to me. I wouldn't expect his father to do anything. But his brother...damn," Tiffany D. Jackson wrote.
"Of every shocking element of the way Harry and Meghan and Archie were treated by 'the firm,' the idea that they would be stripped of security at a time when they were under siege with racist death threats is simply monstrous," Norman Ornstein added.
Bernice King, the youngest child of Martin Luther King Jr., shared her thoughts about the institution after watching the interview, writing, "Royalty is not a shield from the devastation and despair of racism. #MeghanMarkle."
Meanwhile, Jennifer Wright tweeted, "I guess there's no way to know if Meghan Markle is telling the truth about the Royal Family being a stressful nightmare. Now to Google "whatever happened to Princess Di.'"
Check out more reactions to Markle and Prince Harry's bombshell tell-all below:
Watch Markle and Prince Harry's interview with Winfrey here.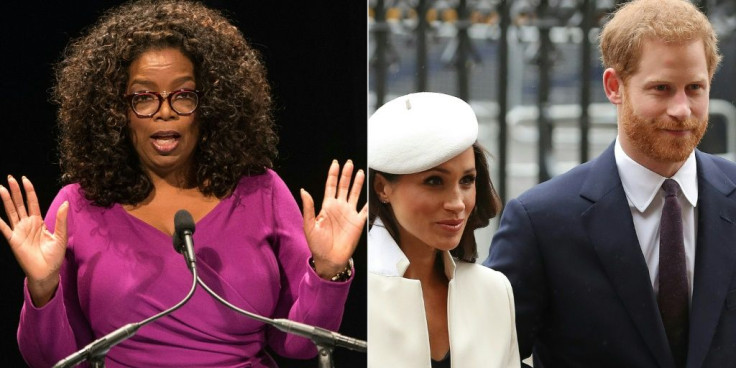 © Copyright IBTimes 2023. All rights reserved.