Meghan Markle 'Risking Baby' By Doing This For The Sake Of Fashion
Meghan Markle may be putting her baby at risk every time she wears high heels.
During her recent engagement with Prince Harry, the Duchess of Sussex was photographed in a pair of Aquazzura Rendez Vous Pump Heels. But Dr. Sarah Jarvis warned the "Suits" alum of the increased risk her fashion choices could have on her baby, saying that a hard fall can put a lot of pressure on her stomach.
Jarvis also said that she doesn't recommend the use of high heels, especially later in the pregnancy.
"One of the most affected areas in the back. It's already prone to strain because your center of gravity is shifted by baby weight in front," she told Fabulous Online.
"What I would ask is, 'Is it worth putting yourself and your baby at risk for the sake of fashion?'" she added.
Other than the possible risks to both the pregnant mother and the baby, Patient Info website explained that all the ligaments of the body tend to stretch in pregnancy to allow the baby to pass through the birth canal. This means that risks to the mother and her joints are significant.
Katharine Graves, midwife, and author of "The Hypnobirthing Book," said that wearing high heels could cause pregnant women to experience cramps especially during the latter part of their pregnancy.
In related news, Markle also made headlines this week after a royal expert claimed that she will make a mistake in her royal life. Royal commentator Angela Mollard told "Sunrise" that one day, the Duchess of Sussex's decision to follow her own tune will go wrong.
"She's original, she's creative, she thinks of new ideas, she doesn't wear the crown and the jewels and then goes and do things by pets. She's actually thinking of new ideas and ways of doing things and she's quite purposely about it… I think it's rather sweet," she said.
Mollard was talking about Markle's gesture to write inspiring messages on banana peels which were given to sex workers.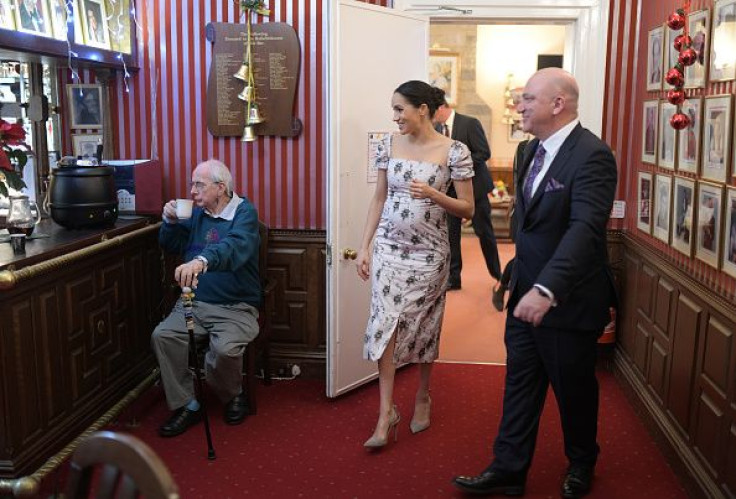 © Copyright IBTimes 2023. All rights reserved.