Meghan Markle's Messy Hair Criticized; Netizens Want Her To 'Tie It Up'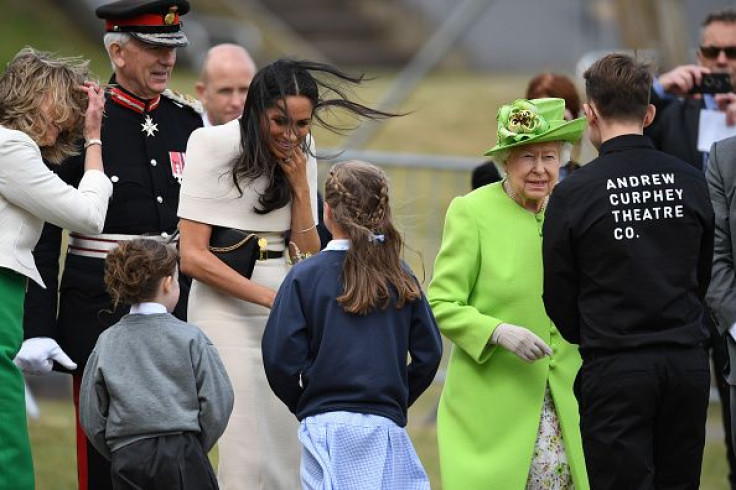 Meghan Markle opted to let her hair down when she accompanied Queen Elizabeth to Chester, but the netizens didn't like it.
On Thursday, the Queen and the Duchess of Sussex stepped out together to officially unveil a new bridge in Widnes, Cheshire and open the Storyhouse Theatre. During the outing, Markle was photographed several times with her hair on her face which bothered some of the Twitter users.
"Can Meghan please opt for shorter hair or have it styled - so it does not cause her to pull it off her face, soooo annoying and distracting," Maryanne Andrew wrote on Twitter.
"Why does Meghan play with her hair, it's like she is all insecure and it's a coping mechanism. She was a very confident, outgoing girl only a few months ago. Please tie it up / back at events. Or, have a stylist STYLE it! Thanks," she added in another post.
Meanwhile, Ann Gripper believed that Markle should have opted for her trademark messy bun hairstyle. "Would've been a great day for a messy bun," Gripper wrote.
"You should have informed Meghan Cheshire is having high winds so she could have tied her hair back," one user wrote.
Meanwhile, some defended Markle. According to other users, the Duchess of Sussex's hair shouldn't be an issue at all.
"Please try maintaining perfect hair with 60 mph expected winds. thanks. Also, don't chime 'she should've put her hair up,' bc she can choose to put her hair down if she wants. It's not like she didn't comb her hair for 30 days," another post read.
"[explicit] IS SHE THE ONLY WOMAN WITH THIS PROBLEM IN THE WIND??" another user wrote.
This is not the first time that netizens criticize Markle's hair. In January, when the duchess stepped out with Prince Harry in Brixton, she wore her hair in a messy updo, which also didn't sit well with her critics.
"The untidy topknot was not becoming," Judy wrote. "Ok these two need to grow up they aren't teens or in their 20's anymore. Harry is early 30's and Meghan is almost 40. She can't keep pushing the envelope, eventually the Queen is going to step in and take her to task. We need dignity."
© Copyright IBTimes 2023. All rights reserved.