Melania Trump Accused Of Using Children As Props After Releasing Political Statement
Melania Trump has been accused of using children as her props.
The first lady of the United States reacted when Pamela Karlan mentioned the name of her son, Barron. In a tweet, the FLOTUS insisted that a minor child deserves privacy and should be "kept out of politics."
Many agreed with Melania. However, some attacked the FLOTUS using her own statement by sharing Melania's photos and videos with some kids.
"A minor child deserves privacy and should be kept out of politics. Melania, you should be ashamed of your very angry and obviously biased public pandering, and using children to do it," Jason Siu commented on Melania's clip taken when she visited the children at a hospital.
A different social media user added that Donald Trump's wife caused a big ruckus at the hospital and only hindered the care give by the nurses and hospital staff. The user was referring to the cameraman, cords and equipment that were used to "take picture of Melania smiling and using sick children as props."
Another Twitter user shared a photo of the POTUS and FLOTUS with the latter carrying a baby in her arms as they posed for a picture. According to the netizen, Melania has never had problems using children for politics and added how Melania used a baby orphan as a prop to defend the weapons that killed the child's parents.
Eric Knopf agreed and pointed out how Donald had an infant return to the hospital "for the purpose of having a photo op." He added that Melania was part of the photo op back then and should be the last person to talk about kids.
Susan Hennessey, a Lawfare Executive Editor, also commented on Melania's statement and said that any media person who treats the FLOTUS' "fabricated, faux outrage" with an ounce of seriousness should be embarrassed. Several Twitter users also reacted and agreed that Melania just had a "fake outrage."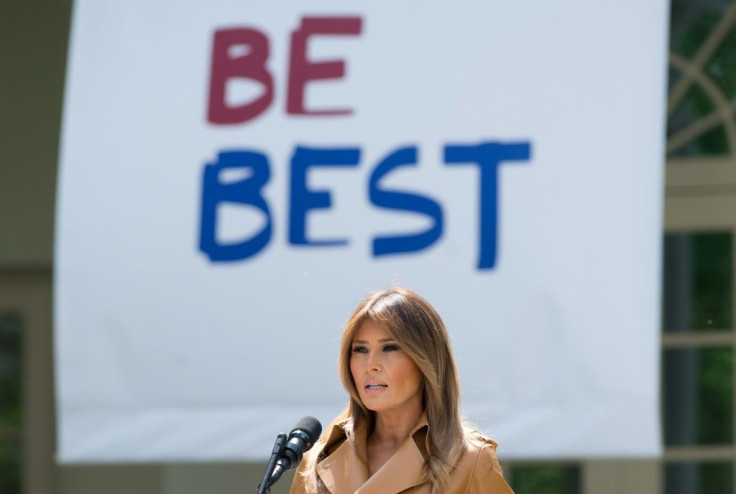 © Copyright IBTimes 2023. All rights reserved.